Do you know what SlamDunk Savings is?
It has been discovered that SlamDunk Savings are pop-up, in-text and banner ads which may show up due to illegally installed adware. If your operating system is not guarded against illegally attacking threats by authentic malware removers, the advertisement-supported program, which is originally promoted at slamdunksavings.com, could be installed without any warning. This is the first reason you should delete SlamDunk Savings. There are many more reasons if you know exactly how this unreliable program works. Overall, if you have discovered suspicious pop-ups, and unfamiliar programs are running on Chrome, Firefox or IE browsers, you need to delete adware from the system.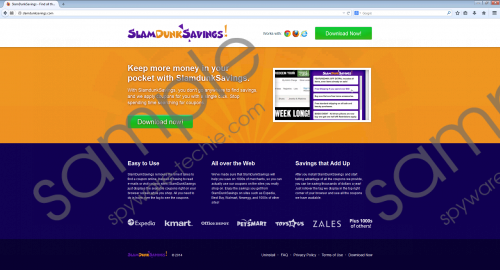 SlamDunk Savings screenshot
Scroll down for full removal instructions
SlamDunk Savings plugin usually travels bundled with adware helpers, like PUP.BenchUpdater. This is a harmless program you need to delete because it can change the Windows hosts file and assist with adware updates. Furthermore, the plugin can present the banner ads of Jollywallet, which means that these two services are somehow related. In fact, advertisement-supported software always has a number of affiliated parties, and some of them turn out to be unreliable.
The developer of SlamDunk Savings is 215 Apps (or Smart Apps, Engaging Apps, Enchanted Apps, etc.), and most applications related to it, including Savings Hunter and DropinSavings, represent the ads of third parties. Note that mischievous parties may produce too-good-to-be-true ads just to trick you into clicking on links routing you to corrupted sites or presenting different scams. If you do not want to be fooled into downloading malware or exposing your email address and other sensitive data to schemers, you should remove SlamDunk Savings.
Many pop-ups represented by SlamDunk Savings will come from slamdunksavings-a.akamaihd.net; however, you may receive offers via other advertising domains as well. Due to this, you should not click on any ads until you delete SlamDunk Savings and other potentially running adware. To delete these programs from the operating system, you can use automatic malware removal software, which is our preference, or you can try to remove them using the manual removal technique. Follow the guides below and then erase the remaining components and programs, like BenchUpdater.
Delete SlamDunk Savings from the PC
Delete from Windows 8:
Right-click on the screen of the Metro UI menu to open a pane and choose All apps.
Now open the Control Panel menu and click Uninstall a program.
Finally right-click the application you want to remove and choose Uninstall.
Delete from Windows Vista and Windows 7:
Open the Start menu from the Taskbar at the bottom of the screen and select Control Panel.
Go to Uninstall a program to find a list of applications installed on the PC.
Right-click the application you want to remove and then select Uninstall.
Delete from Windows XP:
Move to the Taskbar and click the Start button to access the user menu.
Select Control Panel to open a new menu and double-click Add or Remove Programs.
Find SlamDunk Savings, BenchUpdater or other unfamiliar apps and Remove them.
In non-techie terms:
SlamDunk Savings may seem like a helpful application; however, it is just another ad-supported program which has been created to present online advertisements created by unfamiliar parties. We strongly recommend that you delete SlamDunk Savings from the operating system, and you can choose to do so manually. Of course, virtual security experts are concerned about your virtual security. If you are too, you should utilize a reliable security tool which will firstly remove existing threats and then will help you guard the operating system against those possibly attacking in the future.