Do you know what Skymap Ransomware is?
No one wants to be infected with computer malware. Skymap Ransomware is one of those programs that no one wants to see on their screen. It is a dangerous infection that will leave your computer crippled and locked. Luckily, the program cannot encrypt every single file on your system, but it will definitely prevent you from accessing your personal files, and you will be forced to pay a lot for the file decryption. You should not spend your money on this program. Simply remove Skymap Ransomware today, and then look for other ways to get your files back.
Technically, Skymap Ransomware isn't anything complicated, but it doesn't mean that it cannot bring chaos into your system. Unless a ransomware program is underdeveloped, it can, and it will encrypt your personal files. All ransomware programs are created with one purpose in mind: They are here to help their developers make easy money. Ransomware programs try to push the infected users into paying the ransom fees that may or may not lead to file decryption. That's right; there is no guarantee that Skymap Ransomware (or any other ransomware infection for that matter) would issue the decryption key even if you were to pay for it.
Instead of doing what this infection tells you to, you should look for ways to protect your computer and your personal data from similar infections in the future. Let's not forget that ransomware programs usually target small businesses as opposed to individual users. Small businesses are always more likely to pay the ransom fee because they need their data no matter what. Also, small businesses may not have their data backup because they do not have enough funds to invest in decent cybersecurity measures.
Therefore, you have to protect yourself from the likes of Skymap Ransomware no matter what. Skymap Ransomware comes from the STOP Ransomware family, so we can easily assume that this program is distributed via spam email attachments. It also means that users download the ransomware installer files themselves. These files look like legitimate documents, and users do not think much before opening them.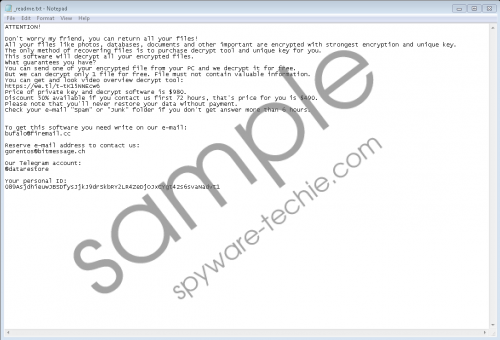 Skymap Ransomware screenshot
Scroll down for full removal instructions
However, if some email came from an unknown party and the message in the email is urgent, you should stop and give it a thought. It is very common for spam emails to come with some terrifying message that pushes users to take action. So if you learn how to differentiate between spam emails and the actual emails, it would be easier to avoid Skymap Ransomware. Also, do not hesitate to scan suspicious files with a security tool before opening them. In fact, it should be a habit for you to scan all the received files before you open then, just to be on the safe side.
Of course, if Skymap Ransomware enters your system, then it is an entirely different thing. The ransomware program runs the encryption and locks up most of your personal files. Although the program adds an extension to the affected files, you do need the difference in the filename to see that something is wrong: the icon of the file will have changed by the time the encryption is complete. Since the encryption scrambles the sequence of the byte information within the file, your computer can no longer read those files.
Then Skymap Ransomware displays the ransom note. You can find the ransom note in any folder that has encrypted files. The ransom note says that you have 72 hours to contact the criminals and purchase the decryption key. Normally, the decryption key price is $980, but they say that if you contact these people sooner, you will get a 50% discount.
Needless to say, doing as told is a bad idea because you would only lose your money. Simple remove Skymap Ransomware, and then look for other ways to restore your files. If you regularly back your files up on an external hard drive or a cloud drive, there shouldn't be any problem with file recovery. You might also have quite a few files saved on your mobile device. Whichever it might be, please go through multiple options, and if necessary, address a professional.
How to Remove Skymap Ransomware
Remove unfamiliar files from Desktop.
Open the Downloads folder and delete the most recently downloaded files.
Press Win+R and enter regedit. Press OK.
Open HKEY_CURRENT_USER\Software\Microsoft\Windows\CurrentVersion\Run.
On the right pane, right-click and remove the SysHelper value.
Close Registry Editor and press Win+R. Type %UserProfile% and click OK.
Navigate to Local Settings\Application Data.
Remove the random name folder with this name format: 0cc97d97-6cc7-4817-b300-eb6e298327c6.
Repeat the same action in the %LocalAppData% directory (use Win+R to access it).
Press Win+R and type %WinDir%. Press OK.
Navigate to System32\Tasks.
Delete Time Trigger Task and use SpyHunter to scan your computer.
In non-techie terms:
Skymap Ransomware is your average ransomware infection. It encrypts user's files, and then displays a ransom note that says you now have to pay to get your files back. Paying is never an option because there is no guarantee that these criminals would issue the decryption tool in the first place. Therefore, the sooner you remove Skymap Ransomware, the better. Should you have any questions regarding malware removal, please feel free to drop us a comment below.