Do you know what .SKUNK File Extension is?
Recently malware experts at Spyware-Techie.com have discovered one more devious application known as .SKUNK File Extension. This malware has been classified as a ransomware program. That is so because it is primarily designed to lock massive amounts of data in as little time as possible. Thus, if you ever cross paths with this devious piece of software, be sure to do everything in your power to refrain from it at all costs. In most instances, ransomware applications are used by malware developers to make illegal profits from unsuspecting Internet users. The scheme under which such programs work is quite simple; after a successful encryption procedure, the affected user is then asked to pay a ransom in return for decryption services. Read this article and learn more about this malware. Also, you will find a few virtual security recommendations alongside a detailed removal guide, which you should use to delete .SKUNK File Extension if it is ever found up and running on your computer.
The initial analysis of .SKUNK File Extension has revealed that it starts acting as soon as it gains access to your operating system. In fact, it exhibits functionality, which is quite conventional when compared to other ransomware applications. Like many of its counterparts, the malware in question scans your entire hard drive to determine, which data it will encrypt. As you may have guessed, the next step in the chain of action is the encryption process. During this procedure, data stored on your hard drive will be lock with a military-grade algorithm, which indicates that manual decryption is not a possibility. It is also worth noting that very few users, if any at all, can detect and terminate this malware before it starts acting. That is so because all of this ransomware program's processes are silent. Every encrypted file is appended with a .skunk extension. As soon as your data is locked, this malware issues a ransom note. It provides information all about what has happened and demands a ransom in return for decryption services. Under no circumstances abide by these demands since malware developers responsible for this ransomware are not bound legally to unlock your files even if they receive the payment. It should be self-evident that you must delete .SKUNK File Extension at the very same instance that it is discovered running on your PC. Remove it without encountering any major problem by following the removal guide below.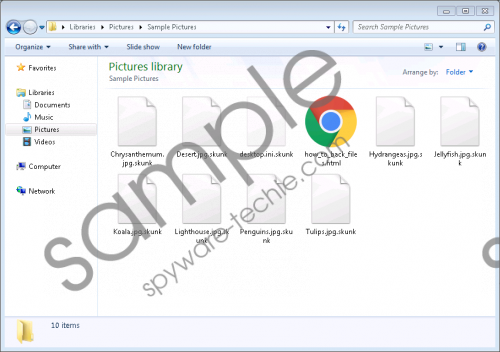 .SKUNK File Extension screenshot
Scroll down for full removal instructions
If you happen to be a security-conscious user, who wants to have a clean and safe operating system at all times, you must take a few simple, yet incredibly effective precautionary steps. First and foremost, our malware experts highly advise you to invest in a professional antimalware tool if you do not have one already. Such a tool is crucial because it is designed to detect and remove virtual security threats automatically. Additionally, we highly advise you to practice safe browsing habits at all times. By that, we mean that you should refrain from all unauthorized download sites because they often host bundled installers, which malware developers use for distribution purposes. Likewise, you should never download email attachments that come your way from suspicious third-parties since that is another way that cyber crooks try to spread their dubious applications on a large scale. Furthermore, you should be aware of the fact that malware developers also use misleading and otherwise manipulative marketing tactics to trick naive users into downloading their devious programs without understanding how it functions. Take these steps seriously, and your operating system will become virtually unbreakable.
Remove .SKUNK File Extension without second thoughts. Under no circumstances delay the termination procedure since keeping this devious application active on your computer could lead to more virtual security issues. We also recommend double-checking your operating system once you are done with the instructions below. Doing so is crucial since just a few active leftovers associated with .SKUNK File Extension could be enough for it to continue working. In other instances, traces of this ransomware might be employed to restore it silently. Another way to be sure that the removal process has been successful is by scanning your PC with a professional antimalware tool because it can identify and terminate anything linked to .SKUNK File Extension automatically.
How to remove .SKUNK File Extension from your computer
Open the File Explorer.
Go to C:\Users\[your username]\Downloads.
Right-click a malicious .exe file and then select Delete. Keep in mind that the name of this file is random.
Close the File Explorer.
Right-click your Recycle Bin and select Empty Recycle Bin.
In non-techie terms:
Malware researchers at Spyware-Techie.com are acutely aware of the fact that some users find manual removal too complex. However, you still must delete .SKUNK File Extension. If The good news is that there is nothing to worry about if you are having trouble with manual removal. Below we provide an alternative removal guide below, which will help you remove .SKUNK File Extension in an automated manner.