Do you know what Sirius Win 7 Antispyware 2014 is?
Sirius Win 7 Antispyware 2014 is a fake antivirus program that will not allow you to use your computer properly until you purchase the full version of this application. It is obvious that by purchasing a license for Sirius Win 7 Antispyware 2014 the affected user would reveal her financial information to cyber criminals, so buying the license is out of question. There is nothing reliable about this program, and you should not tolerate it on your system. Remove Sirius Win 7 Antispyware 2014 immediately and make sure your computer is protected from harm.
When Sirius Win 7 Antispyware 2014 displays fake security messages on your screen, you have to realize that they are fake. Although the program looks like a genuine computer security tool, even its system scan cannot provide you with relevant and reliable results. The entire thing is a scam devised to lure you into purchasing a program that cannot deliver. Sirius Win 7 Antispyware 2014 comes from a big family of rogue applications called Braviax or FakeRean. It is a direct descendent of Rango Win 7 Antispyware 2014, Win 7 Protection 2014, XP Anti-Spyware, Vista Protection 2014, and many other similar applications.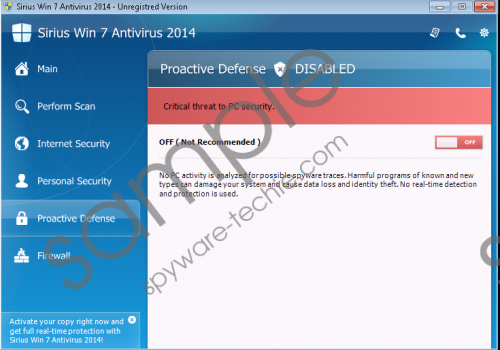 Sirius Win 7 Antispyware 2014 screenshot
Scroll down for full removal instructions
Just like any other Braviax application, Sirius Win 7 Antispyware 2014 enters your system stealthily and then configures itself to run automatically. The program will make an impression that your computer is seriously infected with malware, and you simply must activate Sirius Win 7 Antispyware 2014 to remove all the dangerous viruses. The program even blocks you from accessing the Internet and other important programs, saying that they are infected and, therefore, must be closed. Needless to say, it is a blatant lie devised to push you into a state of sheer panic.
Unlike previously released fake antivirus programs from the same group, Sirius Win 7 Antispyware 2014 does not have an activation key, so you cannot neuter the rogue for a time being. However, there is no need to feel helpless about it. There are ways to terminate Sirius Win 7 Antispyware 2014 without the actual registration code, and we will help you do it today.
Take note that if you are just an average computer user, you should avoid attempting manual Sirius Win 7 Antispyware 2014 removal. It is not recommended unless you have worked with Registry Editor previously. We strongly recommend following the instructions you see below this description. If you load your computer in Safe Mode with Networking, you will be able to download a computer security program of your choice and delete Sirius Win 7 Antispyware 2014 automatically. Do what is best for your computer security.
In non-techie terms:
Sirius Win 7 Antispyware 2014 is a dangerous infection that paralyzes your computer system. It wants your money, but you should know better than give away your savings to these crooks. Terminate the rogue at once and safeguard your PC against similar infections in the future.