Do you know what SimplePictureEdit Toolbar is?
Even though SimplePictureEdit Toolbar promises to enable users to edit photos, create photo collages, and share pictures with friends and family easily, you should not install it on your PC because it is not a useful program. As has been found, it only provides users with buttons redirecting to third-party websites that can be opened without its help too. Also, it might expose users to potential threats. As a consequence, it has been categorized as a potentially unwanted program (PUP). You could find more detailed information about SimplePictureEdit Toolbar in the following paragraphs of this article. If you no longer wish to keep this piece of software installed on the computer after getting more knowledge about it, you should go to remove it as soon as possible because it will continue performing its activities if it is left active. This browser plugin falls into the category of potentially unwanted programs, so it is not very dangerous malware, and it should not be hard for you to delete it.
More beneficial applications for editing pictures are available on the market, so downloading and installing SimplePictureEdit Toolbar just because it claims to have this feature is not recommended, especially when this browser plugin is known to be a product of Mindspark Interactive Network, Inc., which has already developed hundreds of applications which have all been put into the category of potentially unwanted programs. Moreover, this piece of software does not seem to be very trustworthy also because it requires the following permissions: read and change data on websites, read and change the browsing history, manage downloads, and manage apps/themes/extensions. It means that by installing SimplePictureEdit Toolbar on your PC, you allow it to perform all kinds of activities on your system. Basically, it can do whatever it wants to and can even violate your privacy. Since older programs developed by this company record personal information about users ("We may collect information from you that may identify you, such as your name, address, email address, and telephone number"), there is basically no doubt that SimplePictureEdit Toolbar is going to perform this activity too and, consequently, might cause privacy-related problems. The permissions it asks shows that it might be interested in the information about users' online behavior and habits too.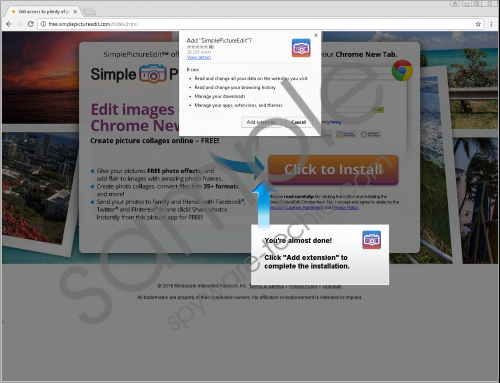 SimplePictureEdit Toolbar screenshot
Scroll down for full removal instructions
Unfortunately, SimplePictureEdit Toolbar cannot be called a very trustworthy program also because using its search tool (it will be located on the website it sets as homepage and the New Tab page immediately after it enters the computer) might result in the entrance of untrustworthy software. This software might be hiding on third-party websites you will be taken to after clicking on any of the promotional links you will be provided with. In most cases, they are shown together with trustworthy search results displayed by the search tool of SimplePictureEdit Toolbar. It is hard to say which of the search results are good and which of them are bad and thus do not pay attention to them, but you will definitely be sure that they are no longer provided for you if you fully remove this application from all browsers.
Browser plugins belonging to Mindspark Interactive Network, Inc. and other untrustworthy programs might be distributed bundled with free programs too. This explains why those users who do not download and install certain software willingly on their computers find undesirable applications on their systems. In most cases, it depends on the user whether these additional programs will manage to enter the computer or not. Therefore, users should always carefully read the information provided for them, especially when they install applications downloaded from third-party websites. On top of that, a security application needs to be enabled on the computer to prevent all kinds of threats from slithering onto PC.
If there is only Internet Explorer installed on your PC, you could delete SimplePictureEdit Toolbar just like any other program, i.e. through Control Panel; however, if Mozilla Firefox and Google Chrome are installed on your PC too, you will have to go to delete browsers' extensions too. Follow the manual removal guide step-by-step to remove this PUP manually. If you find this method too time-consuming, you can use an automatic malware remover. Before you install it, make sure that it is 100% trustworthy.
Delete SimplePictureEdit Toolbar
Windows XP
Click Start and open Control Panel.
When you get there, click Add or Remove Programs.
Select the unwanted program.
Click Remove to erase it.
Windows 7/Vista
Click the button with the Windows icon (bottom-left corner).
Select Control Panel from the menu.
Click Uninstall a program.
Select the program which is going to be deleted.
Click Uninstall.
Windows 8/8.1/10
Press Win+X to open the menu.
Find and select Control Panel.
Open Uninstall a program.
In the list of applications find the one you are going to remove.
Select it and click Uninstall.
Mozilla Firefox
Open your browser and click Help at the top to open the menu.
Click Troubleshooting Information.
Locate the button Refresh Firefox at the top of the page and click it.
In the confirmation window, click Refresh Firefox once again.
Google Chrome
Launch Google Chrome.
Tap Alt+F to open the menu.
Click Settings.
Scroll down to the bottom.
Click Show advanced settings.
Find the Reset settings button on the menu and click it.
In the pop-up window, click Reset.
In non-techie terms:
It does not always mean that a program can be trusted if it has a trustworthy-looking interface. Mindspark toolbars are best examples. They pretend to be beneficial, e.g. work as a picture editing tool, but, in reality, they just promote third-party websites. Also, they often do not respect the privacy of users. Finally, aggressive marketing techniques are used to spread them. Even though they are put into the category of potentially unwanted programs and are not very dangerous, you should carefully consider whether or not it is worth keeping such an application installed on the computer.