Do you know what Simple Restore Closed Tabs Button is?
You probably are confused about this extension if you have opened this page. Simple Restore Closed Tabs Button is a plug-in that gets added to the Chrome browser. Our research team labels it as a potentially unwanted program. If it was not your intention to add this extension to your browser (and it probably was not), it would be for the best to remove Simple Restore Closed Tabs Button right now. While this extension did not enter your computer with the goal of wreaking havoc on your system, it could be misused by cyber criminals, and you need to avoid that.
Perhaps before going deeper into this very extension, we should point out what is a potentially unwanted program, and why users should be weary of them. Probably the most important thing about such apps is that they tend to fall into a particular gray zone. That is to say, they are not inherently malicious, but they often get installed on target systems accidentally, and if users do not want a program, it should not be there.
What's more, potentially unwanted programs are often associated with specific criteria that help security experts to determine whether those programs are "nice" or not. For instance, potentially unwanted programs tend to be related to commercial advertisements and advertising networks, they lack consumer opinion, they have doubtful privacy policies, and they exhibit unwanted behavior. The thing is that some of these criteria apply to Simple Restore Closed Tabs Button, so we can easily say that this program could prove to be problematic.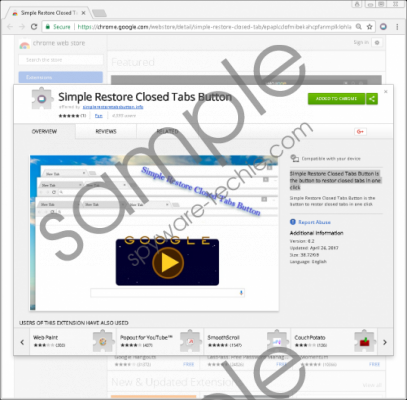 Simple Restore Closed Tabs Button screenshot
Scroll down for full removal instructions
We should pay specific attention to the advertising thing because it is highly possible that Simple Restore Closed Tabs Button collects your personal information for promotional purposes. Such programs usually survive by promoting third-party content. And the problem is that they do not review that content. On top of that, you might feel inclined to click that content because it will be related to your likes and preferences in one way or the other. Why? Because, once again, the extension collects information on your web browsing habits, and thus it figures out your likes and preferences.
On the other hand, you could say that there is nothing wrong about Simple Restore Closed Tabs Button because the extension will help you restore your closed tabs in one click. Sure, this kind of function seems to be useful, but you do know that Chrome offers exactly the same function, right? You can reach the "Reopen closed tab" menu by right-clicking any open tab, or by using a key shortcut Ctrl+Shift+T. Therefore, the extension's functionality becomes void.
Of course, the best way to protect yourself from such applications is to avoid installing them in the first place. Seeing how the program has an official homepage via simplerestoretabsbutton.info, you should be able to download the app directly if you wanted to. There is also a page for this extension in the Chrome Web Store, so it is hard to call it an infection or a virus.
Nevertheless, users are seldom aware of the fact they install Simple Restore Closed Tabs Button on their computers because this extension tends to get distributed in software packages. Software packages are bundles of several programs that are installed by third-party installers when users download them from file-sharing sites. So, basically, if you stay away from file-sharing sites and other third-party software sources, you should be able to avoid installing Simple Restore Closed Tabs Button and other unnecessary applications. Also, it is important that you remain attentive when you install new programs because sometimes installation wizards inform users about the additional features, but users simply skip those steps.
Since we have already established that you need to delete Simple Restore Closed Tabs Button, please proceed with the removal at once. You just need to remove the extension from your browser's settings menu. After that, be sure to scan your PC with a security tool. If you installed this extension together with other third-party applications, you definitely need to remove them all as well. And the fastest and the most efficient way to terminate unwanted software is to delete it with a licensed antispyware application.
How to Delete Simple Restore Closed Tabs Button
Launch the Chrome browser.
Press Alt+F and click More tools.
Go to Extensions and delete the program.
In non-techie terms:
Simple Restore Closed Tabs Button may not be the most dangerous program out there, but it does not mean you should take it lightly. It would be for the best to remove this extension from your system at once because the application could be exploited by cyber criminals. While you are at it, make sure there are no other unwanted applications installed on your system. For that, do not hesitate to invest in a security program or simply leave us a query.