Do you know what SIGARETA Ransomware is?
SIGARETA Ransomware is a dangerous infection, but you can keep it away from your operating system and your personal files if you take certain precautions. First and foremost, your system has to be protected by reliable anti-malware software. If safeguards do not exist, malware can slither in. Second, it is crucial that you keep your operating system and the installed software up-to-date. If the software is not up-to-date, vulnerabilities might exist, and if they exist, cybercriminals can exploit them to drop malware without your notice. Finally, you have to be cautious yourself so as not to be tricked into executing the infection. According to our researchers, RDP vulnerabilities, spam emails, and malicious downloaders are most likely to be used for the distribution of this threat, and so you need to be cautious. Obviously, if you already need to remove SIGARETA Ransomware from your operating system, you need to handle the threat before you can get back on track with virtual security.
According to our research team, SIGARETA Ransomware is part of the NEFILIM Ransomware family. Opqz Ransomware is another known infection that belongs to it. You can find a removal guide on our website to learn more about this threat. Of course, if you need to delete SIGARETA Ransomware, we are sure that this is the threat that you want to focus on first. At the time of research, we identified this malware as being undecryptable. That means that legitimate file decryptors could not crack the encryption key used by this malware. Unfortunately, that makes the attackers behind the threat even more powerful. When the infection encrypts files and adds the ".NEFILIM" extension to their names, a file named "SIGARETA-RESTORE.txt" is dropped next to them. It is safe to open the file, but it is not safe for you to pay attention to the message. According to it, military grade algorithms were used to encrypt your files and now you need a private key to restore them. The message also claims that information that is "sensitive was downloaded from your network to a secure location."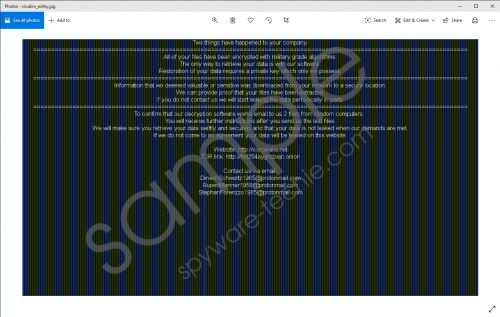 SIGARETA Ransomware screenshot
Scroll down for full removal instructions
The point of the message introduced by SIGARETA Ransomware is to convince you that you need to contact cybercriminals. It is stated that files would be leaked periodically if you did not send two encrypted files to one of the three emails: DineshSchwartz1965@protonmail.com, RupertMariner1958@protonmail.com, or StephanForenzzo1985@protonmail.com. If you do this, the attackers will send you instructions explaining what you need to do next. Hopefully, there is no need for us to explain that you would be taking a huge risk by sending a message to cybercriminals. First of all, you would expose yourself by doing that because once the attackers know your email address, they can continue targeting you. On top of that, the additional instructions that you are bound to receive are likely to include ransom payment instructions. Would you get a private key/decryptor if you paid the ransom? We doubt that that would happen. SIGARETA Ransomware was created to take your money, not to help you decrypt the files.
If you have backup copies of your personal files stored online or on external hard drives, you can use backups to replace the corrupted files. Unfortunately, at the time of research, there was no guaranteed way to restore the corrupted files themselves. When it comes to the removal of SIGARETA Ransomware, it does not look like you need to do much. The launcher – which is the most important file – is meant to remove itself after your files are encrypted. It seems that all you need to do is erase the ransom note and the image file that replaced the Desktop wallpaper. Of course, while you can delete SIGARETA Ransomware leftovers manually, we strongly recommend that you implement legitimate anti-malware software as soon as possible. Not only will it clear your system but also keep it protected in the future.
Remove SIGARETA Ransomware
Delete all copies of the ransom note file, SIGARETA-RESTORE.txt.
Tap Win+E keys to access File Explorer.
Enter %TEMP% into the field at the top.
Delete the image file that represents the ransom note. Could be named virubim_eshky.jpg.
Tap Win+R keys to access Run.
Enter regedit into the box and click OK.
In Registry Editor, go to HKEY_CURRENT_USER\Desktop.
Delete the value named Wallpaper.
Empty Recycle Bin and then perform a full system scan to check for malware leftovers.
In non-techie terms:
SIGARETA Ransomware is a file-encrypting infection that threatens to leak your personal files after making them unreadable. The goal that the creator of this malware has is to make you contact them via email and then, most likely, pay money in return for a file decryptor that may or may not exist. In any case, you are unlikely to receive it, and so we do not recommend fulfilling cybercriminals' demands. You should be able to delete SIGARETA Ransomware components manually using the guide above, but we suggest installing anti-malware software that can both clean and secure your system. Hopefully, afterward, you can replace all corrupted files using your own backups.