Do you know what Show Fanatic is?
Show Fanatic is a new Google Chrome browser extension that can change your home page and new tab page settings, and promote a questionable search engine. This potentially risky tool claims that it "lets you to easily search films and tv shows directly from your new tab" but our researchers have found that this is just another potentially unwanted program, or PUP. There are a couple of suspicious things that surround this application, which we would like to share with you so that you can make up your mind about it and act accordingly. Well, we suggest that you remove Show Fanatic after you read our details regarding this PUP. But we must warn you right at the beginning that removing this extension may not be the end of the road for you towards a secure system.
Although this questionable browser extension has an official URL, show-fanatic.com, somehow the website is not available any longer; a simple "Not Found" text is greeting you once you land there. This is quite suspicious when it comes to an application that is actually spreading and even promoted in the Chrome web store. But before we move on to that, let us tell you that we have actually found the promotional page at this URL but the address is a bit more complicated and you would not find it out by yourself or enter it from memory most likely as it goes: "show-fanatic.com/dalton/daltonB/n/zz/K949ecbRh59CP1tBCTWrNkjy6cYYvS_ahsGMKuiF9Lf_FzewxUoraDLJR2sGGKMv_LX9U77T4qLcNR9_seM2_MgIjJuGddep0vmejJlE1aCDxRmOb5Vq3IgY%202LjdEDRRb5%20jgslwhOdnixVYOcsUIWLB9OIHcQntGPRyhvFPaNLGLTBUHyl9WaE2TFWPzCicXHt0XU4eZkChLMu2so9GJtB%20%20kFB7Dy7p0reUvusmwU2OkGrQqhPBWKWRC936aBjLcF4XaIVEKUoK9PdD9OaumJiUPpUPGGQQaZvVSOXeRHBdmNLEP3wJqyWPJzsSQKqfqyzhwXpFdbHqKXxDlaEeVz2HGBptN_Tl_WSOtmhz0=?cid=mem_aj_win_1lp_14876340363051fz48YkEEWA". The only way for you to end up on this page is to be redirected from a corrupt pop-up advertisement or to see it advertised by a suspicious website or an adware program hiding on your computer.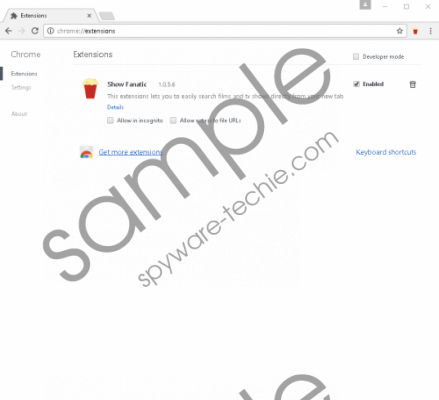 Show Fanatic screenshot
Scroll down for full removal instructions
As we have said, you can also install this PUP directly from the Chrome web store, chrome.google.com/webstore/detail/show-fanatic/ndbgkcnnbhekjhpfdegbobklpeeocfjb. But before you do so, you should check the pop-up window that shows you the permissions you are about to grant to this tool:
Read and change all your data on the websites you visit
Change your search settings to: flmman.com
Read and change your bookmarks
Manage your apps, extensions, and themes
These are not really the permissions you would like to give to a potentially unreliable extension if you are a security-minded user. Nevertheless, most users ignore these and rush to click on the "Add extension" button on this pop-up. Once you let this PUP in, it pops up a window to allow you to configure it but you can choose not to by clicking on the "Later" button. Since all this may not have convinced you that you should delete Show Fanatic, let us tell you more about its distribution method.
Our research shows that this questionable extension may also be found in freeware bundles that could be packing several malware infections, such as adware programs, browser hijackers, fake alerts as well as other PUPs. You can easily download such a malicious package if you click on unsafe third-party ads on suspicious websites or ones displayed by adware hiding on your system. But you can also download bundles when you use questionable file-sharing sites to find free applications. We recommend that you always use reputable and official pages to download software. But, if somehow you ended up with this useless PUP in your browser, we suggest that you scan your system ASAP with a reliable malware scanner after you remove Show Fanatic.
This extension offers you a new home page and a new tab search page using "flmman.com" as the engine, and a configurable background. This search page also gives you a choice through a drop-down menu on the left of the search box to choose from Yahoo, Bing, Google, IMDb, YouTube, and tv.com as the source of your search results. However, this search engine may manipulate the results and inject unreliable third-party advertisements as well as sponsored ads among the legitimate results. Therefore, you could easily drop further infections or find yourself on malicious websites. Hopefully, these reasons finally make you want to delete Show Fanatic unless you want to wait until you need to face more serious system security issues.
Since this PUP only seems to affect your Google Chrome browser, you can easily eliminate it by removing the extension. If are not familiar with these steps, please use our guide below. This should not take more than a minute really even if you do not consider yourself as an experienced user. Keep in mind that this PUP could be the least dangerous threat on your system and you need to make sure that all other potentially harmful programs are found and dealt with if you want to feel safe while you are online. If you do not feel skilled enough to do this manually, we suggest that you download and install a decent malware removal program, such as SpyHunter. This security software can also safeguard your PC automatically from any known malware attack.
How to remove Show Fanatic from your browser
Google Chrome
Press Alt+F to display the menu.
Navigate to Settings.
Select Extensions on the left.
Locate the undesirable extension and click on the trash can icon.
Click Remove in the pop-up window.
In non-techie terms:
Show Fanatic is a useless and questionable Google Chrome browser extension that can sneak onto your system via shady channels. While you might think that it is a useful thing that you have a new search engine page in your browser that allows you to switch between engines and you can easily search the most popular movie and TV sites directly, the truth is that this potentially unwanted program may pose a threat to your system security. Since it is possible that this extension comes on board along with malware infections and it also may introduce you to questionable third-party content, our researchers recommend that you remove Show Fanatic as soon as possible. If malware removal may not be an option for you for some reason, you can always use anti-malware software that will also protect your computer automatically from all kinds of potential threats.