Do you know what ShoppingDealsLive Toolbar is?
ShoppingDealsLive Toolbar is a potentially unwanted program that might get added to your browser as an extension. This application is not a malicious computer infection, so there is no need to panic when you see it on your browser. However, if you did not want to have this extension installed, you should see to it that ShoppingDealsLive Toolbar gets removed from your computer as soon as possible. While the application may not be a direct computer security threat, it could still be exploited by malevolent third parties to promote and distribute corrupted content.
In a sense, this extension is very similar to GetPoliticalNews Toolbar because both applications come from the Mindspark Toolbar family. In fact, there have been countless of browser extensions from this group so far, and we have been discussing them for many years now. The bottom line is that these programs are created to bring a financial profit for their developers. Luckily, they do not steal your financial information and do not try to collect information on your banking logins and passwords. They use a different system to make money, and technically, the system is not illegal, so we cannot put this application into the malware category.
So why should we be concerned about ShoppingDealsLive Toolbar and the things it can do? That is mostly because the extension tampers with your browser's settings and monitors your online activity. If the modifications catch you by surprise, it does not mean that your settings were changed without permission. You must have agreed to proceed with the modifications during the installation even if you were not aware of that. However, by "agreeing" to such modifications you end up being monitored by this extension, and you can be sure that the data it collects will be used for third-party advertising.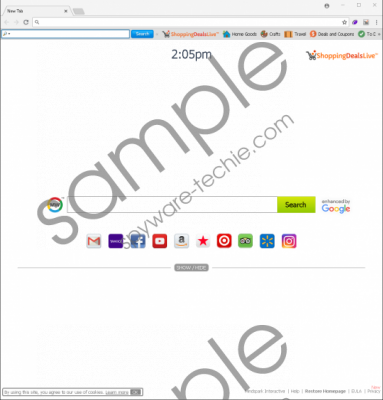 ShoppingDealsLive Toolbar screenshot
Scroll down for full removal instructions
Technically, there shouldn't be anything dangerous about seeing a little bit more of commercial ads when you browse the web. If anything, it might only be annoying, but we have to take into consideration the fact that ShoppingDealsLive Toolbar does not review the third-party content it promotes. In other words, the extension may expose you to custom commercial content you may find useful, but there is no guarantee that by clicking a promoted link you would land on a safe website. It is also possible that ShoppingDealsLive Toolbar could be exploited by cyber criminals to promote their websites and products.
To avoid such issues, you should definitely refrain from adding ShoppingDealsLive Toolbar to your browser. As mentioned, the installation may also occur accidentally, especially if you are focused on something else at the moment of the setup. How does that happen? Well, it depends on how you download this application. If you get it from its official website, the chances are that you will know about it, and you will not be surprised to see all the modifications on your browser. However, it is far more common for such programs to enter target systems in software packages.
By software packages, we mean bundled downloads that users get from file-sharing websites. For instance, you might have been looking for a completely different application, but ShoppingDealsLive Toolbar could have been included in the main installer file as an additional feature. Normally, it should be possible to avoid the unwanted programs because installers have the options that allow you to deselect the unnecessary features. Unfortunately, users tend to breeze through the installation without even checking those steps. As a result, the likes of ShoppingDealsLive Toolbar get added to their browsers, and soon enough, they get exposed to a lot of commercial content.
We are lucky that this application is not a malicious infection. It means that it is very easy to remove ShoppingDealsLive Toolbar from your system manually. On the other hand, if you do not want to deal with it on your own, you can always get yourself a licensed antispyware tool that will do the job for you. Just do not forget to run a full system scan once ShoppingDealsLive Toolbar is gone. If this program came in a software package, it is very likely that you have more than one unwanted applications on-board. And it is clear that you have to take care of all of them.
How to Delete ShoppingDealsLive Toolbar
Firefox
Press Alt+T and select Add-ons.
Click the Extensions tab and delete the app.
Chrome
Press Alt+F and go to More tools.
Open Extensions and remove the app.
Internet Explorer
Press Win+R and enter Control Panel. Press OK.
Select Uninstall a program (Add or remove programs for Windows XP).
Delete ShoppingDealsLive Internet Explorer Homepage and New Tab.
In non-techie terms:
ShoppingDealsLive Toolbar is a browser extension that should help you find the best online shopping deals. However, most of the users do not know how this application enters their computers, and they get confused when it changes their default search engine. If you are one of them, you will do yourself a favor if you remove ShoppingDealsLive Toolbar from your computer today. Should you have more questions about this extension or its removal, please do not hesitate to leave us a comment below.