Do you know what Shitcoin Wallet is?
Malicious programs are usually placed into specific categories, according to how they work. Shitcoin Wallet, however, proves that even programs in the same group can be very different. Our research team recognizes it as a potentially unwanted program (PUP), and while some extensions and applications in this group can be pretty "mild" and relatively harmless, others can be quite dangerous. The extension we are talking about in this report is classified as a PUP because it carries malicious code inside a seemingly helpful extension, and this code could help record highly sensitive information. If you have installed this add-on, we strongly recommend deleting it even if you have already used it and found the services provided by it to be useful. If you do not yet understand why it is best to remove Shitcoin Wallet, please continue reading this report.
Shitcoin Wallet can be downloaded from its official website, shitcoinwallet.co. Just recently, it was also available for Google Chrome users at the Chrome store (chrome.google.com/webstore/detail/shitcoin-wallet/ckkgmccefffnbbalkmbbgebbojjogffn). This installer has been taken down fairly quickly, and that is a sign that something was wrong with it. Well, unfortunately, there were several things wrong with it. Even though Shitcoin Wallet is advertised as a "Safe and Secure," "Covered By Insurance" app that is meant to make it easier to connect to the Ethereum blockchain, it was discovered that it can leak highly sensitive information. And all of that is definitely not done by accident. The jury is still out on whether the code responsible for malicious activity was injected by the creator or some third-party, but the app must be deleted in any case if users do not want to have their personal data leaked.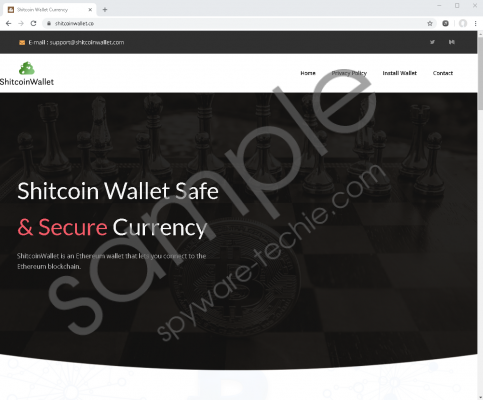 Shitcoin Wallet screenshot
Scroll down for full removal instructions
Once Shitcoin Wallet is installed, it requests to inject JavaScript code on specific websites (77 of them). If any of the websites are visited, the extension is meant to inject an additional JavaScript file from a remote website. This file contains an obfuscated code that is activated when the user visits binance.org, idex.market, myetherwallet.com, neotracker.io, or switcheo.exchange. The injected JavaScript code then records the login information that the user is likely to enter, as well as search for the private keys stored inside. The collected information is then sent back to the remote website from which the additional file was downloaded. Needless to say, this puts the user at risk because their funds managed on the five popular cryptocurrency management platforms could be hijacked. So, if you do not want to risk your virtual security and your Ethereum funds, deleting Shitcoin Wallet is crucial.
If you have the Shitcoin Wallet extension installed on your Google Chrome browser or the application installed on your Windows operating system, we strongly recommend following the instructions below. They show how to delete the potentially unwanted program manually. Of course, you can also rely on legitimate anti-malware software to delete Shitcoin Wallet, and we strongly recommend installing this software if you also want to strengthen the overall protection of your operating system. If you are not ready to take the jump, start by installing a free malware scanner. It will help you better understand what is going on within your operating system, and it might even warn you about threats you did not know existed at all. If you want to discuss anything further, post your questions in the comments area.
Remove Shitcoin Wallet
Open the Start menu from the Taskbar.
Click Control Panel and then navigate to Uninstall a program.
Identify the undesirable application and choose to Uninstall it.
Launch Google Chrome and tap Alt+F keys.
Click More tools and then move to Extensions.
Click the Remove button next to the unwanted program.
Tap Ctrl+Shift+Delete keys to access the Clear browsing data menu.
In the Advanced menu, select a time range and appropriate boxes.
Click Clear data and then restart the browser.
In non-techie terms:
Shitcoin Wallet is a potentially unwanted program that certainly cannot be ignored. It contains a malicious script that can endanger the security of any of its users, and, therefore, it cannot be trusted. If you ignore this extension, it could easily leak sensitive login information and also pass on private keys found within your Ethereum wallet. Undoubtedly, you now understand just how important it is to remove Shitcoin Wallet from your operating system and the Google Chrome web browser. If you want to handle this situation yourself, we hope that the guide presented above will be of great assistance to you. If you are not too sure about your skills and experience, or if you are worried about your security in the future, it is best if you employ a legitimate anti-malware program. If you are still not sure what you should do, leave us a comment below, and we will get back to you ASAP.