Do you know what Shamdisting.club is?
Shamdisting.club is an adware server. Therefore, a visit to this page could result in you receiving third-party advertisements. Our researchers say that the website might be able to show such content on your Desktop if you give the website permission to show you notifications. It seems that the site ought to ask for such permission shortly after you enter it. Naturally, if you do not like seeing notifications or ads, we do not advise clicking Allow. If you already did and now want to stop the adware server from showing you notifications, we recommend using the removal guide below to show how to eliminate Shamdisting.club by resetting your browser. If resetting your browser is not something you want to do, you could use a reputable antimalware tool that could deal with this adware server. For more information about it, we recommend reading our full report.
If it is your first time coming across a website classified as an adware server, you might not know how you ended up on it. Our researchers say that users often land on sites like Shamdisting.club when they click questionable advertising content, links, or interact with suspicious pop-ups. This is why we advise not to interact with mentioned doubtful content if you do not want to land on adware servers and websites alike. Also, we recommend ensuring that your browser is always up to date because updates often bring not only new functions but also extend the browser's blacklist of potentially dangerous websites and remove vulnerabilities that could be exploited by hackers. Thus, keeping your browsing application up to date can help you browse the Internet safer. Additionally, we advise having a reputable antimalware tool that could warn you about questionable content and guard your system against various threats.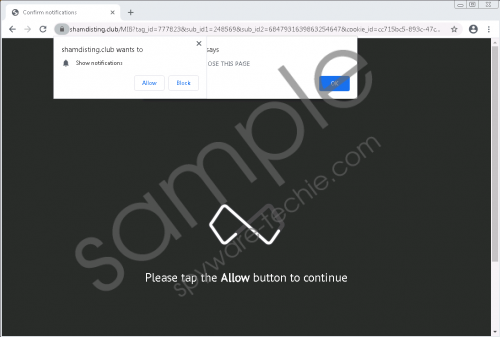 Shamdisting.club screenshot
Scroll down for full removal instructions
When you enter Shamdisting.club, you might see a loading animation and a sentence saying, "Please tap the Allow button to continue." Such content might make it seem like the website is trying to load something, but it needs you to allow it to do so. However, the pop-up that should display the mentioned Allow button should say that the website wants to show you notifications. In other words, the pop-up that should contain the Allow button does not say that Shamdisting.club will load some content on its page if you click it. Our researchers tell that users who click Allow might start seeing notifications that could contain ads or promotions from various third parties on their Desktops. Such notifications could be both annoying and unreliable because we do not know what they could promote or where they might come from. There is a possibility that they could advertise other adware servers. Thus, we advise being cautious with such content.
Of course, if you do not want to receive Shamdisting.club notifications, you may want to click Block instead of Allow. If you press Allow and later change your mind about receiving the adware server's notifications, you have two options. The first one is to reset your browser; the removal guide that is available below may help you with this task. If you do not want to do a browser reset, for example, because resetting your browser could delete your browsing history, extensions, or data alike, we advise using a reliable antimalware tool. It should identify data associated with Shamdisting.club as an adware helper and let you get rid of it by pressing the tool's displayed removal button.
Eliminate Shamdisting.club
Internet Explorer
Press Alt+X.
Navigate to Settings.
Choose Privacy & Security.
Press the Choose what to clear button.
Select Website permissions.
Click the Clear button.
Restart the browser.
Mozilla Firefox
Click Help located on the upper browser's menu bar.
Press Troubleshooting information.
Click the Refresh Firefox... button available on the right side.
Click the Refresh Firefox button.
Select Finish.
Reboot the browser.
Google Chrome
Press Alt+F.
Go to Settings.
Scroll down to access the Advanced section.
Scroll below to reach the Reset and clean up section.
Select Restore settings to their original defaults.
Click the Reset settings button to finish.
Restart Google Chrome.
In non-techie terms:
Shamdisting.club is one of the adware servers that ask to give permission to show notifications so that they could display such content on a user's Desktop. To provide such permission, a user has to click the Allow button that appears shortly after entering the website. If you do not want to see notifications coming from an adware server or its third-party partners, it is advisable to click the Block button instead. Users who clicked Allow and now wish to get rid of Shamdisting.club notifications might have to reset their browsers to remove the given permission. If you do not mind doing so, you could reset your browser to stop the unwanted notifications by following the removal guide available above this paragraph. Some users might not want to reset their browsers because doing it might erase their extensions and data alike. In such cases, we advise employing a reputable antimalware tool that could deal with the adware server.