Do you know what Seto Ransomware is?
Seto Ransomware is a malicious computer infection that was created to encrypt your files and then rip you off. Needless to say, users should never pay a single cent to this malicious program. It might sometimes seem that paying is the only way to restore your files, but that is not entirely true. Also, there is no guarantee that this infection would issue the decryption key. Therefore, you need to remove Seto Ransomware from your system as soon as possible and then look ways to restore your files. It should also be possible to decrypt some of them.
The truth is that this infection comes from the STOP Ransomware family. So, it is practically identical to Nesa Ransomware, Moka Ransomware, Domn Ransomware. In this case, we can also say that a public decryption tool is available. However, there is a catch. If your files were encrypted by Seto Ransomware using the offline key, then it is possible to use a public decryption tool to unlock those files. Please note that the decryption tool will not work if the files were locked up using an online key. The best way to know which key was used is to try the decryption tool you can find online.
However, even though there is hope that you can restore some of the encrypted files, it would be for the best if you could avoid this infection altogether. That is actually not that hard to achieve. You just need to know how Seto Ransomware spreads around. And the most common ransomware distribution method is spam emails.
Spam emails reach us every single day, but we probably seldom think about the danger they might bring. What's more, the spam email attachments that come along might also look like regular documents you open every single day. So, if you deal with online shopping invoices or financial reports regularly, you might not think twice when you click to download that fake document. Consequently, if you open it on your computer, you infect it with Seto Ransomware (or any other malware program for that matter). If you must open these unfamiliar files, at least scan them with a security tool first.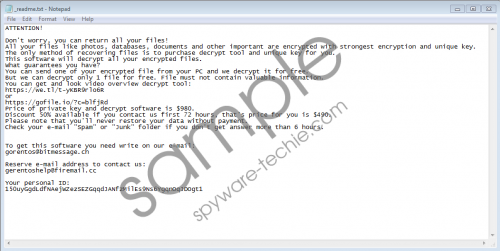 Seto Ransomware screenshot
Scroll down for full removal instructions
If you fail to protect your system from ransomware, Seto Ransomware will settle down in your computer, and it will launch file encryption. This program works just like other infections from this family, so all of your personal files will get encrypted. The encrypted files receive ".seto" extension that is added to the end of a filename. Of course, you don't need any separate extension to let you know that your data has been encrypted because the system cannot open your files anymore.
If that weren't enough, Seto Ransomware also drops a ransom note. The contents of the ransom note are practically identical across all programs from the STOP Ransomware group. Here's an extract from the said note:
ATTENTION!

Don't worry, you can return all your files!
All your files like photos, databases, documents and other important are encrypted with strongest encryption and unique key.
<…>
Price of private key and decrypt software is $980.
Discount 50% available if you contact us first 72 hours, that's price for you is $490.
Despite the rather poor English, it is definitely clear what the criminals want from you. You are expected to contact them via the given email address, and then they would supposedly tell you what to do next. However, contacting the criminals also allows them to win. Not to mention that there is no guarantee they would issue the decryption key in the first place.
Simply remove Seto Ransomware from your system today. The manual removal is not complicated, but if you don't feel like dealing with malware on your own, you can always acquire a powerful security tool that will terminate the infection for you automatically.
As for your files, you should definitely consider backing them up on an external hard drive. If you do not have an external hard drive where you can save your files, consider saving them on a cloud drive. That would definitely save you the trouble of restoring your files in the case of a ransomware infection.
How to Delete Seto Ransomware
Press Win+R and type %LocalAppData%. Click OK.
Remove the folder with a long alphanumeric name.
Run a full system scan with the SpyHunter free scanner.
In non-techie terms:
Seto Ransomware is a dangerous computer infection that blocks you from opening your files. The program tells you that you have to pay to restore your files. However, you should never do that. You need to remove Seto Ransomware from your computer today, and you can do it with a powerful antispyware tool. You should also learn more about ransomware infections because you can never know when a similar intruder would barge into your system again.