Do you know how Setli works?
If you have downloaded Setli, you must have done it because you are trying to visit sites that are blocked in your geo-region. According to official information, this suspicious program is meant to unblock websites and digital media for free, and it can do that by connecting to the so-called "custom DNS." An official disclaimer created by the developer of this program indicates that there are no guarantees that all blocked websites will be unlocked, which is one of the things that might deter you from installing the app. Our research team warns that there is at least one more important reason to keep it away, and if you have installed it already, removal is recommended. It is suggested that you delete Setli because as long as this adware (advertising-supported software) is installed, you will keep getting bombarded with advertisements. Keep reading if you want to learn why this could be dangerous.
Setli.com does not work right now, which means that an official installer for the advertising-supported program does not exist. Despite this, it is very likely that third-party installers are set up to promote this DNS unlocker. Just like VidSqaure, Ghostify, and all other programs alike, Setli is likely to spread packaged with potentially unwanted programs, hijackers, and, possibly, malware. Needless to say, if you discover malicious threats, there is no doubt that they must be removed immediately. If you have a hard time identifying the threats by yourself, consider utilizing a malware scanner to help you out. Once you know the active threats by their names, you should be able to find the appropriate removal guides on this website. If you cannot, you can always contact our research team and ask for help via the comments section. Whatever you do, and however you do it, you must get rid of all infections.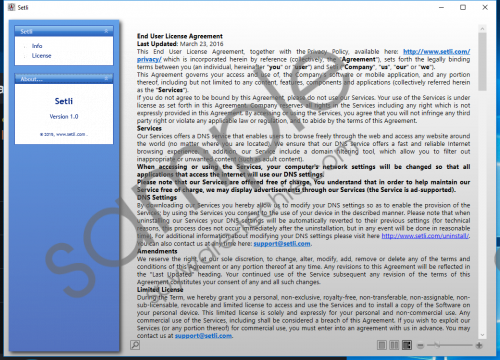 Setli screenshot
Scroll down for full removal instructions
If you let Setli in, this adware automatically changes normal DNS addresses to "custom" DNS addresses, 82.163.143.119 and 82.163.142.20. This might help you visit blocked websites, but it can also open a gateway to advertisements. As the EULA document reveals, the DNS unlocker displays advertisements to maintain the "service free of charge." How does that work? The advertisers working with Setli pay money to have their offers pushed out. If you interact with them, money is made, either when you click links or when profit is made. It is possible that the suspicious adware works with parties who have no intention of harming you, but we cannot guarantee that malicious ads will not be shown to you, and that is why the removal of this adware is strongly recommended. Even if you gain access to certain sites, we are sure you do not want to be flooded with potentially misleading/malicious ads in return.
You can remove Setli by uninstalling it via the Control Panel. Needless to say, you also need to restore DNS settings. All of this can be done manually, and our research team has created a guide that explains how to successfully get rid of the unwanted adware. Keep in mind that if you choose to erase this threat manually, you cannot forget about other active infections. What if they are too complicated, and you cannot delete them yourself? In this situation, a legitimate anti-malware tool can be most useful. If you choose to install this tool, we recommend keeping it installed because you want the protection it can provide you with. If you have other questions about Setli, add them to the comments section.
How to restore DNS and delete Setli
Windows 10/Windows 8/Windows 7/Windows Vista
Simultaneously tap keys Win+R to launch RUN.
Enter Control Panel to open the menu.
Navigate to Uninstall a program.
Right-click the undesirable application and select Uninstall.
Windows XP
Click the Start menu icon on the left of the Taskbar.
Open the Control Panel menu.
Double-click Add or Remove Programs.
Select the undesirable application and click Remove.
Restore DNS
Simultaneously tap Win+R keys and enter ncpa.cpl into the RUN field.
In the Network Connections window, right-click the network connection and select Properties.
Mark Internet Protocol Version (TCP/IPv4) and then click the Properties button.
Click the General tab and then mark Use the following DNS server addresses.
Enter the desired DNS address (e.g., 8.8.8.8 and 8.8.4.4) and then click OK.
In non-techie terms:
Setli might seem like a useful tool, but it comes with unpredictable advertisements, which is why our research team recommends deleting it as soon as possible. Since the official installer does not work, it is most likely that users will encounter this ad-supported program bundled with other suspicious programs. If that is the case, we strongly recommend examining your operating system (we suggest using a malware scanner) because you do not want to overlook any serious infections. When it comes to the removal of Setli, you should be able to get rid of it using the guide above, but we advise installing anti-malware software to perform automated removal if more threats are found.