Do you know what Serpent is?
If you ever come across an application that goes by the name of Serpent, make sure to avoid it at all costs. This is crucial since malware experts at Spyware-Techie.com have classified this piece of software as a ransomware program. Applications of this category are infamous for their malicious functionality; they can lock your personal data without any notification or authorization. To understand how this malicious program does this, make sure to read the rest of our report because we provide information gathered by our malware specialist during their research. Since it is known that majority of users that infect their personal computer with devious applications because they lack basic knowledge regarding virtual security, we provide a few preventative steps. Below, you will also find a detailed removal guide that you should use to delete Serpent once and for all.
Once Serpent is launched on your personal computer it will insert its copy to a folder within the %APPDATA% directory. After this is done this malicious program will scan your PC for files that contain specific extensions. During the analysis of this ransomware our researchers have discovered that this malware affects a large variety of file types such as .jpeg, .png, .doc, .docx, .txt, .ppt, .psd, .mp3, .mp4, and many others. It is important to note the encryption procedure is utterly silent, so users with no advanced computer knowledge will not realize what is going on. To make manual decryption an impossible task, this malicious program uses a powerful cipher entitled AES-256. The devious program also deletes all of your shadow copies so they could not be used to recover your personal data. Additionally this ransomware creates a VBS script that will execute this malware with each system startup. Every file locked by this devious program will be tagged with a .serpent extension. After the encryption procedure is done, you will be presented with a warning note that will inform you about what has happened and will urge you to pay a ransom in return for a decryption procedure. While this might seem like a solution to your problems, you should be aware of the fact that cyber crooks are not obliged in any legal way to provide you with decryption services even if you happen to pay up. Under no circumstances make any payments as there is a chance to lose a large sum of money. Do not waste any time and conduct a complete removal of Serpent at the very same time that it is found up and running on your PC.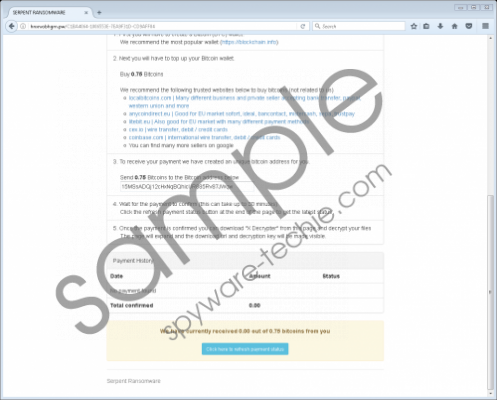 Serpent screenshot
Scroll down for full removal instructions
During the analysis of Serpent, our researchers have discovered that in the majority of cases this dubious program is spread via spam e-mail attachments. In quite a few cases it is disguised as an important Word document. If you download and open this file, you will be asked to click the Enable Content button to access it. Unfortunately, by clicking this button, the user launches the ransomware in question. To avoid coming across this malicious file, we highly advise you to refrain yourself from all e-mail attachments that come your way from unidentifiable sources. In other instances, this program could be spread via bundled installers, which are infamous for hosting invasive programs. Such dubious setup files are usually up for download on unauthorized third-party download websites; thus, we highly advise you to acquire all of your applications from official developers' websites only. If you want to have a fully secure operating system at all times, make sure to install a professional antimalware tool if you do not have one already. Such a tool is paramount to your overall virtual security as it can detect and warn you in advance about any suspicious content on your PC or online.
Do not waste any time and conduct a complete removal of Serpent as soon as it is found active on your PC. The instructions that we provide below should be executed with care since a single mistake could result in an incomplete removal of Serpent. This might have undesirable outcomes as its traces could prove to be more than enough for it to continue its malicious functionality. In other situations, traces of this ransomware could be used for its silent restoration. You can avoid all of this by simply double-checking your operating system for leftovers associated with Serpent as soon as you are done with its manual removal.
How to remove Serpent from your PC
Open your File Explorer.
Navigate to C:\Users\User\AppData\Roaming.
Select a folder that host the Serpent executable file and tap Delete on your keyboard. The name of this folder is randomized.
Navigate to C:\Users\User\AppData\Roaming\Microsoft\Windows\Start Menu\Programs\Startup.
Select the malicious .vbs file and the tap Delete on your keyboard. The name of this file is randomized.
Right-click your Recycle Bin and select Empty Recycle Bin.
In non-techie terms:
We are well aware of the fact that many users do not feel comfortable performing manual removal by themselves. If you happen to be one of those users, do not worry. Malware experts at our internal labs have crafted an alternative removal guide. Follow the instructions below and you will be able to delete this ransomware in a fully automated way.