Do you know what Serbransom Ransomware is?
According to our malware researchers, Serbransom Ransomware is a typical ransomware-type computer infection dedicated to encrypting your personal files and demanding that you pay a ransom if you want to decrypt them. You cannot trust the cybercriminals to deliver on their promise, so we recommend that you remove it from your PC as soon as the opportunity arises. This ransomware is still in its development stage, but our researchers say that some test samples have been released and distributed in a malicious manner, so your PC can become infected with it if you are not careful.
At the time of this article, the distribution methods used to infect the computers of unwary users is unknown. Nevertheless, our malware analysts believe that the developers might have set up an email server dedicated to sending Serbransom Ransomware to random email addresses in an attached file. The emails might appear as legitimate, and you might be given the impression that it is an inquiry from a bank or some other company. If you open the attached file, then it might run a malicious script that will download this ransomware onto your PC. However, we do not know what type of script that would involve. Also, it is possible that its developers can use exploit kits such as the Angler Exploit kit to make use of Flash or JavaScript vulnerabilities and automatically download Serbransom Ransomware onto your PC when you visit an infected website.
Our cyber security experts have concluded that this ransomware's developers have also released a custom Serbransom Ransomware generator that allows anyone that has it to create their own custom Serbransom Ransomware version that has options as setting up the Bitcoin wallet ID, email address, encrypted extension text and also select which file types to encrypt. This generator might be distributed on a hidden TOR network and accessible to certain people only.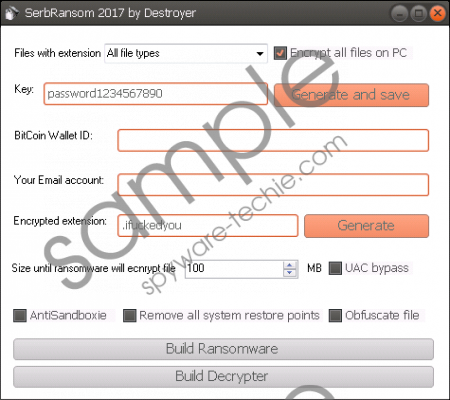 Serbransom Ransomware screenshot
Scroll down for full removal instructions
If this ransomware were to get onto your PC, then it would scan your PC for files of interest and start encrypting them. However, since this ransomware is still in development, everything is subject to change. Nevertheless, it is easy to assume that it will use either the AES or RSA encryption algorithms or even both as one can be used to encrypt the files and the other to encrypt the decryption key. The resulting decryption key should be sent to the command and control server and stored. Researchers say that Serbransom Ransomware can encrypt most file formats, so it can encrypt nearly all of your valuable, personal files such as pictures and documents. While encrypting the files, it is set to append the files with the .velikasrbija file extension. To date, there is no free decryption tool that could decrypt your files for free. However, you cannot trust cyber criminals to send you the decryptor and decryption key once you have paid. In any case, the current unfinished version of this ransomware does not drop a ransom note that typically contains details on how to make the payment.
As you can see, Serbransom Ransomware is nothing more than a ransomware-type program that was created or the purpose of encrypting your files and demanding money for decrypting them. However, given the fact that this ransomware has not been finished and that its developers might not keep their word once it is, you may not get the decryption key. Therefore, we recommend that you remove this infection using SpyHunter to detect it and then going to the location to delete it manually.
Removal Guide
Open your browser.
Go to http://www.spyware-techie.com/download-sph
Download SpyHunter-Installer.exe
Install the program and run it.
Click Scan Computer Now!
Press Windows+E and copy the file path of the executable from the scan results.
Type the file path of the executable in File Explorer's address box.
Press Enter.
Right-click the malicious file and click Delete.
In non-techie terms:
Serbransom Ransomware is a dangerous computer infection that can encrypt and, thus, ruin your personal files. Its creators want you to pay money for the decryption key that will restore your files to how they were, but you should not trust them to deliver on their promise. Therefore, we suggest that you remove this hijacker using the guide above.