Do you know what Sensearch is?
Cybersecurity specialists at Spyware-techie.com have recently analyzed a browser extension for Google Chrome called Sensearch that they have classified as a potentially unwanted program and recommend that you remove it from your computer as soon as the opportunity arises as this program can collect information about you and show commercial advertisements while you browse the web. Apart from that, it offers nothing in terms of useful functions, and it is clear that its developers created it for advertising purposes only.
The company that created and published this application is unknown because it does not have a Terms of Service or Privacy Policy documents that usually feature the company name. Additional research also came up empty which only goes to show how shady its secretive developer is.
As far as the distribution methods are concerned, there are several methods used. Researchers have found that this extension was featured on the Chrome Web Store. Indeed, this shady program was featured on it, but not anymore, because the people at Google made the right decision to remove it. Nevertheless, Sensearch has a dedicated distribution website at Stalyzine.com, but it does not initiate the download when you press the Download button. Therefore, it appears that its developers have run out of distribution channels. It is worthy of a note that there is no information to suggest that this program could be distributed via bundled software which is quite rare as many similar browser extensions are distributed using this method.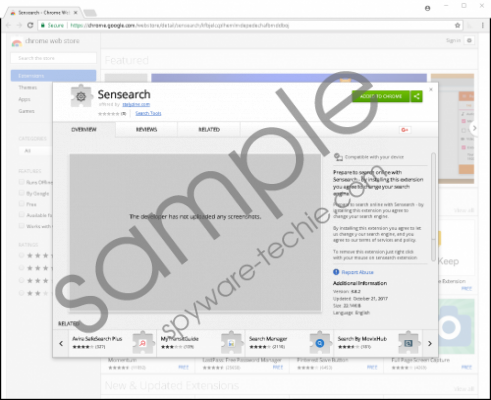 Sensearch screenshot
Scroll down for full removal instructions
If Sensearch were to end up on your browser, then it would start showing you ads while you browse the web. According to our cybersecurity analysts, the ads are pop-up windows that are set to block your view of the website that you might be visiting to catch your attention. Since the company that made this application is unknown, and there is no information to confirm its legitimacy, we want to warn you that some of its ads can be misleading and potentially dangerous to your computer's security. This program can also enter your browser into full-screen mode.
In addition, research has revealed that Sensearch was configured to collect information about you that might be used to customize the ad campaign to present you with more relevant ads that you may be more inclined to click. Researchers believe that this application should collect information such as your Internet Protocol (IP) address, browser version, operating system type and version, and perhaps some other information relevant to assigning ads. While it is legal to collect this type of information, you might not want to share it with an unknown company. Therefore, we recommend that you delete it from your browser as soon as the opportunity arises.
While Sensearch is not necessarily a malicious application, we want to make it clear that it is unreliable as it comes from an unknown publisher. Furthermore, there is no guarantee that its ads are safe, so you might want to be on the safe side of things and remove this application. See the instructions below for more information.
How to delete this extension
Open Google Chrome.
Press Alt+F.
Select More tools.
Click Extensions.
Find Sensearch.
Click the Remove button.
In non-techie terms:
Sensearch is a useless application that researchers have classified as a potentially unwanted program because it was configured to collect information about you, show ads of questionable reliability and enter your browser into full-screen mode without authorization. In short, it offers nothing of value, and you want your Pc to be safe and secure, then you ought to remove it from your browser.