Do you know what Selection Tools is?
Selection Tools is the advertisement-supported program that our malware researchers have just analyzed. Even though it is advertised as a helpful browser tool, it was developed only for the purpose of promoting third-party products. These third-parties are likely to pay money for the promotional services, due to which, the creators of Selection Tools might support any party that is willing to pay the fee. Needless to say, this might put your virtual security at risk, as the advertisements injected by this adware could be associated with unreliable parties. Even though this is only one of the possible outcomes, you need to consider it if you are thinking of postponing the removal of Selection Tools. Of course, our research team does not recommend that.
Have you downloaded Selection Tools packaged with MyPCBackup, WindeskSearch, PriceMinus, and similar undesirable programs that deserve removal? This software is identified as undesirable because computer users usually install it thinking that it will work in a more beneficial manner than it actually does. Misleading promises could be set up to trick you into installing this software, but some programs could slither in silently. It all depends on the downloader responsible for the distribution of Selection Tools, and several different downloaders could be employed for this task. Of course, all malicious programs must be deleted from your operating system, and we suggest using a malware scanner to identify them. Some users are skilled enough to detect the infections they need to delete by themselves, but this is not an easy task.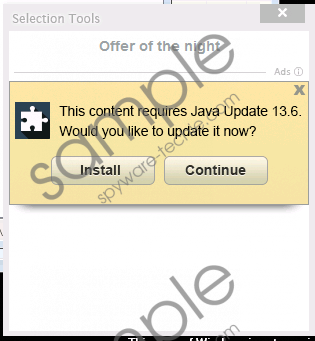 Selection Tools screenshot
Scroll down for full removal instructions
You might be introduced to malware by Selection Tools itself. Even though this ad-supported program is most likely to introduce you to relatively harmless ads, it could also inject ads promoting fake installers and services. For example, a pop-up might show up suggesting that you need to download the Java Update 13.6 (the number might change). If you click the download button, you might execute a software package carrying even more undesirable programs. If you do end up installing other malicious threats, the removal operation will become even more complicated. This is the reason why we recommend deleting the advertisement-supported programs published by WTools right away.
Can you delete adware from your PC? Luckily, it is not difficult to remove Selection Tools. If other threats do not exist, you will eliminate this adware by completing the removal guide below. Well, what should you do if other threats exist? You might be able to delete this malware manually, but we advise trusting automated malware removal software. This software was designed specifically for the removal of malware and the protection of you operating system, which means that you will receive benefits even after the removal is complete.
Delete Selection Tools from Windows
Delete from Windows 8.1 and Windows 8:
In Metro UI open the Charm bar from the bottom-right corner of the screen.
Click the Search icon and using the tool find Uninstall a program.
Right-click the application you wish to remove and choose Uninstall.
Delete from Windows 7 and Windows Vista:
Click the Windows icon on the Taskbar to open the Start menu and select Control Panel.
Click Uninstall a program and right-click the application you wish to remove.
Select Uninstall to initiate the removal.
Delete from Windows XP:
Move to the left of the Taskbar and click Start to open a menu.
Open the Control Panel menu and double-click Add or Remove Programs.
In the Change or Remove Programs menu select and Remove the undesirable app.
In non-techie terms:
You should delete Selection Tools from your operating system because this advertisement-supported program can bombard you with unreliable, misleading advertisements. Interacting with them could put your virtual security on the line, and this is what you need to avoid at all cost. Remove Selection Tools using the guide below or, better yet, trust automated malware removal software.