Do you know what SeeWords is?
If you have noticed numerous unwanted third-party commercial ads and pop-ups, it is a significant indication that an adware program called SeeWords is up and running on your PC. If this is the case, you must know that its removal should be executed as soon as possible as it is an invasive program that does not hold any beneficial values. Malware researchers at Spyware-Techie.com have noticed that in certain cases SeeWords can turn out to be quite malicious. If you are a security-conscious user, the removal of SeeWords should be your utmost priority. Please use the removal guide crafted by our malware experts because it is easy to use and will help your delete this invasive application without encountering any major problems.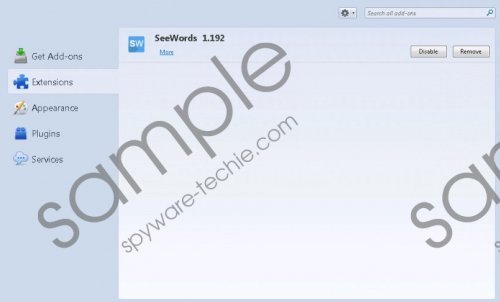 SeeWords screenshot
Scroll down for full removal instructions
Just like any other adware program, SeeWords will flood your web browser with various third-party ads and annoying pop-ups. It goes without saying that this activity will drive you crazy because the ads will be presented randomly whether you like it or not. You will also be forced to fight through numerous ads and pop-ups every single time you browse the web. If you wish to restore the standard functionality of your web browser, you must completely remove SeeWords from your operating system. Otherwise, the annoyance will continue, and your browser will remain virtually unusable.
In addition to being annoying, SeeWords could turn out to be malicious as well. Malware experts at Spyware-Techie.com have discovered that by clicking on an ad provided by SeeWords you could face devastating outcomes. This is because some of these ads provided could be implemented with redirect links. So, by clicking on an ad presented by SeeWords, you could end up in a fake online shop or website that promotes malicious software. It should be more that obvious why we advise you not to click on anything that SeeWords provides you. In order to reduce the risk of getting your PC infected with some other infectious program, you must remove from your operating system SeeWords and everything that is associated with this adware.
The removal of SeeWords is essential if you want to maintain a computer that is clean and secure at all times. Remember to pay as much attention as possible because one mistake could mean that the infection was not removed entirely. This is a dangerous situation, because a single leftover file or registry key could be used by other Internet-based infections as a gateway to your operating system.
How to remove SeeWords from your operating system
How to remove SeeWords from Windows Vista and Windows 7
Click the Windows button and select Control Panel.
Click the Uninstall a program option.
Select SeeWords.
Click Uninstall.
How to remove SeeWords from Windows XP
Click Start and select Control Panel.
Click Add or Remove Programs.
Uninstall the unwanted application.
How to remove SeeWords from Windows 8
Move the mouse pointer to the lower-left corner of the screen.
Right-click and then select Control Panel.
Click Uninstall a program.
Select SeeWords and click the Uninstall button.
In non-techie terms:
A seemingly harmless adware application could be the cause of other internet-based infections entering your operating system. If you wish to avoid that and keep your system secure, and wan to remove this infection automatically, please follow the instructions below.