Do you know what Seekmix.com is?
Seekmix.com is a search tool that shows search results using the Google Custom Search. It is unlikely that Google, as a company, has anything to do with Navigation network co., limited, the developer of the suspicious search tool, and it is possible that the name of Google is only used to lure in more users. Needless to say, Seekmix.com is not a popular search tool, and computer users usually find out about it when downloading software it comes bundled with. Our research has revealed that users living in Turkey are more likely to find this suspicious search tool bundled with third-party programs than users living in other countries. Of course, regardless of where you live, we can help you delete Seekmix.com.
Even though it is important to know how Seekmix.com works, it is just as important to know how this suspicious search tool is spread, which is where we will start the discussion. The distribution of this search tool is important because of the third-party programs that are involved. Depending on the installer used for the execution of the search tool that takes over the home page of IE, Chrome, and Firefox browsers, you might encounter unreliable programs. Needless to say, you need to remove Seekmix.com-related software if it turns out to be malicious. Just like its clone Seekmx.com, Seekmix.com could be packaged with dangerous programs. Even though the developers of the search tool might have nothing to do with malware, there is always a possibility to encounter malware when trusting third-party installers. If you are struggling to find the programs that might require removal, we suggest implementing a malware scanner. If you employ this tool, you will know if you need to delete computer threats.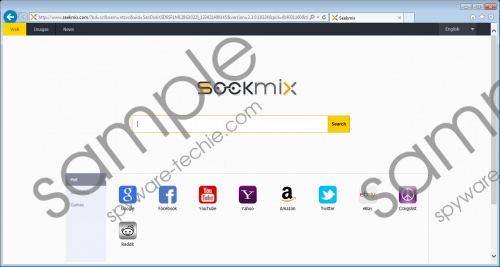 Seekmix.com screenshot
Scroll down for full removal instructions
The advertisements/sponsored links presented by Seekmix.com might be unreliable, which might be a reason to worry. Of course, most users know that sponsored links are unpredictable, and they stay away from them. Unfortunately, it is not as easy to avoid the activity of tracking cookies. In fact, many users choose to remove Seekmix.com because they are not comfortable with how these cookies can track and record their virtual activity. Truth be told, it is unlikely that these cookies will do you any harm, but, if you do not find Seekmix.com beneficial and you want to remove it, it is best to delete these cookies as well.
These removal instructions show how to delete Seekmix.com from your web browsers. The operation is very straightforward, and even inexperienced users will succeed. However, we cannot predict how the removal of other undesirable programs will go. If you are willing to put in the work and time, you might be able to delete undesirable software and protect your operating system yourself. Of course, it is much easier, safer, and more efficient to employ authentic security software.
Remove Seekmix.com from browsers
Remove from Google Chrome
Open the browser, simultaneously tap Alt+F, and move to Settings.
Go to On Startup, select Open a specific page or set of pages, and click Set pages.
Overwrite or delete the undesirable URL and click OK.
Go to Appearance, select Show Home button, click Change, and repeat step 3.
Remove from Mozilla Firefox
Open the browser, simultaneously tap Alt+T, and move to Options.
Go to the General menu and overwrite or delete the undesirable Home Page URL.
Remove from Internet Explorer
Open the browser, simultaneously tap Alt+T, and move to Internet options.
Click the General tab, overwrite or delete the undesirable Home Page URL, and click OK.
In non-techie terms:
After doing some research, it was found that Seekmix.com is a search tool that can introduce users to sponsored links and that uses tracking cookies to collect certain information about them. Even though this search tool is not considered to be dangerous, not all users will find it beneficial. This is why our research team has created a removal guide that will help you delete Seekmix.com. It is also recommended that users use reliable security software to protect their operating system and, possibly, remove the unreliable programs installed along with the suspicious search tool.