Do you know what Secure Driver Updater is?
Secure Driver Updater is a program that appears to work as promised but our researchers believe that its presence on your system may indicate malicious programs hiding on board. As a matter of fact, this potentially unwanted program, or PUP, can enter your system not being your targeted software you want to download and install. This is possible when you download a free software bundle from a suspicious torrent or freeware website. Unfortunately, installing such a package could result in infecting your PC with several threats that may cause multiple system security issues for you, including exposing you to questionable and malicious third-party web content. This is why we think that you should detect all possible threats on your system and eliminate them, too, after you remove Secure Driver Updater from your PC.
Officially, you can install this PUP if you visit its promotional website at securedriverupdater.com. Let us tell you here that if your PC is protected with proper up-to-date security software, you may not even be able to load this website as it may get flagged and blocked as a dangerous threat, which is clearly not a good sign when it comes to downloading a "secure" driver updater. There has to be a reason why this URL got blacklisted by major antivirus programs even if our tests of this PUP did not show any malicious or suspicious activities. So, if you consider yourself a security-minded user, you may take a moment to think and then, you should probably delete Secure Driver Updater if it has been installed.
As we have mentioned, the real bad news regarding this PUP is that it can be found in free software bundles as well. Of course, we cannot say that the creators of this software are directly responsible for this but it does not even matter who is behind this dirty distribution method. What really matters is that you may infect your computer with all kinds of malicious threats as well as other PUPs if you install such a software package. This is why it is advisable to avoid downloading files and programs off of shady file-sharing websites or clicking on third-party ads and other suspicious contents on questionable websites (gambling, gaming, dating, file-sharing, and porn). Please note that you could be exposed to unsafe third-party content or redirections to dangerous websites when your PC is infected with adware, for instance. Therefore, we advise you to run a trustworthy online malware scanner after you delete Secure Driver Updater, if you finally decide so.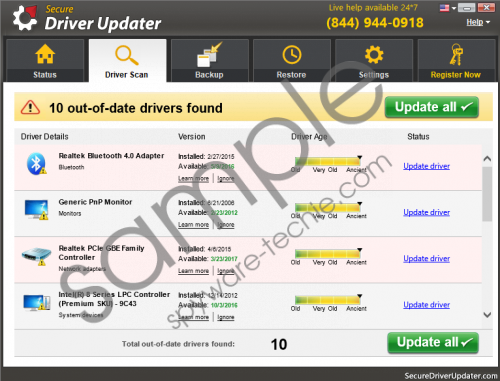 Secure Driver Updater screenshot
Scroll down for full removal instructions
Obviously, every computer user could do with a driver updater that can automatically find outdated drivers on your system and update them, collect the obsolete ones and delete them from your computer, and so on. This PUP can do all that and it seems that it even works as promised. However, we did find that it may collect information about you and your browsing habits, which is usually used to display targeted advertising while you are browsing; at least, other PUPs and infections use such data this way or even sell it to questionable third parties. Nevertheless, we have not managed to find proof of this, although with the bundled version it is possible to happen but not likely in the case of the official version. In any case, we believe that if you installed the bundled version, you should not hesitate to remove Secure Driver Updater to be on the safe side.
The best news about this PUP is surely the fact that it will take you about a minute to uninstall it, if you also arrive at the same conclusion as us. Please use our instructions below if you are not familiar with uninstalling an application. Remember that this may only be the first step towards a secure system and do not stop just yet. If you do not think that you can identify all possible threats on your system, we suggest that you install a decent, up-to-date malware removal application, such as SpyHunter.
Remove Secure Driver Updater from Windows
Windows Vista/Windows 7/Windows 8/Windows 8.1/Windows 10
Tap Win+R and enter control panel. Press the Enter key on your keyboard.
Open Uninstall a program.
Select the uninstaller and click Uninstall.
Windows XP
Click the Start button and pick Control Panel.
Choose Add or Remove Programs.
Select the uninstaller and click Remove.
In non-techie terms:
Secure Driver Updater is basically an application that our researchers have classified as a potentially unwanted program because it does not really put your system at risk in itself. Although there are reports claiming that it may start showing third-party ads and redirect you to questionable websites, we cannot confirm these claims as we did not manage to replicate them. This program collects your outdated drivers from your system and provides you with a possibility to update them from official sources. Our tests indicate that these functions actually work properly. The main issue regarding this software is that it can be found in malicious software bundles that may bring on board several threat sources like adware programs, Trojans, keyloggers, backdoors, browser hijackers, and fake alerts apart from, of course, potentially unwanted programs like this one. We believe that it is best for you to remove Secure Driver Updater from your computer along with all other possibly harmful programs. If protecting your PC is your priority, we suggest that you install a trustworthy anti-malware program as soon as possible.