Do you know what SearchZone is?
SearchZone is a potentially unwanted application. It is a browser extension, and it is compatible with the Chrome browser. It means that it cannot perform anything on your computer if you use another browser, but there are many programs like SearchZone out there, and if you want to avoid it (no matter which browser you use), you should pay attention to what we have to say about this extension. Also, at the bottom of this description, we have manual removal instructions that will help you remove SearchZone for good.
The truth is that we have discussed similar applications many times before. These extensions do not look (and aren't really) dangerous, but the annoying thing about them is that they can easily get added to your browser when you expect it the least. The most puzzling part is that users actually agree to this. SearchZone and all other similar applications would not be able to enter target systems unless users allow them to. Hence, how is it possible for users to miss the moment when these extensions get added to their browser?
This probably happens due to various reasons, but the main culprit must be a distracted mind. Sure, SearchZone is not a malicious infection, and it has an official website and everything. Not to mention that it can also be found on the Chrome Web Store. From that, anyone could get an idea that SearchZone is a legitimate tool that is safe to use. Nevertheless, potentially unwanted programs are often distributed through other means, too.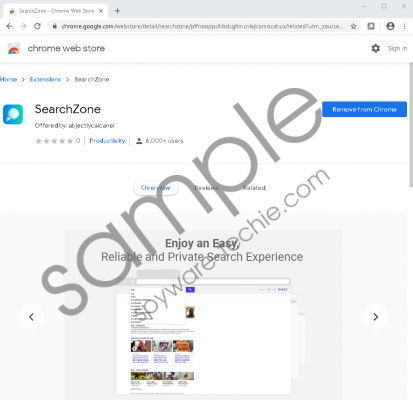 SearchZone screenshot
Scroll down for full removal instructions
These extensions can come through pop-ups and redirects that you encounter when you visit a number of unfamiliar websites. If you open visit online video streaming sites, online gaming sites, or freeware download pages, the chances are that these sites have a lot of pop-up ads there. Sometimes you need to click an ad to get a pop-up, sometimes clicking anything on the site results in a new tab or a redirect. These pop-ups and redirects may offer you to add SearchZone to your browser. If you do not read closely, you might click the more prominent button ("Add") instead of opting out.
If you were more careful, you would see that this program asks for permissions before it gets added to your browser. The permissions include reading your browsing history and changing your search settings to: feed.search-zone.com. So, even if you don't read the pop-up that offers SearchZone, the extension technically informs you about the oncoming changes. And there is nothing illegal about the default search engine modifications.
Of course, SearchZone will make it look as though this app provides you with the best search service. However, if you were to perform a web search through the given search site, you would see that all of your search queries get redirected to a modified version of the Yahoo! Search page. Thus, there is nothing original about the service that this extension tries to offer. Combined with the fact that the extension often comes uninvited, it should be enough to convince to remove SearchZone.
Another thing about these extensions is that they might inadvertently redirect you to dangerous websites. Of course, they are not inherently malicious, and they do not try to infect you with malware, but anyone can exploit this extension to promote their content, and the extension doesn't review the content that it promotes. Malware infection is the worst-case scenario, and it clearly doesn't happen all the time, but we should have that risk in mind, and if we want to protect our systems and our personal information from malicious exploitation, it's best to remove all the unwanted apps from our computers.
Luckily, when it comes to potentially unwanted programs, it is rather easy to remove them from our systems. Not to mention that SearchZone is only there on your Chrome browser. So, you can remove then extension via your browser's settings. We would like to recommend restoring your browser's settings to default because that would also delete other unwanted programs that might currently be on-board. After that, you should scan your computer with a powerful antispyware tool, just to make sure that your system is safe and clean.
How to Reset Your Browser
Launch your Chrome browser.
Press Alt+F and click Settings.
Scroll down and click Advanced.
Scroll down again and press Restore settings to their original defaults.
Click Reset settings to confirm.
In non-techie terms:
SearchZone might not be your worst nightmare, but it's still not a good idea to keep this extension. If you added it to your browser accidentally, you should remove the extension right now. While you're at it, make sure that there are no other unwanted programs on-board, too. For that, you can use the SpyHunter free scanner. For the most part, it is possible to remove unwanted applications via Control Panel. But if you are not sure whether you can do it, feel free to use a licensed antispyware tool for software removal.