Do you know what SearchZilla is?
If you are wondering whether SearchZilla might provide a better search engine than Google or Yahoo does, we encourage you to learn more about. First, you ought to know that the extension is considered to be a potentially unwanted program. Also, we believe that you should know that if you browse with the application's provided search engine, you might end up on a modified search.yahoo.com version. If you want to know what it might mean as well as more details about this extension, we encourage you to read our full report. For users who already know enough about the application and choose to delete it, we can offer our removal guide available below the main text. It shows how to erase SearchZilla from the only browser that it seems to be compatible with, which is Google Chrome.
We would like to start with telling you about how SearchZilla might be spread. Our researchers say that the extension is still available on its official website (portal.search-zilla.com) as well as the Chrome Web Store page. However, it is possible that it could be spread with bundled software installers or via pop-ups or advertisements alike. After all, such distribution methods are still popular amongst creators of potentially unwanted programs.
Therefore, if your goal is to avoid such software, we highly recommend being cautious when you look for new applications. Always make sure that the websites offering or suggesting them are reputable and harmless. Also, it would be smart to research the tool you might be interested in carefully before you agree to install it. Even if you take these precautions, you might still fail to recognize unreliable or potentially dangerous applications, which is why it would be smart to have a legitimate antimalware tool too.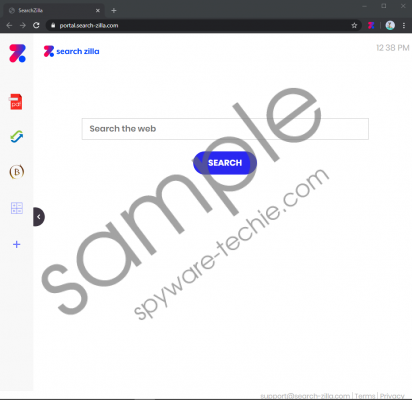 SearchZilla screenshot
Scroll down for full removal instructions
You should know that this extension might replace your default search engine with a search website called feed.search-zilla.com. As mentioned earlier, this search engine could redirect you to a modified Yahoo search engine. It means that unlike the original search.yahoo.com results, the results of the modified version could be altered, for example, the SearchZilla could inject them with advertisements from the extension's third-party partners. We advise not to trust such ads blindly because they might come from unknown third parties and could be unreliable.
Moreover, users of this application might be asked to allow SearchZilla to view their browsing history. The potentially unwanted program might ask for the permission upon its installation. Know that if you allow it, the application could see what websites you visit, what search keywords you use, what kind of goods you are interested in, and so on. Such information is anonymous as it should not identify users, but if you think it is personal, you could delete SearchZilla or choose not to install it.
Users who want to get rid of this potentially unwanted program manually could follow the removal guide available below. It explains how to erase the unwanted extension from the Google Chrome's extensions menu. The other way to eliminate SearchZilla is to get a reliable antimalware tool and let it delete the potentially unwanted program for you.
Erase SearchZilla
Open Google Chrome.
Insert chrome://extensions into the address bar and press Enter.
Search for SearchZilla and click Remove.
If needed, confirm you wish to Remove it.
Close your browser.
In non-techie terms:
SearchZilla might have unwanted functionality as the application was classified as a potentially unwanted program. Our researchers say that some users might find it irritating that the extension could view their browsing history. Others might not like the idea of being redirected to a modified Yahoo search engine and seeing ads from unknown third parties that could be injected into the search results. If you belong to one of the described groups or both of the, you might want to stick with reputable search engines like google.com or search.yahoo.com. Even if you already installed the application, you could still erase it from your browser if you only know how. The removal guide available above can show you how to delete SearchZilla from Google Chrome. You can also get rid of the potentially unwanted program with a reputable antimalware tool of your choice. In which case, we advise performing a full system scan after which you should be able to delete identified issues by clinking the provided removal button.