Do you know what Searchyu.com is?
Searchyu.com is a suspicious search engine that may silently infiltrate your computer and set itself as your home page in all of the most popular browsers. Therefore, our researchers have categorized it as a browser hijacker. It is important to note that the emergence of this hijacker is an illegal act since it breaches your privacy. If you still do not feel the urgency to remove Searchyu.com from your computer, please continue reading our article. We will go into more details about this infection so that you can make the right decision based on researched knowledge. At the end we will also provide you with effective solutions to fight this and other possible malware infections.
According to our researchers, this browser hijacker mainly uses software bundling as its distribution method over the net. When it comes to bundles it is worth mentioning that there is a good reason behind schemers to use this method so frequently nowadays. The answer is in the number of computer users looking for and downloading free software from all over the world. Of course, you cannot trust most of the freeware and torrent websites that promote bundles because most of them are questionable and simply use unsuspecting users to generate money through third-party advertising, etc.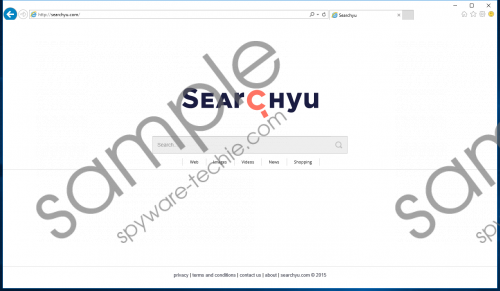 Searchyu.com screenshot
Scroll down for full removal instructions
Clicking on ads or misleading ads that pose as buttons could result in your downloading infected bundles. This means that you should not trust the content of such a package for a second. These bundles may be packed with a bunch of malware infections. If you are unlucky enough to install the whole lot, your operating system will be shortly challenged by several threats. That is why we recommend that you delete Searchyu.com and run a full system malware scan to see the threat situation more clearly. If the scan finds infections, you need to act right away because the more time you wait, the more time these threats have to expose you to unsafe content.
Searchyu.com is an unreliable search engine that you should not use for web searches, but, as a matter of fact, you should not use it at all, period. It seems that the creators of this browser hijacker, who have a farfetched claim to be "global leaders in search engine marketing and web traffic generation," have developed three identical search engines, including Expressfind.net and Topfindings.net. As this quote from the "About" page clearly discloses, the main purpose of this hijacker is marketing and web traffic generation, which are only possible through third-party advertising. That is why you cannot trust the search results as this search engine may manipulate them to advertise certain products or websites. Clicking on these ads might be dangerous as you might find yourself on infected websites. Removing Searchyu.com can stop this kind of exposure.
This browser hijacker cannot be uninstalled through Control Panel. So, instead of one step, you need to perform three separate steps to eliminate Searchyu.com. Do not worry for a second because these steps are not at all difficult; they simply take a bit more time. If you do not know how to overwrite the home page URL settings in your browsers, please use our instructions as your guide. If you want to prevent similar attacks from happening, you should either become a more careful web surfer or you could install reliable antimalware software to take care of your protection.
Searchyu.com Removal from Browsers
Mozilla Firefox
Tap Alt+T and go to Options.
Select General on the left.
Overwrite the URL or click Restore to Default.
Google Chrome
Tap Alt+F and choose Settings.
Click Open a specific page or set of pages.
Click Set pages.
Overwrite the URL in the pop-up.
Press OK.
Internet Explorer
Tap Alt+T and select Internet options.
Choose the General tab.
Overwrite the URL or click Use default.
Press OK.
In non-techie terms:
Searchyu.com is an unreliable search engine that is actually a browser hijacker since it infiltrates your system and makes unwanted changes to your browser settings without your consent. This hijacker may also start displaying third-party advertisements that might be potentially harmful to your computer's security. What's more, this search engine may alter the search results and thus introduce you to unsafe third-party content, not to mention that it may also enter your computer bundled with other malware programs. All in all, we believe that you should remove Searchyu.com and all other threats if you want to keep your PC secured.