Do you know what Searchtudo.com is?
Not all search tools are equally as reliable and beneficial, and Searchtudo.com is a perfect example of a search tool that should not be trusted. It promotes unreliable advertisements, redirects to a suspicious search provider, presents sponsored links, and records data about you. On top of that, it was found that this search engine can enter your PC along with malware, which means that its existence might signal the activity of malicious infections. Sure, this search tool cannot download malicious programs, and it cannot hijack your virtual identity, but that does not mean that it should be ignored. Do not underestimate this strange program just because it does not look like a threat that requires immediate removal. Are you curious as to how you can delete Searchtudo.com? If you are, continue reading.
Searchtudo.com appears to be targeted at users located in Brazil. Although the official site includes the code of Portugal ("pt"), it might be targeted at both regions. The links shown via this page route to websites that are popular all around the world (e.g., booking.com) or in specific regions (e.g., walmart.com), but it mostly links to Brazilian shopping and gaming websites. Additionally, it provides excerpts from news articles. Besides this, Searchtudo.com also shows advertisements. If you have researched the legal information associated with this search tool, you might believe that this search tool will provide you with "relevant information." Our research team warns that prize sweepstakes and surveys are not designed to provide you with useful information. They are used to retrieve your personal information, including your full name and email address, to help third parties approach you on a more personal level.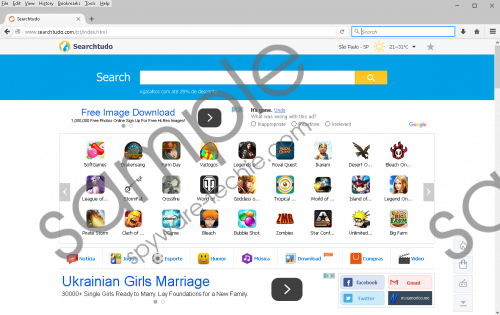 Searchtudo.com screenshot
Scroll down for full removal instructions
According to our research, Searchtudo.com is identical to Searchult.com, Nettritue.com, and Navegaki.com. In fact, even the search results shown to you will be represented via search.navegaki.com. Although the interface of this search provider does not look suspicious, you are informed which links represent ads, and you should realize that most links are advertisements. Do you think that this is how a trustworthy search tool should work? Although most search tools show ads, not all of them can be trusted, and you are right to have suspicion about Searchtudo.com. Was this search tool installed with your permission or has it hijacked your browsers illegally? In either case, it is obvious that this search is not trustworthy, and the sooner you remove it, the better. In have you have, in fact, downloaded this tool along with third-party malware, you have to make sure you eliminate it as well. The first step would be the installation of a reliable malware scanner because only this tool can quickly and thoroughly scan your PC for existing threats.
Do not worry if you are inexperienced with malicious or suspicious software. You do not need to be an expert to eliminate unwanted programs from your operating system. Of course, some threats, such as Trojans and ransomware, might require skills and knowledge, but you should be able to eliminate this search tool from your operating system yourself. We cannot stress enough how important it is to inspect your operating system for all other threats possibly active on your PC. Even if you remove Searchtudo.com successfully, your operating system might be at risk unless you clean it completely. Use a legitimate malware scanner to detect computer infections and install an anti-malware tool to erase them if you are incapable of doing that yourself. Also, do not forget to reinforce your virtual protection to keep malware and unreliable programs away in the future, which is something a reliable anti-malware tool can offer.
Delete Searchtudo.com from browsers
Google Chrome
Open the browser, tap Alt+F, and choose Settings.
Under On Startup choose Open a specific page or set of pages and click Set pages.
Overwrite the undesirable URL and click OK.
Under Appearance choose Show home button and click Change.
Overwrite the undesirable URL and click OK.
Under Search click Manage search engines and first set the desired provider.
Click X on the URL to erase the unwanted provider and click Done.
Internet Explorer
Open the browser, tap Alt+T, and choose Internet options.
Click the General tab and overwrite the Home Page URL. Click OK.
Tap Alt+T again and select Manage Add-ons.
Move to the Search Providers menu and set the desired search provider.
Select the unwanted provider, click Remove, and then click Close.
Mozilla Firefox
Open the browser, tap Alt+T, and select Options.
Move to the menu on the left and click General.
Move to the Home Page box and overwrite the URL.
Go back to the menu on the left and select Search.
Select the preferred provider and Remove the undesirable one.
In non-techie terms:
Searchtudo.com looks like a great search tool, but our research team has found that it is not trustworthy. First of all, it is not a reliable search provider because it reroutes to search.navegaki.com and shows ads instead of regular search results. Furthermore, its main page is filled with ads as well, and some links might route to untrusted websites. Overall, you need to be extremely careful about this search tool, and our recommendation is to delete it right away. If you do not know how to eliminate this threat, use the guide or install an automated malware remover. If you need our assistance, you can also start a discussion below.