Do you know what SearchTheConverter is?
SearchTheConverter is a potentially unwanted program. This application is a Chrome browser extension, and it is supposed to improve your browser's functionality. The problem here is that users may add SearchTheConverter to their browser accidentally without even realizing it. It wouldn't be surprising if users had more potentially unwanted applications on-board, so a full system scan with a licensed security tool would be highly recommended. For the removal instructions, scroll down to the bottom of this entry. The sooner you delete SearchTheConverter, the better.
All in all, SearchTheConverter isn't anything new as we have encountered applications like this before. There is a growing group of Chrome extensions that all seemingly come from the same source. Therefore, we can see that SearchTheConverter is pretty much the same as SearchConverters, BestPDFSearch, StreamBrosSearch, and many other apps that are promoted as "single purpose extensions." Likewise, whatever removal methods were applied to the previously released apps, they could also be used on SearchTheConverter. In other words, it is not that complicated to get rid of this extension, and there's no need to panic if it modifies your browser's settings. We would just like to point out that you need to be more attentive if you want to avoid similar apps in the future.
SearchTheConverter and other similar programs cannot enter your system without your permission. You might say that you don't remember adding this extension, but the truth is that clearly did so if it's there. That probably happened because the application has many ways to reach you. It has an official website and even a page on the Chrome Web Store, but these apps can also be distributed via third-party sources. For instance, if you visit file-sharing pages or websites that provide free content, you definitely have to be careful.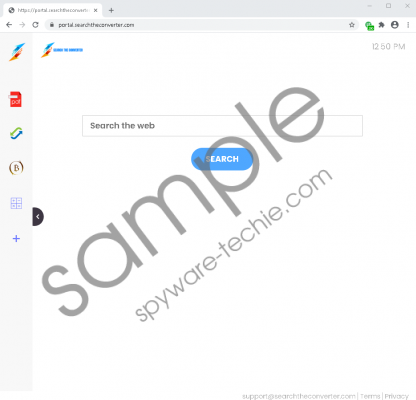 SearchTheConverter screenshot
Scroll down for full removal instructions
Such websites are bound to display third-party advertisements. What's more, they might also launch redirected windows if you click ANYWHERE on the page. These redirected windows and pop-ups may display a commercial ad or offer some applications. The sad truth is that there are users who don't pay attention to the pop-up windows, and they are bound to click anything or anywhere to get rid of them. Now, if there's a notification on that pop-up with a bold button, users could click the button thinking it would close the window. And more often than not, those buttons add the likes of SearchTheConverter to the target browser.
This is how the extension gets the user's permission to enter their system. Users may not be aware of that, but they still give the authorization even if they do not read the notification. As a result, SearchTheConverter enters the browser and performs certain changes. First, it changes your default search engine to a modified version of the Yahoo! Search page. If you are familiar with Yahoo! Search, you might not think much of it. However, there is a very good chance that the extension also read your browsing history, and that's where the security issues emerge.
SearchTheConverter does not try to infect you with malware or steal your personal information. However, since it uses tracking cookies to collect data on your browsing habits, the extension may eventually expose you to unreliable content. Seeing how it redirects you to a modified version of Yahoo! Search, third parties may exploit the extension to promote their content through the search results that you see. And SearchTheConverter cannot review the content it promotes, so it allows unreliable third parties to embed their content even if it leads you to some suspicious websites that could be part of an online marketing scheme or even a malware distribution network.
Please remove SearchTheConverter from your system today by resetting your browser's settings to default. You should also use the SpyHunter free scanner to scan your system if you want to figure out what other unwanted applications are installed. It should be possible to remove them manually, but if you don't want to spend time on that, you can just terminate them automatically with the security tool of your choice.
Also, aside from investing in a powerful security tool, you should be careful about the websites you visit and the programs you install. After all, things like SearchTheConverter get added with your permission.
How to Remove SearchTheConverter
Open Chrome and press Alt+F.
Select Settings on the drop-down menu.
Scroll down and press Advanced.
Click Restore settings to their original defaults.
Click Reset settings.
In non-techie terms:
SearchTheConverter is an application that should help you improve your web search experience. However, it often takes users by surprise, and then users are left wondering how they managed to get this app. Luckily, it is easy to get rid of SearchTheConverter. You can do it by following the guidelines above or by using a security tool of your choice. Please choose the option that is the best for you, and ensure your system's security.