Do you know what Searchsuggests.com is?
Searchsuggests.com is classified as a browser hijacker and should be removed at the very same moment it is discovered running on your operating system since it does not possess any valuable features whatsoever. Unfortunately, our reports show that a vast amount of Internet users have their PC already infected with this invasive hijacker mostly because they are tricked into downloading and installing it, or they simply lack the knowledge about the importance of virtual security. Thus, we have decided to provide a few preventative steps that you can take to significantly improve your system security Also, in this article we will present out further findings regarding the functionality of Searchsuggests.com and expose the suspicious features of this hijacker. Make sure to delete Searchsuggests.com in just a few steps by following the instructions that we provide below.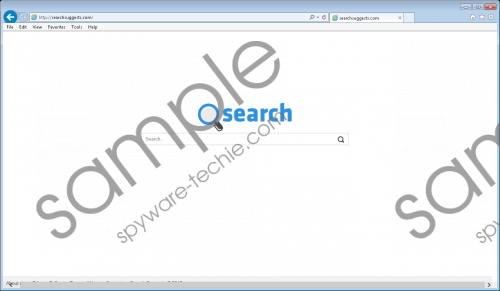 Searchsuggests.com screenshot
Scroll down for full removal instructions
Searchsuggests.com functions in a very similar manner as other hijackers do. The primary indication that it is up and fully running on your operating system is the alteration of your default web browser's settings. The hijacker will modify your homepage and search engine without any authorization. It is also important to note the fact that this hijacker is compatible with web browsers such a Mozilla Firefox, Internet Explorer, and Google Chrome. This signifies that nearly every user is at risk of getting their PC infected with this hijacker. Once the changes are made you will have no choice but to use the new search engine and homepage unless you delete Searchsuggests.com.
The alarming thing about the brand-new search engine is that it might provide you with suspicious results to put it mildly. Some results provided by it could turn out to host redirect links meaning that by clicking on such a result you will most likely land on some dubious third-party site. Even though it is not an often instance, you could end up on sites that run an arbitrary code execution exploit. Just entering such a website is more than enough to get your computer infected with some malware. To ensure the security of your operating system, you need to terminate Searchsuggests.com right now.
To significantly improve your virtual security you have to take preventative steps. First and foremost you should install a licensed antimalware tool. Such a tool is the most important part of virtual security because it can identify and terminate any virtual threat in just a moment. By running such a program on your PC, you will make it virtually unbreakable. It is important to note that along a professional malware detection and removal tool you should also practice safe browsing habits. It is important to bypass all third-party download sites because they are quite infamous for being the primary source of bundled installers, which are used by malware distributors to spread their software. We highly advise you to download your software from official websites because they do not tend to provide installers filled up with suspicious software.
The removal of Searchsuggests.com is not that complicated because you can get rid of it via Control Panel. We recommend checking your system for potential leftovers associated with this hijacker immediate after manual removal. You should check your registry system and the %APPDATA% folder since various infectious programs are found there. If you find anything related to Searchsuggests.com make sure to delete it since at times they could be used by other intrusive programs as a security breach to enter your PC in a quick and easy way.
How to remove Searchsuggests.com from your computer
Windows Vista and Windows 7
Click the Windows button and go to Control Panel.
Click the Uninstall a program option.
Double-click Searchsuggests.com.
Confirm your choice.
Windows XP
Tap the Windows key on your keyboard.
Select Control Panel and click Add or Remove Programs.
Right-click the unwanted application.
Select the Uninstall option.
Windows 8
Move the mouse pointer to the lower-left corner of the screen.
Right-click and then select Control Panel.
Click Uninstall a program.
Select Searchsuggests.com.
Click Uninstall.
In non techie terms:
Since some users find manual removal and analysis for potential leftovers too complicated we have crafted an alternative removal guide for them. By following the instructions that we provide below you will be able to delete Searchsuggests.com in an automatic way.