Do you know what SearchStreams is?
SearchStreams happens to be a potentially unwanted program. It is a browser extension that is compatible with the Chrome browser. This extension is not a malicious computer security threat, but it can still expose you to various websites that can be corrupt or dangerous. Therefore, if you didn't intend to have this extension on your browser, you can scroll down to the bottom of this description for the manual removal instructions. After that, be sure to scan your system with a licensed antispyware tool that will help you protect your computer from harm.
Here you might wonder how it is possible for SearchStreams to enter your system if you don't remember adding it. Well, it is true that this extension is not a malicious infection, and so it means that you really install the app willingly. It is possible to overlook the installation process because of the way SearchStreams is distributed. While the extension can be found on the Chrome Web Store, the official sources are clearly just the tip of the distribution iceberg. In fact, it is far more likely that this extension will take additional routes to reach you.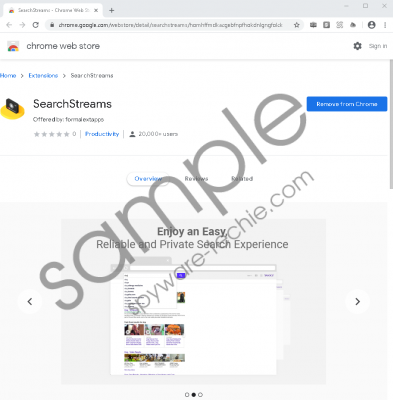 SearchStreams screenshot
Scroll down for full removal instructions
For example, SearchStreams might come bundled with freeware that you download from file-sharing websites. That's one of the reasons computer security experts try to discourage users from downloading programs from third-party sources. If you download apps from file-sharing pages, it is very likely that the third-party installer fill come with some additional apps you don't need. Normally, it is possible to deselect the programs you do not need or want, but users often skip installation steps because they want to be done with it as soon as possible. As a result, a lot of unnecessary programs get installed on their systems. SearchStreams might be just the tip of a dumpster.
Of course, we are lucky that this extension is not a dangerous infection. However, if you didn't notice it at first, the modifications the extension carries out might take you by surprise. Upon installation, SearchStreams actually informs you about the oncoming modifications. You should see a pop-up that says the extension requires these permissions:
Read your browsing history
Change your search settings to: feed.searchstreams.com
If you don't notice this pop-up, you will probably think that you got infected with a browser hijacker, seeing how your default search settings get changed. However, SearchStreams does that in order to provide with supposedly seamless web search experience. It says that this "extension lets you browse the web and get easy access to search, images, videos, and news." However, even if it looks like a good deal, SearchStreams cannot provide you with an original search engine.
All the search results provided by SearchStreams are powered by Yahoo! Search. However, it doesn't mean that Yahoo! Search is directly associated with the creators of this extension. It is actually quite common for potentially unwanted programs to employ Yahoo! Search and other popular search engines for their services. What's more, these extensions can modify the search results based on your likes and preferences.
Remember the "read your browsing history" permission? This allows SearchStreams to employ tracking cookies in order to collect information on your web browsing habits. While this kind of behavior is not illegal, it could be problematic because the extension clearly does not review the third-party content it promotes. Thus, if this extension gets exploited by malevolent third parties, it might accidentally expose you to dangerous content. For the most part, that usually results in various marketing scams, but in the worst-case scenario, you might also end up getting infected with malware.
We are lucky that it is not hard to remove SearchStreams. It should be enough to simply remove the extension via your browser's settings. However, it would be even better if you reset your browser settings to default. This way, you would terminate other unnecessary extensions (provided there are some). Once you are done with that, scan your PC with the SpyHunter free scanner and remove other potential threats if more are found. Do all it takes to protect your system and your personal information from a potential malware attack. And don't hesitate to leave us a comment if you have more questions on the matter.
How to Delete SearchStreams
Open your Chrome browser.
Press Alt+F and choose Settings.
Click Advanced at the bottom of the page.
Scroll down and click Restore settings to their original defaults.
Click Reset settings on the confirmation box.
In non-techie terms:
SearchStreams may not be your worst nightmare, but there is no need to keep this application if you didn't plan on having it. This extension should provide you with relevant search results, but it can also monitor your web activity, and then share the collected data with unreliable third parties. To avoid unnecessary surveillance, use the instructions above to remove SearchStreams from your system. Don't hesitate to invest in a licensed security tool if you must.