Do you know what SearchsmartDS Search is?
SearchsmartDS Search is a Google Chrome extension that may replace user's default search engine or homepage with search.searchsmart.bid. The description on Chrome Web Store page might suggest the presented search tool is better than others because it can help users protect their privacy, keep their searches private, and so on. However, after researching the application, we realized its benefits might have been exaggerated to make it look more useful and advanced. Moreover, after testing it our computer security specialists concluded, SearchsmartDS Search should be classified as a potentially unwanted program. If you want to learn the reasons why we think this extension is not worthy of your trust you should read the rest of our article. On the other hand, if you would like to erase it right away and need any help with it, you could slide a bit below the main text and follow the provided removal guide.
Currently, SearchsmartDS Search is available on Chrome Web Store page. Based on the information there the extension has less than five hundred users at the moment of writing. Given the add-on's description does not have any screenshot pictures, ratings, or reviews it is probably natural not a lot of users dare to risk installing it. Nonetheless, the number of users could increase as the potentially unwanted program might be spread through bundled installers too. Unfortunately, users tend to install bundled suggestions unknowingly as some like to rush the installation process by picking automatic installation and not reading the given terms. Consequently, to keep the system clean from threats or potentially dangerous application's it would be advisable always to choose custom installation settings and read all conditions carefully one by one. If you suspect something is not right, you can still stop the installation process.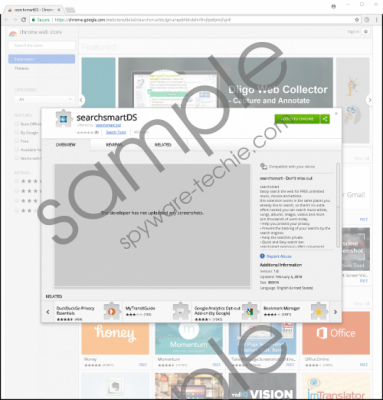 SearchsmartDS Search screenshot
Scroll down for full removal instructions
After SearchsmartDS Search settles in; your homepage or default search engine might be replaced with search.searchsmart.bid. The interesting part is even though the application's description claims it can help users protect their privacy the potentially unwanted program's Privacy Policy states it can gather the user's anonymous and in some cases even private data. Thus, if you use it, you will not be tracked by other search engines, but it does not mean search.searchsmart.bid cannot track you either. To be more precise, its Privacy Policy documents states the software "may use cookies, log files, web beacons and other technologies to collect Non-Personal Information with respect to your activity on our Service and track your use of our Service, your type of browser, pages you visited, the time and date of your visits or the links you click on." The worst part is such information could be shared with the potentially unwanted program's third-party partners to create and display targeted advertising content. Since such ads could come from anywhere, there is not knowing if they will not promote anything malicious and so it is advisable to stay away from them.
All things considered, it does not seem like SearchsmartDS Search's provided search engine is reliable and if you do not want to take any risks, you should replace it with a more reputable option, e.g., google.com, yahoo.com, and so on. Before doing so, users should erase the potentially unwanted program first. The removal guide available below is here to help you with this task, so if you need any assistance feel free to use it. The second option to deal with the suspicious add-on is to scan the system with a reputable antimalware tool and then get rid of all detections, including this extension by pressing the provided deletion button.
Eliminate SearchsmartDS Search
Launch the browser.
Click ALT+F simultaneously.
Navigate to Settings and choose More tools.
Go to Extensions and locate SearchsmartDS.
Click the recycle bin button available next to it.
Tap Remove to finish.
Exit the browser.
Press Windows Key+E.
Find this location: %USERPROFILE%\Local Settings\Application Data\Google\Chrome\User Data\Default
Search for listed files:
Preferences
Secure Preferences
Right-click these files separately and click Delete.
Leave File Explorer.
Empty Recycle bin.
In non-techie terms:
SearchsmartDS Search is yet another potentially unwanted program that claims to be providing a better search engine, which can ensure user's privacy better than other search tools when in reality it gathers information about user's browsing just the same. Not to mention, unlike legitimate search engines, the add-on's provided tool may use collected data to bring users unreliable third-party advertising content. Therefore, we do not recommend trusting it or keeping it in your browser. If you think it would be smarter to get rid of it too, we encourage you to use the removal guide available a bit above as it can explain how to delete the potentially unwanted program manually. Readers who find the task a bit too complicated could install a reputable antimalware tool instead and use it to erase the unwanted extension automatically. In case you need further assistance or have questions about this suspicious add-on, keep it in mind you can leave us a message at the end of this page.