Do you know what SearchPrivately is?
SearchPrivately is a new Google Chrome browser extension claiming that it can protect the users' privacy. Specifically speaking, it should make it possible to perform anonymous web searches "through a secure channel." Most probably, the channel it talks about is its own website searchprivately.co. It is set as a default search tool on users' browsers thus replacing their preferred search tools, e.g. Google or Bing. Users are not informed about the changes it is going to apply to their Google Chrome browsers in advance, so it is not surprising that some of them decide to uninstall the SearchPrivately extension from their browsers right after installing it. Of course, not all the users know why they see a new search tool set as their default search provider, which suggests that this piece of software might be installed on users' PCs without their consent as well. Most probably, it can arrive bundled, specialists say. If you know nothing about the installation of this extension or simply have changed your opinion about it after installing it, you can delete it from your browser quite easily – you do not need to have any special tools or much knowledge about computers.
If you have a feeling that a search tool you use tracks you every day, you might find SearchPrivately quite a useful piece of software because it promises to ensure the users' anonymity. It will not modify the search tool you use in any way. Instead, it will set its own search provider searchprivately.co. It contains a search box in the middle of the page and does look like any other ordinary search provider, so it is not surprising that some users do not even notice the changes applied or make a decision to use a new search provider. Most probably, you are not very happy about the presence of searchprivately.co if you are reading this article. Our experienced team of malware researchers cannot confirm either that this website is a fully reliable search engine. It seems that it might gather some details, e.g. IP-address too even though it promises to make the users' web searching completely anonymous. Additionally, its Privacy Policy document reveals that it will collect information based on the use of the service. It is emphasized that these details it records are anonymous information, but it still does not change the fact that it does what it tries to protect users from.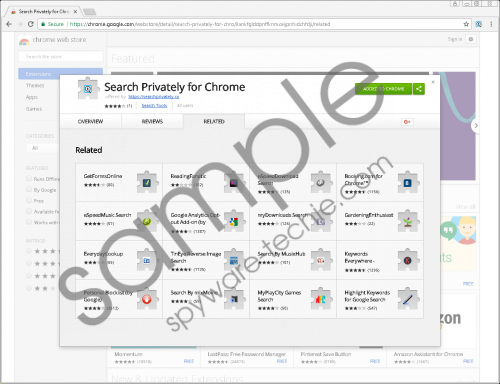 SearchPrivately screenshot
Scroll down for full removal instructions
SearchPrivately has a homepage (https://searchprivately.co/) and can be downloaded from the Chrome Web Store (https://chrome.google.com/webstore/detail/search-privately-for-chro/ilankfglddpnffknmceijpnhidchfdji). Despite the fact that it has official sources users can download it from, it still can enter PCs without permission. Most probably, it travels with third-party software in bundles, specialists say. It might be available for download on a third-party page containing free software as well. No matter how this potentially unwanted program has appeared on your computer, you should replace it with a fully reliable program – we are sure you will manage to find one acting similarly. It does not mean that you will be safe after getting rid of it. There are thousands of suspicious applications available on the market, so the chances are high that you will discover one on your PC again if you keep your computer unprotected.
Only one of your browsers – Google Chrome – has been affected by SearchPrivately, so its removal should not be a time-consuming procedure. You just need to access the extensions menu and delete this extension fully. Our step-by-step instructions will help you – do not skip any removal steps if you want to erase this extension completely and no longer see the search tool it promotes set on your browser.
Delete SearchPrivately
Google Chrome
Open Google Chrome and tap Alt+F.
Select Settings.
Open Extensions.
Select SearchPrivately.
Click the recycle bin button.
Click Remove.
In non-techie terms:
SearchPrivately is promoted as a beneficial application that can protect the privacy of those users who perform web searches using an ordinary search tool. Instead of modifying users' default search providers, it sets its own tool thus replacing the existing search engine. Searchprivately.co might show modified search results and collect information about users, so our specialists recommend getting rid of it and then setting a new search provider. Do not forget to install security software to prevent the installation of other suspicious extensions too!