Do you know what Searchpowerapp.com is?
If your default search engine got replaced with Searchpowerapp.com, you probably installed an extension called Search Power. Cybersecurity specialists say that the plugin is classified as a potentially unwanted program. Replacing browser preferences such as the default search engine is one of the qualities that could make the application seem undesirable. If you want to know more about this potentially unwanted program and its search website, we encourage you to read the rest of his report. If you slide a bit below the text, you can find our removal guide that shows how to eliminate Searchpowerapp.com by erasing Search Power. Since the potentially unwanted program works only on Google Chrome, our removal guide does not include instructions for other browsers besides Google Chrome.
We mentioned at the beginning that Searchpowerapp.com is spread with a browser extension called Search Power. Our researchers say that, at the moment of writing, the plugin is available on Chrome Web Store. Also, we believe that the application might be spread like other potentially unwanted programs, for example, through bundled software installers, pop-ups, and ads. Thus, users who want to avoid such tools have to be attentive and cautious when searching for new programs. The safest choice is to download tools only if they come from reputable developers and have no negative expert or user reviews. Naturally, we recommend searching for tools on reliable websites only if you want to avoid downloading fake installers or setup files bundled with untrustworthy software.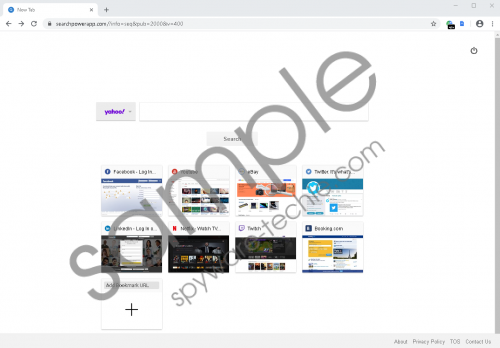 Searchpowerapp.com screenshot
Scroll down for full removal instructions
Searchpowerapp.com might become your default search engine right after you install Search Power. Other similar potentially unwanted programs sometimes replace the homepage and new tab page too, but we have not noticed this plugin doing these things. In any case, what users should know about its replaced search engine is that it might use a modified Yahoo search engine to display search results. Our researchers say that the application might use a modified version so that it could alter its displayed search results, for example, the application could add more ads that could come from different third-party partners. Such a scenario seems possible because the extension's Privacy Policy mentions that the tool could gather information and use it to help its "search and advertising partners to develop and display content and advertising tailored to your interests, when you use the Search Dimension Services, other websites and services."
If you do not like that there is a chance that you could see tailored ads or you do not enjoy using Searchpowerapp.com, you could get rid of this search tool by deleting its extension. Search Power and its search engine can be eliminated either manually or with automatic features. If you select the first option, we can offer you the removal guide available below this paragraph. It shows how to erase Search Power to delete Searchpowerapp.com from the Google Chrome step by step. The other way to remove them is to scan your system with a reputable antimalware tool that could detect and take care of the potentially unwanted program.
Erase Search Power to remove Searchpowerapp.com
Open Google Chrome.
Paste this link: chrome://extensions into the browser's address bar.
Press Enter and search for the potentially unwanted program.
Tap Remove and exit Extensions menu.
Restart your browser.
In non-techie terms:
Searchpowerapp.com is a search website that is being used by a potentially unwanted program known as Search Power. Users who install it might think that they will receive a powerful and advanced search tool. However, it seems that the website cannot gather or display any search results without employing the Yahoo search engine. Moreover, it looks like the application uses a modified version of the Yahoo search engine, which means the tool could modify search results before they are displayed. For example, it could inject them with third-party ads. We cannot be sure that this potentially unwanted program works this way, but it is possible. If you decide not to keep it on your system, you could try to delete Search Power and, as a result, eliminate Searchpowerapp.com manually while following our removal guide available above. If you like using automatic features, we recommend employing a reputable antimalware tool that could deal with this potentially unwanted program.