Do you know what Searchjourney.net is?
Searchjourney.net (nt.searchjourney.net) is the search engine that you will be forced to use after you install the extension called Search Journey, or it sneaks onto the computer without permission. Even though there are three sources users can get the Search Journey extension themselves, it has been found that only some users download this software willingly. Others simply find it installed on their systems and do not even know where this extension came from. Those who download and install the Search Journey extension willingly usually do that because this software promises to enable users to "easily and efficiently" search the web and check the local time and weather. In other words, it should enhance the user's web experience; however, in reality, it simply changes the default search engine to nt.searchjourney.net and modifies the settings of the New Tab page. You will have to delete the Search Journey extension in order to change those settings. Actually, specialists suggest doing that even though you like Searchjourney.net and do not think that it can cause harm to your computer.
It has been observed that it is rather risky to use the search box of the search engine (nt.searchjourney.net) that will be set after the installation of the extension. We understand that it does not differ from other search providers regarding its appearance; however, we also know that Searchjourney.net will present users with the modified search results. These search results do not look suspicious at all at first glance because they are provided by Yahoo!; however, the truth is that they contain third-party links that are not associated with the keyword entered into the search box in any way. They are simply placed there to make sure that users click on them. It is very likely that the owner of Searchjourney.net gets money for acting this way. It is rather risky to click on these modified search results because they will immediately take you to a third-party website. Unfortunately, it will be impossible to say whether the website is trustworthy or not. You should not expect that creators of the extension will protect you from harm either. All you can do to make sure that your system is safe is to get rid of Searchjourney.net and start using another trustworthy search engine instead of it. We will tell you more about its deletion in the following paragraphs.
We suggest eliminating Searchjourney.net from your New Tab page and setting another search engine instead of it also because it has been noticed that it might gather information about users every day. If you open the official website and read the Privacy Policy, you will immediately notice that your personal and non-personally identifiable information is going to be recorded. This information might also be sent to third parties, which means that the collected information might even end up in the hands of cyber criminals and/or untrustworthy companies. We are sure that you do not wish to hand in the information about yourself to third parties, so we suggest that you remove the Search Journey extension completely.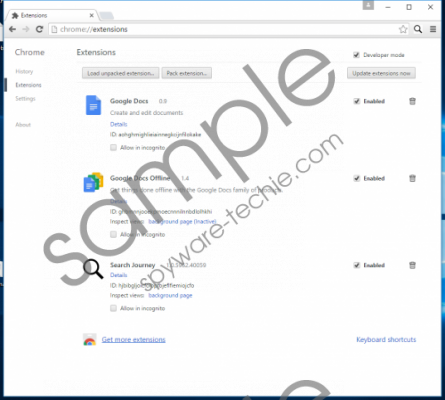 Searchjourney.net screenshot
Scroll down for full removal instructions
Even though it is possible to download the Search Journey extension from addons.mozilla.org/en-us/firefox/addon/searchjourney-newtab/?src=search, chrome.google.com/webstore/detail/search-journey/hjbibgljoicfolbpfbjeflfiemiojcfo, and its official website searchjourney.net, it has been noticed that the extension might also sneak onto the computer bundled with other applications, like freeware and shareware. Some users prevent this from happening by reading the provided information and unchecking the corresponding checkboxes; however, others install programs rather carelessly and allow suspicious software to sneak onto their computers. To make sure that this does not happen again, install security software and keep it enabled 24/7.
Search Journey is just a simple extension that promotes Searchjourney.net, so we are sure that you will be able to change the settings of your browsers, i.e. set another search engine and change the New Tab page settings after you delete it. If you find it really hard to do that, use instructions you can find below the article. If you wish, you can use an automatic tool SpyHunter to make the suspicious extension disappear. This is, of course, the easiest way to eliminate this software.
Delete Searchjourney.net
Mozilla Firefox
Open your browser and tap Ctrl+Shift+A.
Click Extensions.
Select the undesirable extension.
Remove it.
Google Chrome
Open your browser.
Tap Alt+F.
Click More Tools and open Extensions.
Find the extension you wish to get rid of.
Click the recycle bin button placed next to it.
Click Remove.
In non-techie terms:
If you remove Searchjourney.net from browsers, it does not mean that your computer is perfectly clean. Therefore, we suggest that you scan your computer with an automatic scanner after you get rid of the Search Journey extension promoting Searchjourney.net manually. The free scanner can be downloaded from spyware-techie.com.