Do you know what Searchisweb.com is?
Searchisweb.com looks similar to Google.com, and this similarity has a purpose because if you have been using Google, then you might not notice when Searchisweb.com takes its place. Indeed, our security experts have classified it as a browser hijacker due to the fact that it is disseminated through malicious software bundles that install it without your knowledge or authorization. This hijacker's owners distribute it like this on purpose because it is a fictitious search engine that is prone to feature shady and even malicious promotional links in the search results and ads on its main page. It will also collect information about you to customize the advertising campaign in accordance with your region and personal interests by collecting non-personally identifiable information. Therefore, you should remove this infection, but if you want more information, then please continue reading.
Browser hijackers either come with dedicated browser extensions or without them. If a hijacker has an extension, then it might also have a dedicated distribution website. If it does not, then the only way to distribute it is to use third-party installers. The latter is true of Searchisweb.com because it does not have a browser extension. Hence, it is distributed through malicious software installers featured on websites that distribute free bundled software. However, the websites it is featured on are mostly shady since, according to our malware researchers, the bundled installers do not allow you to uncheck the installation of this fake search engine and it is installed secretly, so it can appear that it replaced your browser's homepage out of nowhere. According to our research, at the time of this article, this hijacker is popular in Brazil with 11 % of all visits, Mexico with 10.9%, Egypt with 10.5% and Italy with 8.2%.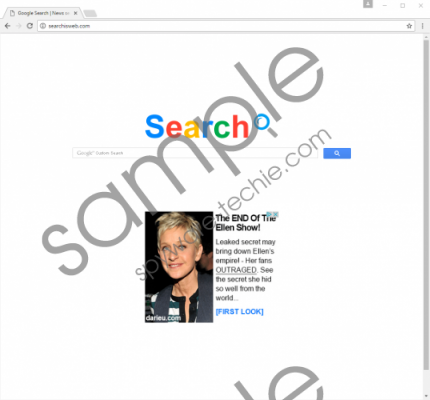 Searchisweb.com screenshot
Scroll down for full removal instructions
The installer is configured to interact with your web browser and take note that it can inject this hijacker into Google Chrome, Mozilla Firefox, and Microsoft Internet Explorer. It will replace the homepage of the said browsers and it will change the new tab page of Chrome as well. The purpose for performing this malicious action is money. While you can use this browser hijacker to search the web, be warned that its search results are bound to feature promotional links. Searchisweb.com looks similar to Google and even goes so far as to use Google Custom Search to process the search queries. What you get by using this hijacker are modified search results that feature promoted links. However, there is no way to tell whether the links are safe to click. We fear that, in extreme cases, this hijacker may promote infected websites that contain ransomware, Trojans or fake anti-virus applications. Hence, the content presented to you can pose a danger to your computer's security and even your Privacy as Trojans can collect personal information such as logins and passwords.
It is important to note that, in order to present you with more relevant advertisements, Searchisweb.com is designed to collect anonymous information about you. This information may include but is not limited to your IP address, Internet Service Provider name, geographical location, browser type, operating system type, browsing history, and entered search queries. However, it is nearly impossible to pinpoint the particular information it is designed to collect, but we assume that is the case because that is the information most browser hijackers collect.
In conclusion, Searchisweb.com is a fake search engine and a browser hijacker whose objective is to replace your browser's homepage in an effort to compel you to use it and view ads presented on its main page and promotional links in its search results. It is also designed to gather certain information about you to make the ads more relevant and appealing. If you want to protect your PC from harmful content, you ought to remove this hijacker. Therefore, you need to change your browser's homepage address and we have made a foolproof guide on how you can replace it manually.
Instructions on how to change the homepage address
Google Chrome
Press Alt+F keys.
In the dropdown menu, select Settings.
Click Set pages and enter a new address.
Click OK.
Microsoft Internet Explorer
Press Alt+T keys.
Select Internet Options.
Enter a new address in the home page box.
Click OK.
Mozilla Firefox
Press Alt+T keys.
Click Options.
Select General.
In the Home Page line, enter a new address.
In non-techie terms:
Our cyber security experts have concluded that Searchisweb.com is a fictitious search engine whose real purpose is to hijack your browser's homepage and show you ads featured on its main page and promotional links in its search results. Researchers say that it might also gather non-personal information about you and use it customize the advertising campaign for each unique user. Apart from outright hijacking your browser's settings, Searchisweb.com is designed to show promotional links and they come from unknown sources so you can trust them. Please remove this hijacker to reestablish your computer's security.