Do you know what SearchGamez is?
SearchGamez is a browser extension that can be obtained by users who have Google Chrome browsers as the tool does not appear to be compatible with any other browser at the moment of writing. Users who encounter it should know that the extension was classified as a potentially unwanted program and could have undesirable functionality. For instance, you may not like that the application could replace your default search engine and view your browsing history. To learn more about its working manner, we recommend reading the rest of this article. If you want to learn how to delete SearchGamez from your browser, we advise checking the removal guide available below the text. Also, since it is a potentially unwanted program, a reputable antimalware tool should be able to eliminate it too. If you have any questions about its removal or its effective manner, you could leave us a comment at the end of this page.
How does one end up downloading a potentially unwanted program like SearchGamez? The truth is that there are many ways to come across such software. The most popular way to distribute potentially unwanted programs is to bundle them with other tools or promote them via pop-ups and ads. Such extensions can also be spread through legit platforms like Chrome Web Store as they are not considered malicious. Therefore, users who want to keep away from such software should never let their guard down. Meaning, you should stay alert even when you are visiting legit and trustworthy websites. Moreover, you should always try to research suggested applications as much as possible and refuse to download them if you find that they could be potentially dangerous. To ensure that nothing malicious gets in, we recommend having a reputable antimalware tool that could protect your device from various threats.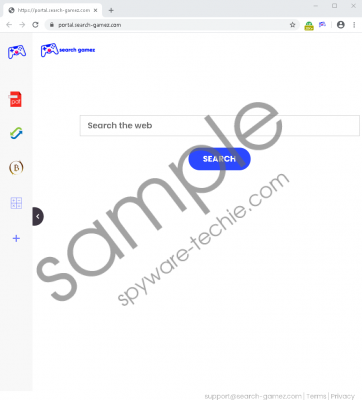 SearchGamez screenshot
Scroll down for full removal instructions
Once SearchGamez is installed, the application ought to change your default search engine to feed.search-gamez.com. Our researchers say that this search website might redirect users to a modified Yahoo search engine. Meaning, its displayed results could be modified by the potentially unwanted program, for example, they could show additional ads from the extension's third-party partners. One other thing that you might want to know about this extension is that it could view your browsing history. It means SearchGamez might collect data like addresses of your visited websites, clicked links, used search keywords, and so on. According to the potentially unwanted program's Privacy policy, the extension can share gathered data with third parties and use it to "Recommend content based on your preferences." It might mean that the application could show targeted advertisements.
If you decide that you do not like that the potentially unwanted program could view your browsing history and possibly display targeted ads, you could erase it manually or with a reputable antimalware tool. If you pick the first solution, you could follow the removal guide available below. It explains how to delete SearchGamez manually from Google Chrome step by step. If you prefer the other option, we recommend downloading a reliable antimalware tool that could detect and erase SearchGamez.
Erase SearchGamez
Launch Google Chrome.
Press ALT+F.
Tap on More Tools and select Extensions.
Choose SearchGamez.
Press Remove.
Click Remove again to finish.
In non-techie terms:
SearchGamez appears to be a potentially unwanted program. Such tools are not considered to be malicious. Still, specialists advise being cautious with them because they could have disappointing functionality or display content like ads from unknown third parties that could promote unreliable material. It is likely that this extension could show third-party advertisements because its Privacy Policy says that the tool may gather information and share it with third parties to recommend content based on users' preferences or, in other words, display targeted ads. If you do not like the idea that the application could show you such content or view your browsing history to serve targeted ads, you could erase SearchGamez from your browser. If you need any help with this task, you could follow the removal guide available above this paragraph. If you do not want to delete the potentially unwanted program manually, we advise getting a reputable antimalware tool that could erase it.