Do you know what SearchesSpace.com is?
SearchesSpace.com is not a search tool you can trust, our team of experienced specialists say. Although it has an interface of a good tool, in reality, it is far from being a trustworthy search engine. To tell you the truth, researchers often classify it as a browser hijacker. This label has been attached to it because it is often set on users' browsers (it should change the settings of Internet Explorer, Google Chrome, and Mozilla Firefox only) as a homepage. This means that it is opened for users when they launch any of their browsers. Have this search tool replaced your preferred homepage too? If the answer is yes, it means that there is a security loophole, i.e. your computer is not protected enough. To ensure its maximum protection, you first need to fully remove this browser hijacker. Its presence might result in serious both privacy and security-related problems. Do you want to find out more about it? Read this article till its very last sentence.
We do not say that SearchesSpace.com is an extremely harmful malicious application which will ruin your computer or steal online banking credentials, but, if compared to reputable search tools, e.g. Google or Yahoo!, it differs from them to a great extent. Of course, you will not find many differences if you compare their interfaces. This is, they both have search boxes and other typical features of search providers. However, SearchesSpace.com, unlike those reputable search engines, does not show fully trustworthy search results. Researchers have noticed that its search results page is full of modified search results. They are shown to users expecting that they will click on them and end up on promoted third-party pages. There is basically no doubt that the developer of SearchesSpace.com gets some money for driving traffic to those third-party pages. Unfortunately, there is no information about those websites, so, theoretically, those untrustworthy ones might be promoted as well. Needless to say, users cannot know what waits for them on these pages. In addition, it is not even easy to distinguish those modified search results from fully reliable ones.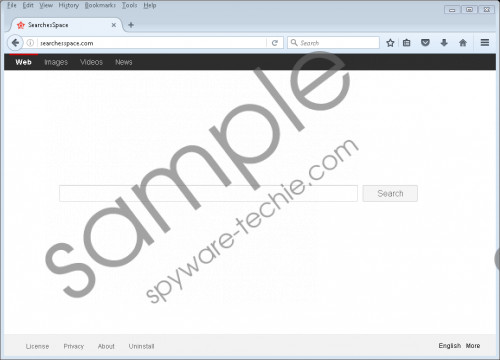 SearchesSpace.com screenshot
Scroll down for full removal instructions
The presence of these modified search results is a huge drawback of SearchesSpace.com, but it is, surely, not the only one. According to our specialists, decent search tools do not record personally-identifiable information about users, which means that SearchesSpace.com cannot be put into a group of trustworthy tools for searching the web. A disturbing piece of information has been found by our malware analysts in its Privacy Policy:
searchesspace may request or collect personal information from online users in a variety of ways, including through online forms for ordering products and services, and other instances where users are invited to volunteer such information. The data we collect is information that identifies you personally, and may include:
Your name

Gender

Date of Birth

Country
What this excerpt says is that personally-identifiable information about users might be recorded. On top of that, non-personal details, e.g. IP address, browser type, Internet Service Provider (ISP), platform type, etc. will be collected too. Evidently, SearchesSpace.com tracks users and monitors their activities on the web. You can, of course, put an end to this by removing this search tool from all web browsers.
Before we talk about the deletion of SearchesSpace.com, we want to tell you how ELEX browser hijackers are usually spread in order to help you prevent them from entering your system in the future. Specialists say that there might be several distribution methods used to promote this search tool; however, it usually travels bundled in malicious software installers. Users get them from the web – this usually happens when they try to download software from untrustworthy file-sharing pages. Stop downloading applications from dubious pages to avoid problems.
SearchesSpace.com changes only homepages on browsers it finds installed on the system, so it can be eliminated by setting a new homepage on them. It is not a very quick process, so our specialists suggest employing an alternative removal method – resetting browsers to their default settings. Instructions provided below this article will help you to erase this browser hijacker, so we highly recommend using them if it is the first time you are going to take care of such a computer infection.
Delete SearchesSpace.com
Google Chrome
Open Google Chrome.
Press Alt+F.
Click Settings.
Click Show advanced settings.
Find the Reset settings button and click on it.
Click Reset.
Mozilla Firefox
Launch your web browser.
Tap Alt+H.
Click Troubleshooting information.
Locate the Refresh Firefox button at the top.
Click Refresh Firefox again in the confirmation window.
Internet Explorer
Open your web browser.
Click Tools after pressing Alt.
At the bottom, click Internet Options.
Open the Advanced tab and click Reset.
Mark the Delete personal settings button.
Click Reset to get your browser reset.
In non-techie terms:
Unfortunately, browser hijackers are such threats which might travel together with other untrustworthy applications and, as a consequence, enter computers with them. Because of this, other programs performing bad activities could be active on your system too. To find out the truth, scan your PC with an automatic scanner right after getting rid of SearchesSpace.com. If undesirable software is found, do not let it stay any longer.