Do you know what Searchbox.xyz is?
While it is unclear what exactly Searchbox.xyz is just by looking at it, our research team warns that it is NOT a trustworthy search tool that you should rely on to help you surf the web. At the time the research was conducted, the search tool could not function properly, and if that is something you noticed as well, it should be very easy to realize that this tool is not the one you want to greet you whenever you launch your browser. In fact, at this moment, it is not known how exactly this search tool manifests on the browser. It could take over the homepage, the default search provider, or the New Tab, or you could be redirected to it by a browser hijacker or when visiting unreliable sites. In any case, trusting this search tool is not recommended for several reasons. If you do not know exactly why you should delete Searchbox.xyz from your browser, keep reading, and you will find out.
There is absolutely no information about Searchbox.xyz that its developer offers that could help you understand it better. The "Legal, "Privacy," and even "Contact Us" links represented via the home page of this search tool do not work, and they inform that the page you are looking for was not found. Does that make you trust it more? It certainly should not. Another mysterious thing that we have to think about is the representation of this search tool. As we discussed already, it could corrupt your browser, or it could be introduced to you as a redirect. In both cases, you should be concerned about malware that is running on your operating system and causing problems. A legitimate malware scanner can be a great asset as it can automatically inspect you operating system and find out if you need to remove Searchbox.xyz or threats related to this suspicious search tool.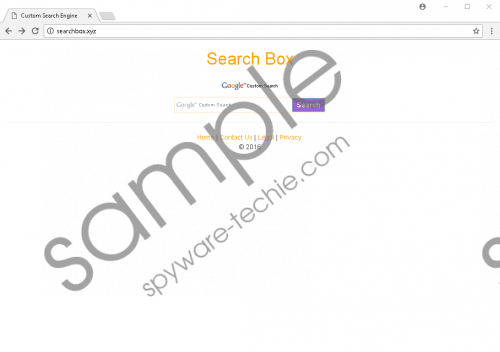 Searchbox.xyz screenshot
Scroll down for full removal instructions
Needless to say, the search field is in the center of attention when we are discussing Searchbox.xyz. After all, it is represented as a search engine. What do you expect to see when you enter keywords? Some users expect to find original results, and others believe that they will find Google Search results. This is because of the "Google Custom Search" logo that is placed along with the search field. What does this logo stand for? Does it suggest that Google Search is associated with Searchbox.xyz? It does not. To put it simply, the search tool should use Google search results and then customize them to showcase links that you would not normally see via google.com/search. Since we do not know much about this tool, trusting its search services is not advisable. All in all, if the search tool does not work at all, you do not even need to think about that. Instead, you need to focus on deleting the search tool.
Are other infections running along with Searchbox.xyz? If a malware scanner has warned you about any of them, it is important that you think about them as well. Looking at the big picture, do you think you can erase all threats and unwanted programs manually? If you do, go ahead and clean your PC. If you are not so sure about that, consider employing a program that will automatically erase all malicious pieces. Hopefully, the situation is clear, and you know what to do to get Searchbox.xyz removed. If you still have concerns, talk to us via the comments section.
Delete Searchbox.xyz
Internet Explorer
Open the browser, tap Alt+T, and choose Internet options.
Click the Advanced tab and then click the Reset button.
Mark Delete personal settings and click Reset one more time.
Google Chrome
Open the browser, tap Alt+F, and go for Settings.
Click the Advanced button found at the bottom of the screen.
Scroll down and then click the Reset button.
Mozilla Firefox
Open the browser, tap Alt+H, and click Troubleshooting information.
Click the Refresh Firefox button placed on the right.
Click Refresh Firefox again to confirm the action.
In non-techie terms:
The guide above shows how to reset your browsers, and that is a very important step if you discover Searchbox.xyz. Whether it is installed or it appears as a redirect, resetting a browser can help you greatly. That being said, if any software is linked to this search tool, you might need to erase it to have the search tool eliminated. Also, you might have to erase other unwanted programs that could have slithered in without your knowledge (for example, by using disguises). If you employ a good anti-malware program, you will have all unreliable pieces of software, including Searchbox.xyz, removed automatically. Without a doubt, that is the solution our research team supports.