Do you know what Searchbee.net is?
According to our cyber security specialists, Searchbee.net is an unreliable search engine because it comes from an unknown entity and shows ad-supported search results that can be unreliable and potentially dangerous. Furthermore, it lacks the necessary legal documentation which makes it all the more unreliable. Therefore, we think that it is necessary to remove this search engine because there is no telling what might be the result of trusting its ad-supported search results. In this article, we will discuss how this search engine functions, how it is distributed, and how you can get rid of it because it is evident that it is an unreliable one.
Searchbee.net can replace your browser's home page address if you use Microsoft Internet Explorer, Google Chrome, and Mozilla Firefox. Its unknown developers want you to use it as a regular search engine. However, it does not work at the moment, but you should not use it even if it did. You can visit Searchbee.net, but it cannot process any search queries. Nevertheless, there is no reason why it can stay like this. Its developers can patch it up and have it working again in no time.
This search engine promotes its advertising services without hiding it. Going to its sub page at Searchbee.net/advertise reveals that this search engine offers targeted ads that are designed to show relevant text-based ads. Furthermore, it appears that Searchbee.net allows its advertiser clients to create their own custom advertisement for promotion of any website or app. The ads are shown in the search results page ad you can easily mistake them for legitimate search results. The problem is that there is no guarantee that the promoted links are safe to clicks because there is no telling where they can redirect you to.
Another thing we want to discuss is how it can show you targeted search results. Searchbee.net does not have a privacy policy or EULA, so there is no legal information to support our assumptions. Still, since this search engine shows targeted ads, then it should, at the very least, collect technical and usage information such as your browser type, operating system type, Internet Protocol (IP) address, Internet Service Provider (ISP) domain name, browsing history, and entered search terms. The collection of this information is legal and can be used for commercial purposes. It is collected automatically using web beacons and browser cookies. This information helps Searchbee.net show you relevant advertisements in the search results and, thus, generate ad revenue. However, it must be pointed out that the ads come from unknown advertisers and can be unreliable or outright malicious. Therefore, you should not trust this search engine and get rid of it.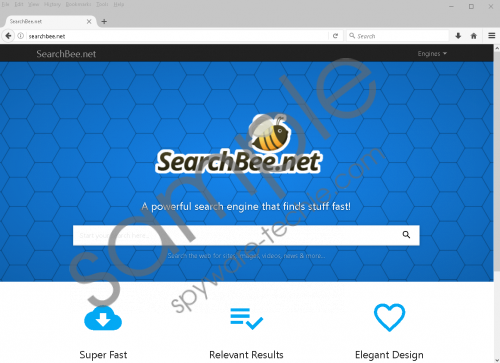 Searchbee.net screenshot
Scroll down for full removal instructions
Before we show you how to get rid of this search engine, we want to inform you about its distribution. Our cyber security experts have concluded that this search engine can replace your browser's homepage as a result of entering your browser via software bundles. Certain software installers featured on rather questionable free software hosting websites can contain Searchbee.net and install it on your browser without your knowledge because the installs can hide its presence. Nevertheless, you may be able to deselect its installation by opting for advanced o custom settings when running the installation wizard.
In closing, Searchbee.net is just a shady search engine, but is not distributed using malicious methods, so its far from a browser hijacker. Still, it may show shady promotional links, provided that it worked. However, it does not currently, so there is no excuse to keep it on your browser. To remove it from your browser and replace it with something else, please see the guide below.
How to change the homepage address manually
Google Chrome
Launch the browser.
Hold down Alt+F.
Find the On Startup list and select Set pages.
Change the homepage address and click OK.
Mozilla Firefox
Launch the browser.
Hold down Alt+T and click Options.
Change the homepage address.
Microsoft Internet Explorer
Launch the browser.
Hold down Alt+T and click Internet Options.
Change the homepage address.
Click OK.
In non-techie terms:
Searchbee.net is a questionable search engine that can end up on your PC if you install a shady software bundle. Its objective is to show commercial advertisements in its search results and make money. Apart from that, this search engine would be a normal search engine. However, it is not because its ads can come from unreliable sources. Therefore, we invite you to consider removing it for cyber security reasons.