Do you know what SearchandStreamTV is?
SearchandStreamTV is an annoying and totally useless Google Chrome browser extension whose presence on your computer might hold indirect virtual security threats. Therefore, our researchers have categorized it as a potentially unwanted program (PUP). Most probably almost all computers have been at one point infected with such programs since users usually do not even realize that they let a PUP onto their system. We cannot call this extension a major threat but we do think that it is important for a security-minded user to know about the potential risks that this PUP might hold. If you want to keep your PC safe from infections, it is essential to understand how you can infect it in the first place. Our researchers suggest that you remove SearchandStreamTV from your browser in order to have one less risk source on your system. If you would like to know more about this infection and how you can protect your computer from similar threats, please continue reading our report.
The two main official sources where you can install this useless PUP are the promotional webpage, searchandstreamtv.com, and the Chrome web store, chrome.google.com/webstore/detail/searchandstreamtv/flejlocnpblendpdeepkkgmpninkklbk. You may think that since SearchandStreamTV has its own webpage and it can be found in the web store then it has to be a reliable and useful application. But unfortunately you would be wrong. Practically, anyone can create a fake website that appears to promote an "amazing" application. The sad news is that the web store can also host unreliable and useless extensions; at least as long as they get reviewed by Chrome. If that happens, the potentially harmful applications get deleted from the store and blocked by Chrome browsers. Most likely this will happen to this PUP as well once it gets reported.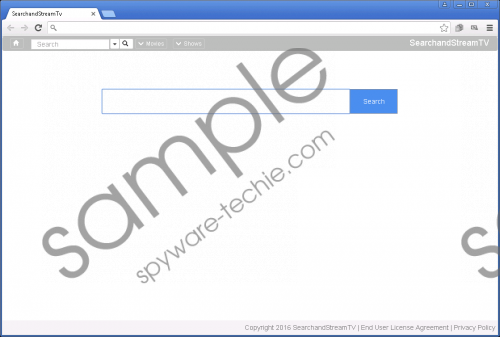 SearchandStreamTV screenshot
Scroll down for full removal instructions
The more problematic distribution method is however software bundling. This means that SearchandStreamTV might be found in freeware bundles that contain malicious software installers. If you install such a package, there is a good chance that you let all kinds of threats onto your system, including PUPs, browser hijackers, and adware programs as well. If you have noticed annoying third-party ads while browsing the web or sudden redirections to shady websites, it is quite likely that your computer has been infected with malware. Therefore, we advise you to delete SearchandStreamTV and identify all other possible threat sources in order to be able to clean your PC.
This browser extension promises you the opportunity to easily find and stream your favorite movies and TV shows. However, what it really does is that it changes your Google Chrome browser settings. SearchandStreamTV sets home.searchandstreamtv.com as your new home page, new tab as well as the default search engine. Since this might be an unreliable search engine, you could be exposed to potentially harmful third-party web content through this search page. It is possible that the search results are not trustworthy, i.e., they are modified to include affiliated third-party ads and links, which might redirect you to malicious websites. You should never trust such a search engine and it is wise to stick with reputable and reliable ones, such as Google, Yahoo, and Bing.
You can find a fake toolbar at the top of the page where you can choose from drop-down menus whether you want to watch movies or TV shows. There are two options for you to choose from: Hulu and Amazon. However, both of these sites require payment unless you only want to check out trailers. As a matter of fact, our researchers say that this PUP is useless and serves only as a questionable mediator. You also have to register first if you want to use the services. This means that you have to provide your name and e-mail address, which is a bit risky when it comes to questionable programs, such as SearchandStreamTV. It is possible that you will start to get a flow of annoying marketing spam mails, which might also contain Trojan infections or other "goodies." We recommend that you delete SearchandStreamTV from your browser because this extension has no benefit for you and is quite suspicious as well.
Since this PUP only affects your Google Chrome browser, it is quite easy to eliminate it. You should simply remove SearchandStreamTV browser extension through the settings menu and that should do the trick. You can use our guide below as a reference if you are not familiar with the necessary steps. If you care about safety, we advise you to use a reliable anti-malware program, such as SpyHunter, to automatically tackle all known malware infections and to protect your PC from further attacks.
SearchandStreamTV removal from your browser
Google Chrome
Tap Alt+F and open Settings.
On the left, select Extensions.
Click on the undesirable extension and click on the trash can icon.
Click Remove.
In non-techie terms:
SearchandStreamTV is a questionable browser extension that only affects Google Chrome. Since this application seems useless and potentially unreliable, our researchers have classified it as a potentially unwanted program. This PUP installs a questionable search engine as your home page, new tab page, and search engine; therefore, you might get exposed to unreliable web content. This extension might also be found in freeware bundles, which is a rather questionable distribution method and can contain malware infections. We believe that you should remove SearchandStreamTV if you want to feel totally safe while you are online. It is possible, though, that this is not the only infection on your system; therefore, it is worth running a reliable malware scanner to have a clear picture about your threat situation. If you want to make sure that your PC is protected from malware, we recommend that you install a reputable malware removal tool.