Do you know what Searchall.network is?
There is nothing special about Searchall.network or the services it provides, which is why it is highly unlikely that the users of Chrome, Firefox, Internet Explorer, or any other browser would purposefully set it as their homepage, new tab, or search provider. While we do not have enough data to suggest that this search tool can be introduced to users as a browser hijacker, we definitely recommend removing it. Why? Simply because it is highly unpredictable, and you do not want to handle a grenade with its ring pulled out, do you? If you are confused, hopefully, the information presented in this report will help you understand the situation better, and if you decide you want to delete Searchall.network, use the guide that is available below. If you have questions, post them in the comments area.
It appears that Searchall.network is most likely to affect users in Japan, but it can definitely affect web browsers anywhere. It does not have an official installer, and if it has replaced the homepage, new tab, or search provider, the chances are that it was installed along with a different piece of software; maybe along with a browser extension or an application compatible with the Windows operating system. If you are not sure about the programs or extensions that were installed, you can always inspect them using a malware scanner. Install a trusted scanner, and you will know if you need to remove Searchall.network along with malicious threats. Hopefully, that is not the case, but if you discover threats, know that you can always delete all of them simultaneously with the help of reliable anti-malware software.
Searchall.network is not considered to be a trustworthy search tool for two main reasons. For one, it redirects to google.com, and that is done without authorization. There are no signs or warnings suggesting that this is what would happen. Luckily, the results are not adjusted by the search tool, and it might be safe to interact with them. We say "might" because we really do not know how the search engine tracks and collects data. For all we know, it could use highly intrusive tracking cookies that might be capable of tracking personal and sensitive information. That is because the creator of the suspicious Searchall.network – and the creator is unknown as well – has not shared any information about it. While not all privacy policies, terms of use, and other legal documents are always trustworthy, if you are not provided access to them, you need to run and never look back.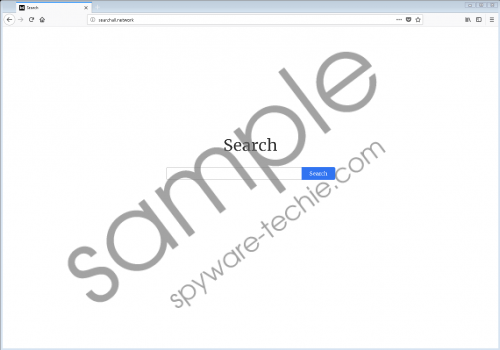 Searchall.network screenshot
Scroll down for full removal instructions
You can remove Searchall.network and eliminate potentially active data-tracking technologies using the guide below. This manual removal guide has been designed to help the users of Chrome, Firefox, and Internet Explorer web browsers, which are the most popular ones still. Of course, if you use a different kind of browser, that does not mean that that you cannot face Searchall.network. If you need help deleting it from a different browser, use the comments section to post a request for an updated guide. Of course, when eliminating the search tool, you must not ignore the existence of other threats. If they do exist, do not hesitate to install anti-malware software to clean your system and then protect it against cyber threats.
Delete Searchall.network from browsers
Internet Explorer:
Launch Internet Explorer and tap Ctrl+Shift+Delete.
Mark boxes and click Delete.
Tap Alt+T and choose Internet options.
Click the Advanced tab and then click Reset.
Mark Delete personal data and click Reset.
Google Chrome:
Launch Google Chrome and tap Ctrl+Shift+Delete.
Select a time range, mark boxes, and click Clear data.
Tap Alt+F and choose Settings.
Click Advanced at the bottom and move to Reset and clean up.
Click Restore settings to their original defaults and click Reset settings.
Mozilla Firefox:
Launch Mozilla Firefox and tap Ctrl+Shift+Delete.
Select a time range, mark boxes, and click Clear Now.
Tap Alt+H and choose Troubleshooting Information.
Click Refresh Firefox.
In non-techie terms:
You need to be careful about the search tools you use because they can expose you to unreliable content or even lead to security issues related to your own virtual identity. Searchall.network is not a browser hijacker, and it showcases seemingly legitimate search results, but it is unpredictable because its creator has not shared any information about it or the policies that support it. Services like that simply cannot be trusted, and so you need to choose services and tools that are more trustworthy. If you only need to remove Searchall.network, follow the instructions above. If other threats exist, install anti-malware software. It will eliminate unreliable pieces of software and also keep your operating system protected.