Do you know what Searchaize is?
Searchaize is a potentially unwanted program. This application is a Chrome browse extension that looks like it could improve your web browsing experience. However, that is very far from the truth, and this extension usually gets added to the browser accidentally. Therefore, if you didn't want to have this application on your system, you should scroll down to the bottom for the manual removal instructions and get rid of Searchaize at once. It is not that hard to remove this extension, but don't forget that you should also protect your system from similar apps that might reach your system again.
Now, if you didn't intend to add Searchaize to your system, how come this extension is there? Well, potentially unwanted programs often have many different ways to reach you. It might have an official website, and it is also possible to find Searchaize on the Chrome Web Store, but such extension has other ways to enter target systems, too.
It is very common for potentially unwanted programs to employ redirects, pop-ups, and software bundles to spread around. Thus, whenever you download programs from third-party sources, you have to keep in mind that there could be additional apps waiting for you to authorize them. Most of the time, users go through program installation automatically, without reading what the installation wizard has to say. As a result, Searchaize and any other unwanted applications manage to enter the system.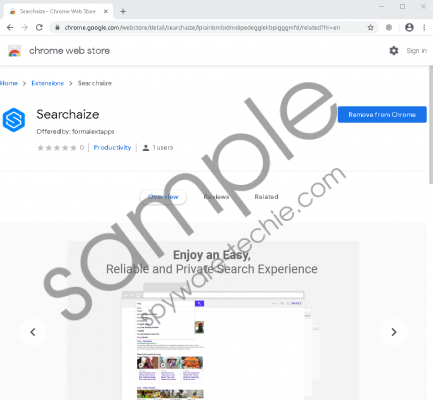 Searchaize screenshot
Scroll down for full removal instructions
Also, when you browse the web and you enter a website that displays a lot of ads, you should be careful about clicking anywhere on the site because it is really easy to trigger a pop-up or a redirect like that. When you see a pop-up or a tab with a redirect, you should close it immediately. However, sometimes users instead of simply closing the new tab, agree to whatever the new tab has to say, and this way, Searchaize gets added to your browser.
Once that happens, Searchaize requires permissions that allow it to modify your browser settings. You might say that the extension performs these modifications behind your back, but the truth is that it asks for those permissions and you give the permissions, even if you are not aware of that. In other words, Searchaize would not be added to your browser if you didn't agree to the browser modifications.
The required permissions include reading your browsing history and changing your search settings to feed.searchaize.com. Since, the extension is supposed to improve your web search experience, this might seem logical, but let's not forget that Searchaize cannot provide you with original search service. The extension employs Yahoo! Search, but it modifies your search results based on your likes and preferences.
How does this extension find out about your likes and preferences? Well, it does track your web browsing history, right? Although it cannot collect your personal information, it can find out the websites you visit, and the search keywords you use regularly. That's enough to create an online profile that helps Searchaize to customize the search results, and even display custom commercial ads.
Such customization isn't inherently malicious or dangerous, but we have to remember that such programs cannot review the content they promote. Hence, when Searchaize redirects you to third-party content, it doesn't necessarily mean that the content is safe. The extension cannot review it, and it's legally not responsible for whatever happens to you when you get exposed to that content.
Keeping that in mind, it would be better to remove Searchaize from your system. Not to mention that there's no need to tolerate applications you didn't plan to have.
While it is possible to simply remove the extension via the browser's settings. However, it would be better to simply reset your browser in the case there are more unwanted extensions added. Once you do that, do not hesitate to scan your PC with SpyHunter. You have to make sure that no other unwanted programs are present. If you find more suspicious apps installed, be sure to remove them all. Finally, invest in a licensed antispyware application to protect you from various threats, and stay away from suspicious websites that could accidentally lead to you potentially unwanted software.
How to Delete Searchaize
Launch your Chrome browser.
Press Alt+F and press Settings.
Scroll down and click Advanced.
Click Restore settings to their original defaults at the bottom.
Press Reset settings to confirm.
In non-techie terms:
Searchaize might not be the worst system security threat, but this application could still expose you to corrupt content that could lead to various online marketing schemes and sometimes even malware infections. Hence, it is recommended that you remove Searchaize from your system today. If you don't want to do that manually, you can always get yourself a powerful security tool that will terminate all the potentially suspicious software automatically. Do all it takes to protect your system and your personal information from malicious exploitation.