Do you know what Searchadence is?
Searchadence is a plugin which promises to provide you with saving deals, price comparisons and better web browsing experiences. If the program is downloaded from searchadence.info, which currently is inactive, you are likely to discover irritating advertisements whenever browsing the web. However, if the plugin gets installed onto the PC bundled with other software, there is a possibility that you will discover much more disturbing activity. In this case, you should delete Searchadence from the PC because its activity could be unpredictable. If you have already removed the undesirable browser plugin but the suspicious advertisements keep flooding your browsers, it is essential that you inspect your PC and delete the remaining adware components.
Is it clear to you what adware is and how it works? Advertisement supported programs usually offer authentic services; however, they are supported by third parties. In many cases, third parties could be interested in boosting web traffic or promoting some online products and services. Unfortunately, there also is a possibility that these third parties are interested in redirecting you to sites which are considered to be malicious. Links to corrupted websites could be used to expose you to various virtual scams, which is why it is not recommended to trust them blindly. If you are not annoyed by the reappearing banner, in-line or pop-up advertisements, and you wish to keep Searchadence running, you should install Windows security software which could eliminate threats or delete malware if it attacks.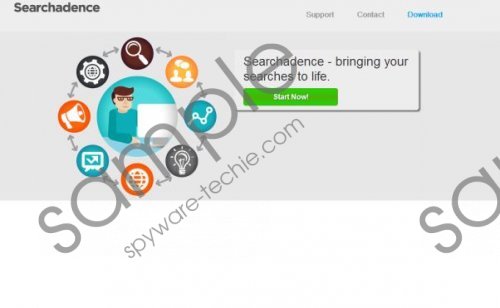 Searchadence screenshot
Scroll down for full removal instructions
Have you heard of Super Web LLC before? This is the company which represents Fassurun, Albrechto, and many other well-known browsers plugins. You can delete them in the same way you remove Searchadence from the operating Windows system because they all act the same. If you wish to get rid of the plugin we recommend following the manual removal guides below. Afterwards you should use an authentic malware detection and removal tool to ensure that all remaining adware elements are deleted and that your PC is safeguarded in the future.
Delete Searchadence
Delete from Windows XP:
Navigate to the Task Bar, click Start and select Control Panel.
Double-click Add or Remove Programs and locate the undesirable program.
Remove this undesirable application.
Delete from Windows Vista/Windows 7:
Open the Start menu and click Control Panel.
Go to Uninstall a program and right-click the undesirable application.
Select Uninstall to remove it from the system.
Delete from Windows 8:
Access the Metro UI start menu, right-click and select All apps.
Open the Control Panel and go to Uninstall a program.
Right-click the program you want to remove and select Uninstall.
In non-techie terms:
Searchadence is a suspicious browser plugin which is closely related to third parties and their managed online advertisements. It is recommended that you remove this potentially undesirable program from the computer, and you can do it in two ways. You can proceed manually, if you know how to delete adware components, or you can use reliable automatic malware detection and removal software.
Aliases: Search adence.