Do you know what Search.yourweatherhub.com is?
Search.yourweatherhub.com comes with the browser extension named Your Weather Hub, and its purpose is to generate advertising revenue for its creators and their advertising partners. We suggest that you consider removing this search engine because our malware analysts have classified it as a browser hijacker. It accompanying extension is an integral part of the hijacking process, so you should get rid of it as well. We have no doubt that this hijacker is part of a web monetization campaign because it comes from SaferBrowser, a mysterious company that is in the business of creating browser hijackers for making money. Please read this whole article if you want to know more information about this infection.
Your Weather Hub is an extension that is compatible with Google Chrome, Mozilla Firefox, and Microsoft Internet Explorer. Depending on the distribution method, when you install this extension it can change your web browser's homepage address with Search.yourweatherhub.com. Unfortunately, this is the only reason for this extension's existence because it has no other function. Indeed, Your Weather Hub is dedicated to replacing your browser's homepage. The purpose of Search.yourweatherhub.com, however, is to subject you to promotional links presented via its search results. As mentioned, this hijacker is part of a web monetization scheme, so its primary purpose is to generate income that comes from advertising.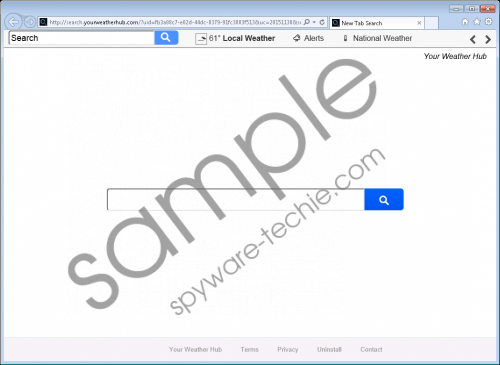 Search.yourweatherhub.com screenshot
Scroll down for full removal instructions
The advertisements come as links that are presented in the search results of Search.yourweatherhub.com, but we want to point out that the search queries you enter into its search box are redirected to a custom Yahoo search engine. So you are essentially using Yahoo.com with additional third-party advertisements that may be of unreliable nature. We want to clarify that the promoted content comes in the form of links presented in the search results. Since the promotions constantly change and come from unknown sources, we have reason to believe that some of them may be of malicious nature. Your Weather Hub's EULA states:
You understand that during Use of and/or by Using the Your Weather Hub Software, you may encounter Third-Party Software that may be deemed offensive, indecent or objectionable. Nevertheless, you agree to use the Your Weather Hub Software at your own risk and that Your Weather Hub shall not have any liability to you with respect to such content.
As vague as this statement may seem, it is proof that the developers disclaim all liability, and they will not take any responsibility for the undesirable or detrimental consequences that may occur as a result of interacting with the promoted content. Indeed, our researchers are confident that this hijacker can subject you to malicious software download links because it has several clones known to promote such content. The long list of clone hijackers includes Search.youremailnow.com, Search.searchtrmypa.com, Search2.searchlson.com, and Search.yourspeedtestcenter.com, among others. So rest assured that this hijacker will feature malicious links at some point in time.
Our malware analysts have linked Search.yourweatherhub.com to SaferBrowser. It was not hard to do because this developer labels the hijackers with its trademark "by SaferBrowser." Further research has revealed that you can download Your Weather Hub voluntarily from its dedicated distribution website at Yourweatherhub.com. Furthermore, they have found that it is being bundled with third-party software and featured on freeware sites. They say that the bundled installers install Your Weather Hub secretly, so you cannot prevent it from hijacking your browser's settings.
Given that both the search engine and the browser extension can enter your computer in a clandestine manner you might want to remove them, and we very much encourage doing so. This hijacker can compromise your computer's security with its unwelcome and shady promotional links that can redirect you to sites that feature malicious downloads. Our researchers have prepared a guide that will help you remove Your Weather Hub and by extension Search.yourweatherhub.com.
Uninstall the browser extension

Windows 8/8.1/10
Press Windows+R keys.
Type Control Panel in the Run command Prompt and Click OK.
Click Uninstall a program.
Identify and highlight the progam.
click Uninstall.
Windows 7/Vista
Click the Start menu button.
Open Control Panel and select Uninstall a program.
Identify and highlight Your Weather Hub.
Click Uninstall.
Windows XP
Click the Windows button and go to Control Panel.
Select Add or Remove Programs.
Identify and highlight Your Weather Hub.
Click Remove.
Remove the browser add-on
Google Chrome
Simultaneously press Alt+F.
Select More tools.
Choose Extensions.
Identify the add-on and click Remove.
Mozilla Firefox
Simultaneously press Ctrl+Shift+A.
Click Extensions.
Identify the application.
Click Remove.
In non-techie terms:
Search.yourweatherhub.com is a browser hijacker set to replace your web browser's homepage. Not only that but its purpose is to show promotional links in its search results and these links can redirect to shady websites and get your computer infected with malware. Therefore, our researches suggest deleting it using the guide above or an antimalware application.