Do you know what Search.yourmovietimenow.com is?
Our security analysts have tested Search.yourmovietimenow.com and concluded that it is a not a real search engine, but a browser hijacker because it is distributed using malicious advertisements. So you might get it accidentally, and we recommend that you remove it as soon as you can because if you use it to search the web, then you will get subjected to shady third-party advertisements. We will provide you with all of the information currently available about this hijacker. Please continue reading to find out more.
On the surface, this hijacker appears as an ordinary search engine that comes with a browser extension called Your Movies Now. This fake search engine originates from a certain browser hijacker family that labels its releases "by SaferBrowser." We cannot confirm that it is a software developing company because there is no information about it anywhere on the web. In any case, we have encountered many hijackers that have come from this particular source. The list of browser hijackers similar to Search.yourmovietimenow.com includes without limitation Search.searchwag.com, Search.searchlcl.com, and Search.MySocialHubXp.com. Therefore, it is evident that this particular hijacker comes from an established developer that specializes in developing this type of malware.
As mentioned in the introduction, Search.yourmovietimenow.com is distributed with the help of advertisements. As far as we know, these advertisements come in the form of coupons, banners, and other types of ads that are presented by adware-type applications. Nevertheless, we do not rule out the possibility of this hijacker's accompanying browser extension being distributed using software bundles found on freeware sharing websites because very few people fall for Your Movies Now's advertising campaign and install it willingly. As this browser extension's name suggests it is related to movies. Indeed, its advertising campaign claims that it will enable you to watch movies online for free. However, this is a lie because all does is adds a toolbar with links to movie-related websites such as Imdb.com, Rottentomatoes.com, Fandango.com, and Youtube.com, which is not the same as providing you with the means to watch movies for free.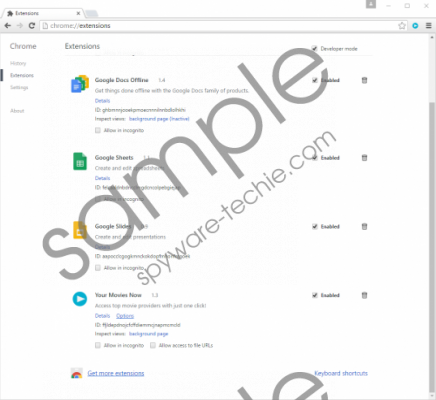 Search.yourmovietimenow.com screenshot
Scroll down for full removal instructions
While testing this browser hijacker, we found its browser extension Your Movies Now is compatible with the three most popular web browsers that include Google Chrome, Microsoft Internet Explorer, and Mozilla Firefox. Now, this hijacker affects these browsers in different ways, so let us go over the specifics. If you use Internet Explorer, then in it will not come as a browser extension but as an application, and it will hijack its homepage. As for Chrome, it will also hijack the homepage and probably the new tab page. If you use Mozilla Firefox, then it will replace its search provider only.
The reason for performing these unasked-for changes is to redirect web traffic to Search.yourmovietimenow.com. Even though this hijacker is not a real search engine it uses Yahoo.com to process the search queries you inter to this hijackers search box. However, the developers have set it to include additional promotional links in the search results. We want to warn you that these promotional links might redirect you to unreliable websites that may contain malware downloads that can further compromise your computer's security. So you should not click suspicious promotions, and we suggest that you remove this infection entirely because there is no telling what detrimental consequences can come as a result of using this hijacker.
In closing, Search.yourmovietimenow.com is highly unreliable. Even though its browser extension is not malicious, you have to uninstall it because it is useless and its purpose is to manage this hijacker, while this hijacker is set to replace certain browser settings to redirect web traffic and subject you to undesirable content that may pose a danger to your computer. So follow the instructions provided below to delete of this browser hijacker.
Uninstall via Control Panel (for Internet Explorer users)
Windows 10
Right-click on the Start menu.
Click Control Panel and go to Uninstall a program.
Identify YourMoviesNow and double-click on it.
Uninstall.
Windows 8 & Windows 8.1
Once the Charm bar appears click Settings and go to Control Panel.
Click Uninstall a program and identify YourMoviesNow.
Right-click on the program and click Uninstall.
Windows 7 & Window Vista
Open the Start menu.
Click Control Panel and select Uninstall a program.
Find the undesirable software and right-click on it.
Uninstall.
Windows XP
Open the Start menu.
Click Control Panel.
Select Add or Remove Programs.
Find YourMoviesNow and click Uninstall.
Remove the browser extension
Google Chrome
Press Alt+F.
Go to More tools and select Extensions.
Find Your Movies Now and remove it.
Mozilla Firefox
Press Ctrl+Shift+A.
Choose Extensions.
Find Movies and remove it.
In non-techie terms:
Search.yourmovietimenow.com is nothing more than a browser hijacker whose purpose is to redirect web traffic with the intention of forcing you to use it for processing your search queries and in turn subjecting you to promoted content. We think that some of its promotions are unreliable and you ought to get rid of this hijacker as soon as you can.