Do you know what Search.yourinstanttelevision.com is?
Search.yourinstanttelevision.com is a new search engine from the SafeBrowser family. It is very likely that it targets those users who can call themselves television fanatics because it has several quick access buttons leading to such popular websites as amc.com, netflix.com, espn.com, and hulu.com at the upper part. Search.yourinstanttelevision.com will also allow you to check the weather forecast, and it works like an ordinary search engine, i.e. it will return search results if you enter a search query. Even though this search engine works like any other search tool, we cannot say that there is nothing wrong to keep Search.yourinstanttelevision.com set on browsers and use it as the default search engine. Continue reading this article if you wish to find out why our specialists cannot put Search.yourinstanttelevision.com into the category of safe tools. At the end of the article you will also find the manual removal guide, so in case you make a decision to get rid of Search.yourinstanttelevision.com and start using a more reliable search engine, use this guide freely.
Many users cannot even understand why Search.yourinstanttelevision.com is said to be an untrustworthy search engine, so we want to explain to you why it has this label before we talk about its deletion. According to our team of experts, such search engines as Search.yourinstanttelevision.com are often put into the category of untrustworthy search tools because they place advertisements promoting third-party web pages on the search results page. Since these ads usually have a form of trustworthy search results, users do not recognize them and click on them without fear. As a consequence, they are taken to third-party websites. Some of these websites are harmless, but others might contain untrustworthy software or links. Also, you will not find the information you need on any of them, so it will take longer for you to find the relevant information. The presence of ads and redirections to third-party websites are definitely not the only reasons Search.yourinstanttelevision.com should be removed.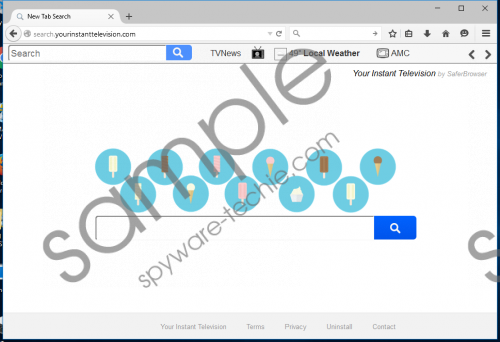 Search.yourinstanttelevision.com screenshot
Scroll down for full removal instructions
Research carried out by our specialists has shown that Search.yourinstanttelevision.com is also interested in what users do on the web and what their interests are so that it could provide more relevant ads. It is stated in the Privacy Policy document that Search.yourinstanttelevision.com gathers non-personally identifiable information mainly; however, experts have also noticed one line saying that search queries (fall into the category of non-personal details) might contain something personal. If you do not want these details to be shared with third parties or even end up in the hands of cyber criminals, you should delete Search.yourinstanttelevision.com right now from your browsers. This is the only way to protect your privacy and your system.
We want that you know how other untrustworthy search engines from the SafeBrowser family are spread so that you would not allow any of them to enter your computer. According to our specialists, there are two ways they are distributed. First, they might come in software bundles. Second, the questionable search engine might be immediately set on browsers if a user clicks on a malicious pop-up advertisement shown by adware. Many users do not even suspect the presence of adware on their computers, so you are not the one.
There are three ways to remove Search.yourinstanttelevision.com. First, you can reset your browsers to their default settings. Second, you can manually remove this search tool. Third, you can scan your computer with an automatic malware remover that will do everything for you.
How to delete Search.yourinstanttelevision.com
Internet Explorer
Open your browser.
Tap Alt+T.
Select Internet Options and click on the Advanced tab to open it.
Click Reset.
Put a tick in the Delete personal settings box.
Click Reset once again.
Mozilla Firefox
Open your browser.
Open the Help menu and click Troubleshooting information.
Click Refresh Firefox.
Click on this button again if you see it in the message that appears to you.
In non-techie terms:
As we have already mentioned in this article, you might have other untrustworthy applications, e.g. adware installed on the computer. It is not a piece of cake to detect malicious software manually, so we suggest scanning the system with an automatic malware remover. You can get a free scanner from our website. If your scanner finds threats on your computer, delete them all as soon as possible.