Do you know what Search.yourinstantrecipes.com is?
Search.yourinstantrecipes.com is another search engine that belongs to the SafeBrowser engines family. Like other members that belong to this group of search tools, e.g. search.yourmapscenter.com and search.youremailnow.com, Search.yourinstantrecipes.com is a search engine that definitely cannot be called trustworthy. In fact, researchers even tend to classify it as a browser hijacker because many users report that it has replaced their homepages and New Tab URLs on Internet Explorer and Mozilla Firefox browsers without permission. Many users find the presence of an unknown search tool quite irritating, especially when they see it every time they launch their browsers. Of course, there are also users who do not even think that there is something wrong with Search.yourinstantrecipes.com and do not hurry to get rid of it. We cannot blame them - Search.yourinstantrecipes.com has an appearance of a trustworthy search engine, i.e. there is a search box in the middle and it works quite well, i.e. it returns Yahoo! search results. Even though Search.yourinstantrecipes.com does not differ from other search engines that are known to be trustworthy the way it looks, we cannot say that Search.yourinstantrecipes.com is a reliable search engine. Read this article to find out more about it. We hope you decide to remove it after you find out what it is really capable of.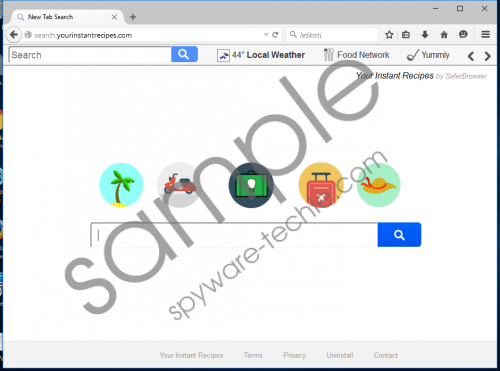 Search.yourinstantrecipes.com screenshot
Scroll down for full removal instructions
It might really seem at first glance that Search.yourinstantrecipes.com is an ordinary search tool. It contains a search box, it allows users to check the weather forecast, and it provides quick access links leading to foodnetwork.com, yummly.com, and epicurious.com. Of course, you do not need to have this search tool to access these websites. It is enough to have a browser and enter the URL, so if you keep Search.yourinstantrecipes.com just because it has those quick access links, you should get rid of it, especially when it is known that this search engine is known to be able to provide users with the sponsored content. To be more specific, you will see the modified Yahoo! search results if you enter a search query. In other words, the search result might be a simple advertisement promoting third-party websites even though it looks like a legitimate search result. Such search results that are not associated with the entered search query in any way seek to increase the traffic rate of particular websites. Nobody knows whether these websites they promote can be fully trusted, so there is a possibility to end up on a corrupted website one day and thus cause harm to the computer. You cannot make those ads and sponsored links disappear, so it would be wise to set a reputable search engine instead of Search.yourinstantrecipes.com. Before you do that, you need to get rid of the browser hijacker.
Our specialists have managed to find out more about the Search.yourinstantrecipes.com removal as well. If you are 100% sure that you have not set it as your homepage and the New Tab page, there is no doubt that it has been set without your permission. In most cases, this happens when users click on a malicious pop-up advertisement shown by adware. You might not know that you have adware installed on your PC; however, if you keep seeing various pop-ups on your screen, it means that Search.yourinstantrecipes.com is not your only concern. Yes, you will have to find and delete that adware showing ads for you too if you do not want to encounter another malicious application.
To remove Search.yourinstantrecipes.com from all your browsers, you need to remove its extension from browsers and then change your homepage and the New Tab page settings. The quicker way to do that is to reset browsers to their default settings. If it is your first time, use instructions you can find below this article. If it does not become clearer what you need to do to get rid of Search.yourinstantrecipes.com, you should definitely scan your computer with an automatic malware remover. It will take care of this threat.
Delete Search.yourinstantrecipes.com
Internet Explorer
Open your browser and tap Alt+T.
Click Internet Options.
Click on the Advanced tab.
Click Reset.
Put a tick in the Delete personal settings box.
Click the Reset button.
Mozilla Firefox
Open your browser.
Tap Alt+H simultaneously to open the Help menu.
Click Troubleshooting information.
Click Refresh Firefox.
In the dialog box, click on the Refresh Firefox button again.
In non-techie terms:
If you have deleted Search.yourinstantrecipes.com manually, it is very likely that you have not noticed other untrustworthy applications hiding on your computer. Therefore, we suggest scanning the system with a good scanner, e.g. SpyHunter. It will tell you quickly whether or not you have other threats on the system. Then, you could remove those threats manually or with the help of an automatic malware remover.