Do you know what Search.tvplusnewtabsearch.com is?
Search.tvplusnewtabsearch.com does not come out of the blue. Its presence on browsers is the result of the installation of a browser extension called TVPlusNewtab. This add-on is compatible with Mozilla Firefox and Google Chrome; however, Mozilla Firefox blocks it, so users see changes applied on one of their browsers, i.e. Google Chrome only. More specifically, this search tool changes a homepage and a New Tab URL on this browser, so it does not take long for users to notice the modifications. Actually, some people do not find these changes surprising at all because they willingly download and install the extension from its official website tvplusnewtab.com. Of course, not all the users are glad to see that Search.tvplusnewtabsearch.com has occupied their browsers. In the humble opinion of our researchers, users should go to eliminate the TVPlusNewtab browser extension and the search engine it promotes no matter they have installed it willingly or not. There are several reasons why specialists have such a negative opinion about this piece of software – read this report till the end to find out what they have discovered.
First of all, our IT guys have immediately understood that the TVPlusNewtab extension is not as beneficial as it claims to be. According to the information that can be found on its official website, it should enable users to watch movies, TV series, and live sports legally. Also, people expect to access thousands of online streaming websites showing all kinds of shows easily. Unfortunately, this piece of software does not exactly do what it says, so a number of users get disappointed after its installation and, consequently, decide to eliminate it. We cannot blame those users because all this add-on does is set a new website Search.tvplusnewtabsearch.com, which looks like a legitimate search provider, as a homepage and New Tab. This page has buttons leading to Netflix.com, YouTube.com, IMDB.com, and similar websites, meaning that users could open these websites quicker, but that is it. Generally speaking, this extension is, basically, useless because all these pages could be opened without its help too. Also, many users find the presence of a new search tool Search.tvplusnewtabsearch.com set on their browsers quite irritating. To make it gone, delete the TVPlusNewtab extension. Actually, users should erase this search tool not only because they find it annoying, but also to protect their systems from dangers the use of Search.tvplusnewtabsearch.com might pose.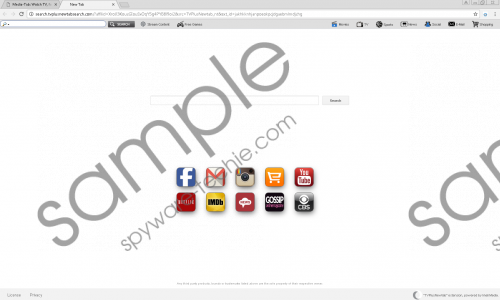 Search.tvplusnewtabsearch.com screenshot
Scroll down for full removal instructions
Researchers have revealed that Search.tvplusnewtabsearch.com cannot be called a fully reliable search provider. It is because it might provide users with the commercial content even though it should display only Yahoo!, i.e. decent, search results. Specifically speaking, the users of Search.tvplusnewtabsearch.com might find promotional links on the search results page opened for them. They lead to third-party websites immediately, so specialists suspect that it might be used as an affiliate marketing tool to generate revenue. These third-party websites might be untrustworthy, but, of course, nobody cares about the users' safety when money becomes the priority. Actually, these sponsored links is not the only drawback of Search.tvplusnewtabsearch.com. It seems that it might also be interested in personal information too because it says in the Privacy Policy document that it is going to record it. You cannot change the way it acts, but you can definitely make sure that it no longer performs undesirable activities on your computer by deleting it fully.
Do not expect that Search.tvplusnewtabsearch.com is going to disappear from your browsers without your help. What you need to do to make it leave them alone is to remove the TVPlusNewtab browser extension. Since Mozilla Firefox disables it automatically, you will, most probably, need to remove it from Google Chrome only. If it is the first time you are going to erase undesirable software manually, let our manual removal guide help you or use an automatic malware remover.
Delete Search.tvplusnewtabsearch.com
Google Chrome
Open your browser.
Press Alt+F simultaneously.
Click More tools and select Extensions.
Select the unwanted extension from the list and click the Recycle bin button.
Click Remove in the pop-up window.
Mozilla Firefox
Open Mozilla Firefox and press Ctrl+Shift+A.
Open Extensions.
Select TVPlusNewtab and click on the Remove button.
In non-techie terms:
If Search.tvplusnewtabsearch.com has been set on your browsers without permission, it means that other suspicious search tools might be set again against your will. Therefore, you should go to install a security application after getting rid of the undesirable extension responsible for the presence of a new website. According to security specialists, users should also be cautious with free programs promoted on malavida.es, descargar.es, and similar websites containing tons of freeware because these applications rarely come alone. In other words, users might install additional software, e.g. an unwanted browser extension on their PCs together with software from these pages.