Do you know what Search.socialnewpagessearch.com is?
Browser hijackers are malicious search engines that enter a computer secretly and modify its settings. Search.socialnewpagessearch.com is one such browser hijacker, and we advise that you remove it as soon as the opportunity arises. Our security analysts say that it is disseminated in a dishonest manner, meaning that it is set to modify your browser's settings without your consent. Not only that, but it can also display promotional links in its search results, and our researchers say that those links can pose a genuine security threat because the promotions cannot be verified as safe. This hijacker is all about making money, so do not expect it to provide you with a useful service.
At first glance, Search.socialnewpagessearch.com is just another search engine with some additional promotional links featured on its main page. It seems that this search engine puts an emphasis on social media networks as it features clickable logos that redirect to their respective social media sites. Also, the website-based toolbar features links to websites such as CBS, BBC News, Sky News, and so on. However, it has nothing to do with these news networks as it is set to promote them as a cover and to divert your attention from its true purpose. None of what this search engine offers is useful and on closer inspection, it becomes clear that its true purpose is making money.
Yes, this search engine/browser hijacker is all about web monetization. It was set up by a company known as Imali Media, a company dedicated to making your browsing experience as unpleasant as possible because its fake search engines feature shady promotional links in their search results. You might think that this is a false claim because it redirects the search queries too Yahoo.com, but the twist here is that the search results are modified to include additional promotional links labeled "Promotional Results For You" featured at the bottom of the page. This advertising method may not seem apparent and appear as ineffective. However, Imali Media does not rely on Search.socialnewpagessearch.com alone as it has dozens of hijackers making them money all of the time. These hijackers include the likes of Search.funtvtabplussearch.com, Search.funsecuritytabsearch.com, Thecoolestmoviesearch.com. So, rest assured, Search.socialnewpagessearch.com is set to show promotional links in certain situations.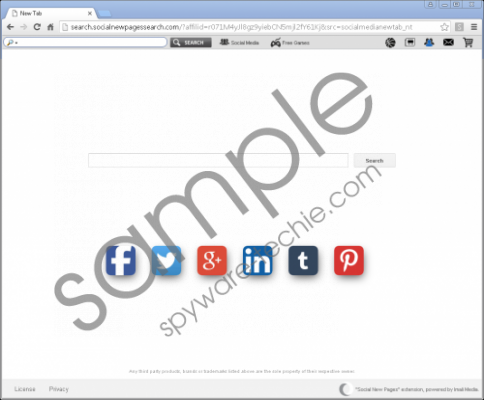 Search.socialnewpagessearch.com screenshot
Scroll down for full removal instructions
Now, regarding this hijackers distribution channels, we found that its developers have set up a website that promotes a browser add-on called Social New Pages. This add-on is compatible with Google Chrome and Mozilla Firefox, so it has the potential to create a substantial user base. Regardless, the website that features this program is called Socialnewpages.com, and it features all of the promotional slogans and promises we all have come to expect. The fact of the matter is that this extension does nothing as all functionalities lie in the browser hijacker. The extension is there to inject Search.socialnewpagessearch.com into your web browser. Testing has shown that the extension will replace the homepage of Firefox and the new tab page of Chrome. Furthermore, it is set to replace the URLs in secret, and that makes it a genuine browser hijacker. If you find the automatic changes unacceptable, and you should do so, then consult the removal guide at the end of this description to delete Social New Pages and set a new homepage/new tab page URL.
In summary, Search.socialnewpagessearch.com is not a safe search engine because it is capable of showing you unreliable and fake advertisements that can jeopardize your computer's security. Most importantly, this hijacker is set to enter your computer secretly when you download its accompanying browser add-on that has no mention of changing your browser's homepage/new tab page to its promoted one. Imali media Ltd is a company that makes money from online advertising and research has shown that its promotions cannot be trusted. So if you have this hijacker on your web browser, then check the instructions below on how to remove it.
Remove Search.socialnewpagessearch.com
Mozilla Firefox
Launch the browser.
Hold down Ctrl+Shift+A keys.
Click Extensions.
Locate and remove Social New Pages.
Hold down Alt+T and select Options.
In the General tab, enter a new homepage address.
Google Chrome
Launch the browser.
Hold down Alt+F keys.
Click More tools.
Click Extensions.
Locate and remove Social New Pages.
Hold down Alt+F and select Options.
Find the On startup section and set a new page address.
Find the Search section and select a new search provider.
In non-techie terms:
Search.socialnewpagessearch.com is a newly discovered browser hijacker that is distributed together with a browser extension that when installed changes your web browser's homepage or new tab page without your consent. Our researchers have concluded that this is done to force you to use the search engine and see commercial advertisements featured in the search results. If you do not want to use this fake search engine, then be sure to remove it from the browser using our guide.