Do you know what Search Sherpa is?
Search Sherpa is a potentially unwanted application or program (PUP) that functions like the Chrome browser extension. It means that it cannot work on other browsers, and if you do not use Chrome, you may not encounter Search Sherpa at all. However, it doesn't mean that you will not see a PUP on your computer sooner or later. Therefore, it's a good chance for you to learn more about such applications and how to remove them from your system. As for Search Sherpa, you can remove it following the guidelines you can find at the bottom of this description.
We have talked about such applications many times before. We cannot really say that they are malicious infections because they do not enter your browser without your knowledge. Search Sherpa will inform you about the changes it is about to make on your browser, but if you are too distracted to notice that, it is impossible to claim that the extension entered the system behind your back.
Also, Search Sherpa has an official website. The page can be accessed at search-sherpas.com, and it looks like a regular search engine page. What's more, the extension can also be found at the Chrome Web Store, which only supports the understanding that this app is not a malicious infection. Nevertheless, it is still possible to get this application via third party sources. For example, if you often download programs from file-sharing websites, you might end up adding the extension to your browser accidentally, together with some program that you really wanted to download.
Also, if you visit websites that are full of pop-ups and redirects, it is very likely that you will be exposed to such apps, too. So, if you are on an unfamiliar website, and suddenly a pop-up jumps into your screen, it is a good idea to close the new window or the new tab immediately. If you fail to do that, you will have numerous extensions on your browser, most of which you don't even need.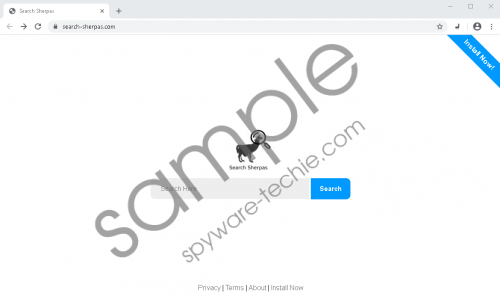 Search Sherpa screenshot
Scroll down for full removal instructions
Now that we have established this application is not a malicious threat, we should take a look at what it actually does. According to the official information, with Search Sherpa, your search results are "built into your every day browsing experience." Technically, it should improve your web browsing experience by providing the most relevant search results. It says that Search Sherpa "is a search assistant extension that ensures privacy, security, and adds enhance in page search all in one convenient add-on." Sure, it all sounds nice, but when this application gets added accidentally, users are left wondering what happened.
The good news is that Search Sherpa does not change your default search settings. But it requires the permission to read your browsing history, and so it can collect information on your web browsing habits. While it is necessary to provide you with custom content, some of the collected information could be leaked to unreliable third parties.
That is the main security concern associated with Search Sherpa and other similar application. These extensions do not review the content they promote, and they also cannot control who or what makes use of the information that the app collects. While Search Sherpa cannot collect personally identifiable information, the collected data can still be used for online marketing purposes. Consequently, if a malevolent third party makes use of the collected information, you might end up on some dangerous website that promotes malware.
The point is that you shouldn't keep an application when you didn't want to install it in the first place. It is very easy to remove Search Sherpa from your computer, but after manual removal, you should scan your system with a reliable antispyware tool, too. We have to remember that such applications seldom travel alone. You are bound to have many other unwanted programs on-board as well, and so, it is important that you remove them all.
Investing in a licensed antispyware tool may not be enough to ensure things like Search Sherpa do not enter your system again. You also have to review your web browsing habits, to make sure that you stay away from websites that promote potentially unwanted programs.
How to Remove Search Sherpa
Open Chrome.
Press Alt+F and click Settings.
Click Advanced at the bottom of the page.
Scroll down and click Restore settings to their original defaults.
Click Reset settings.
In non-techie terms:
Search Sherpa is a browser extension that might get added to Chrome accidentally. If it was not your intention to have this extension, you should remove it today. While this app is not a direct computer security threat, it is not a good idea to keep programs that were installed accidentally. You should also perform regular system scans to avoid unwanted programs in the future, too. Your system and data security depends on how you behave online, so be sure you employ safe web browsing habits.