Do you know what Search.searchytdm.com is?
Search.searchytdm.com is a search engine that can be set as the home page of your Internet browsers surreptitiously or not as openly as you would expect it. The search engine is one of many similar search providers such as Search.yourpackagesnow.com, Search.youremailnow.com, and Search.yourclassifiedscenter.com, and some others, all of which are based on the Yahoo! search. That means that Search.searchytdm.com does not provide any unique results, except that some additional links might be purposely added to your search result page by the team behind Search.searchytdm.com. If you want to be provided with authentic search results, remove Search.searchytdm.com from your browsers and make sure that no unsolicited or requested changes will ever take place on your computer.
Search.searchytdm.com is one of the service owned by Eightpoint Technologies Ltd and controlled by Polarity Technologies Ltd. We have reported on the services of this company several times, which suggests that new search engines are being released from time to time. They all look alike and operate in the same way; only the names differ. There are many so-called families, and you should keep in mind that having your browser settings changed unexpectedly is a sign that your machine needs protection from different types of malicious programs.
Search.searchytdm.com is considered as a browsing hijacker due to the method of distribution and the way it is set on the browser. This search engine can replace your prefered home page when installing a free software program downloaded from a freeware sharing website or network. There are multiple software sharing websites where software installers contain more than one program. Sometimes it is enough to uncheck, or check, opt-out boxes to prevent undesirable changes within the computer. However, some ill-purposed browser hijackers can take control over your browser without prior warning. This can be prevented by keeping the operating system protected by a reputable malware and spyware removal program.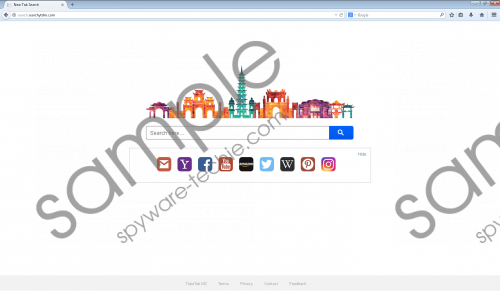 Search.searchytdm.com screenshot
Scroll down for full removal instructions
Once the changes are made, Search.searchytdm.com starts recording your search terms, URL preferences, time spent on the websites accessed, and other details that do not reveal your identify. Without a doubt, using your name as a search quiry can help Search.searchytdm.com identify you in case they are interested in providing highly personal offers. Such cases are rare, but everything is possible in this digital age. If you do not want to find targeted advertisements based on your browsing preferences, you should remove Search.searchytdm.com from the computer once you find that your Chrome or a different browser is affected. Search engines do collect information about users' behavior, but you should use one that is capable of keeping the data collected safely.
The Search.searchytdm.com search engines seems as a regular search provider with some links to popular websites below the search box. Those links are aimed at helping you access your frequently visited websites such as Facebook, Yahoo, Gmail, and some other domains. Some other search engines of the same family may contain some additional third-party advertisements on the startup page. If you encounter any third-party advertisement when using Search.searchytdm.com, you should ignore that add, no matter in what form it is displayed, because Search.searchytdm.com disclaims responsibility for the content of the ads and your interaction with the issuer of the advertisement. Many untrustworthy services use such search engines like Search.searchytdm.com as platforms for displaying their malicious advertisements aimed at deceiving unsuspecting users. You should disregard such ads and close them immediately to prevent landing on, for example, infectious websites.
Removing Search.searchytdm.com is highly recommended, and you can do so with the help of our removal guide given below. You should also consider scanning the system so that you can be sure that the system is malware-free. If you use want to use the Internet safely, a powerful malware and spyware prevention tool is a must.
How to remove Search.searchytdm.com
Internet Explorer
Open the browser and click Tools (gear sign).
Click Internet Options.
On the General tab, find the Home page sections and set a new URL as your home page.
Select Apply at the bottom and then click OK.
Mozilla Firefox
Open the browser.
Click the three horizontal lines and select Options.
Select General panel.
Next to the When Firefox stars line choose one of the options and set a new URL if necessary.
Google Chrome
Click the three dots in the upper-right corner.
Select Settings.
Under Appearance, select the option to show home button and enter the URL of the startup page below in an empty box.
In non-techie terms:
Search.searchytdm.com is a browser hijacker which you should remove from your browsers once you find that it has replaced your home page. Browser hijacking occurs if you keep the OS unprotected and tend to download freeware software from unreliable sources. In order to remove Search.searchytdm.com, use the removal guide given above or use a malware removal tool.