Do you know what Search.searchwos.com is?
Search.searchwos.com can easily end up on your system and appear in your major browsers as your new home page, new tab page, and default search engine after you install a questionable freeware bundle. Our researchers say that this unreliable search engine page is in fact a newcomer in the notorious browser hijacker family that has given birth to similar and identical malware threats, such as Search.memethat.co and Search.theweathercenter.co. This hijacker may look innocent with its fake toolbar and search box, but you should be aware that it can present to you questionable content through its search results. It is never safe to keep any application or tool on your computer that may hold the slightest risk for you and your privacy. Therefore, we recommend that you take action now and remove Search.searchwos.com from your operating system.
When it comes to browser hijackers, the first thought that comes to a trained and experienced mind is "freeware bundles" and, of course, "corrupt third-party ads." These two expressions hold the key for you to understand how easy it is to infect your machine with such annoying malware threats. Most of the time there is an unsafe third-party ad or link that you need to click on in order to install this infection directly or download it in a bundled version. While none of these scenarios are "beneficial" for you in any sense, it is obviously the bundle that can cause you more harm. Such a software package can easily contain several adware programs, hijackers, Trojans, fake alerts, and more. Letting such a lot onto your system could seriously jeopardize the normal operation of your system.
The question is now: How can you encounter such corrupt ads in the first place? There are two main possibilities regarding being exposed to questionable third-party advertisements. First, you may be looking for free files to download and your click on unreliable links on your search results page. It is even worse when you use a questionable search engine promoted by a browser hijacker like Search.searchwos.com because there is a good chance that you will find third-party ads and sponsored links possibly coming from cyber criminals. But you should know that even reputable search engines, such as Google, Yahoo, and Bing may display malicious websites posing as file-sharing pages. If you are not familiar with such sites, you could easily click on infectious content once you land on one. This could cause you multiple infections in no time. And, this is why it will not be sufficient for you to delete Search.searchwos.com alone.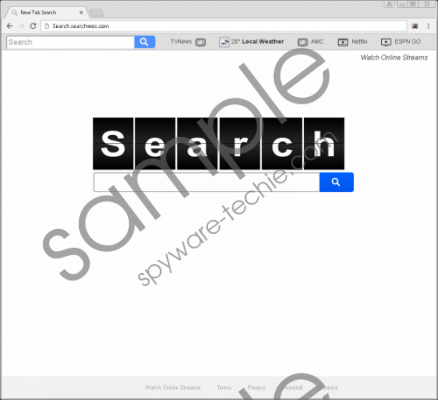 Search.searchwos.com screenshot
Scroll down for full removal instructions
Second, your computer could already be infected with adware applications that may be responsible for the unreliable third-party ad you click on while browsing the web. Hopefully, you can see now why it is so important to make sure that your system is always clean. If you are in doubt, we suggest that you use a free online malware scanner you can trust to scan your system for possible threats. But before you do so, you take the first step and remove Search.searchwos.com from your system.
Our researchers have found that this browser hijacker is virtually an identical clone of Search.yourtelevisioncenter.com that hit the web around the middle of October. This infection also offers the same features, including the fake toolbar with the search tool, the local weather information widget, and the quick-links leading to online TV-related streaming websites (e.g., amc.com and espn.com). The local weather link takes you to a page that displays a weather widget surrounded by third-party ads that could be unreliable and therefore risky to click on. And, why would you need links to online TV sites that you can easily bookmark in your browsers without using a questionable add-on of some sort.
Another potential threat source regarding this browser hijacker is obviously its search engine itself. This search engine redirects all your queries to a manipulated Yahoo search results page. We do not advise you to click on any content you come into contact with through this search page. It is possible that this hijacker is exploited by cyber criminals and they promote their malicious websites through third-party ads and sponsored links presented to you on such results pages. One click could be enough for you to directly infect your computer with further malware infections. But you might also end up on a malicious website and get scammed by crooks. If you do not wish to go through such ordeals, we recommend that you delete Search.searchwos.com as soon as you can.
We have found that this browser hijacker has an uninstaller but it does not seem to do a full job. This means that after running this uninstaller via Control Panel, you also need to manually remove the related extension from Mozilla Firefox and Google Chrome. Please use our instructions below if you do not know how to accomplish this. Since you may not be the kind of user who would feel safe doing manual work on the system, we also advise you to use a professional malware removal application, such as SpyHunter in order to have the best protection you can provide your PC with.
Remove Search.searchwos.com from Windows
Windows 8/Windows 8.1/Windows 10
Tap Win+R and type in Control Panel. Press OK.
Pick Uninstall a program.
Select the uninstaller and press Uninstall.
Windows Vista/Windows 7
Open the Start menu and pick Control Panel.
Choose Uninstall a program.
Select the uninstaller and press Uninstall.
Windows XP
Click the Start button and go to Control Panel.
Click Add or Remove Programs.
Select the uninstaller and press Remove.
Remove Search.yourtelevisioncenter.com from browsers
Google Chrome
Tap Alt+F and select More Tools.
Select Extensions.
Locate the extension and click on the trash can icon.
Click Remove.
Mozilla Firefox
Tap Alt+T and select Add-ons.
Choose Extensions on the left.
Locate the extension and press Remove.
In non-techie terms:
Search.searchwos.com is a questionable search page that offers you easy-access links to online TV streaming websites. Unfortunately, this is a totally useless and unnecessary addition to your browsers since you can simply use built-in tools instead of letting a risky search page to possibly expose you to unreliable third-party content. Our researchers say that this infection is indeed a new browser hijacker from a well-known family of hijackers that are all very similar. This threat may come on board along with other malicious software installers and thus make your system security rather vulnerable. If you do not want to suffer further malware attacks through this threat source, we suggest that you remove Search.searchwos.com as soon as possible. If you need an automated solution to take care of all your virtual security-related issues, we advise you to use a reliable anti-malware program.