Do you know what Search.searchwag.com is?
You may be given the impression that Search.searchwag.com is a reliable and safe search engine, but that is untrue and you should remove it because of this. Researchers have categorized it as a browser hijacker because it changes the search engine without your permission. Not only that, but it is also very unreliable because it redirects search terms to a custom Yahoo.com search engine that might show malicious advertisements in its search results. Furthermore, this hijacker might gather information about you to be used for marketing and advertising purposes. In short, it can compromise your computer's security, so the sooner you get rid of it, the better.
This program's owners use a clever marketing tactic to make you install this hijacker on your computer. It is promoted on a dedicated website called Watchanygame.com that features a browser extension that is supposed to enable you to watch American football games live. The website says that it is "The must-have app for watching your favorite sports!" However, you will not get the service that its developers promise as it is just a trick to get you to install this browser hijacker's browser extension. It comes from an established family of browser hijackers. It has been digitally signed by SaferBrowser which is sort of a trademark that we use to associate clone hijackers. So this hijacker's clones include names such as Search.searchlcl.com, Search.searchtmp.com, Search.easyinterestsaccess.com, Search.youremailcenter.com, and many more. Thus, we conclude that Search.searchwag.com comes from a known malware developer that is in the business of making browser-hijacking extensions that redirect web traffic.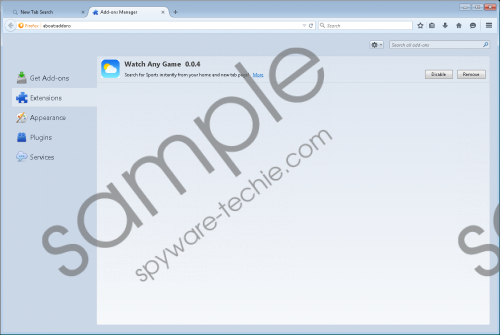 Search.searchwag.com screenshot
Scroll down for full removal instructions
While researching this infection, our malware researchers found that this hijacker has a dedicated distribution website at Watchanygame.com from which you can download its accompanying browser extension for Google Chrome and Mozilla Firefox called Watch Any Game. You can download this extension, and it will ask you whether you want Search.searchwag.com to replace your browser's homepage, and search provider which is perfectly fine. However, there is a version that is distributed via software bundles only and does not ask permission to change your browser's settings, and it is injected into Internet Explorer as well. Also, this version of this hijacker will install an application that manages the hijacking of Internet Explorer. Therefore, in addition to deleting the browser extension, you will also have to run the uninstaller found in Control Panel.
If you happen to fall for this hijacker's misleading promotional campaign and install Watch Any Game, then the previously mentioned browser settings will be changed to Search.searchwag.com. However, it should not hijack the homepage of Firefox — only its search provider. We would also like to clarify that this hijacker will install an application and browser extension no matter where you get it from.
When you use Search.searchwag.com, you might think that it is a legitimate search engine because it is capable of processing search terms and present relevant search results. However, there is a major problem with that as well. Like its clones, this hijacker is set to redirect all search queries to another browser hijacker at Extsearch.maxwebsearch.com, which is actually a server for the rest of the hijackers in this family. This server may inject promotional links in the search results and redirect the search queries to a customized version of Yahoo.com, a legitimate search engine that is often exploited by cyber criminals and malware developers.
Lastly, we want to touch upon the touchy subject of privacy. This hijacker's Privacy Policy states that "we may collect personally-identifiable information through the use of our Services upon your contacting us so that we may respond to your questions or comments, such as your name, email or mailing address, or other information you include when contacting us." This same Privacy Policy also states that "we may collect and store URLS that you visit and your browser's home page which could contain personally identifiable information." Furthermore, this hijacker can obtain your browsing and search history. It is also stated that all of the collected information may be shared with third parties and used for advertising purposes as in presenting you with relevant promotional links based on your browsing habits.
It is evident to see that Search.searchwag.com has no useful functions because all of them are used to advance its developer's agenda which is to make more money from online advertising. We are concerned that this hijacker may promote malicious content such as phishing websites and malware downloads. You can remove it using the step-by-step instructions we have included below.
Uninstall this hijacker's application from Control Panel
Windows 10
Right-click on the Start menu.
Go to Programs and Features.
Find the application and Uninstall it.
Windows 8/8.1
Open the Charm bar.
Click Settings and select Control Panel.
Open Uninstall a program.
Find the program and highlight it.
Click the Uninstall button.
Windows 7/Vista
Open the Start menu and click Control Panel.
Select Uninstall a program.
Find the program and right-click on it.
Click Uninstall.
Windows XP
Open the Start menu.
Click Control Panel and select Add or Remove Programs.
Find the unwanted software, highlight it and click Remove.
Remove the browser add-on
Google Chrome
Press Alt+F.
Select More tools and click Extensions.
Find the plug-in and click Remove.
Mozilla Firefox
Press Ctrl+Shift+A.
Choose Extensions.
Click Remove extension.
In non-techie terms:
Our researchers say that Search.searchwag.com is an unreliable search engine because in some cases it is injected into your browser without your consent. Furthermore, it is set to show you promotional links in its search results. These search results may be unreliable and outright malicious. So we do not recommend that you risk your computer's security to find out about the possible consequences this hijacker can inflict on your PC.